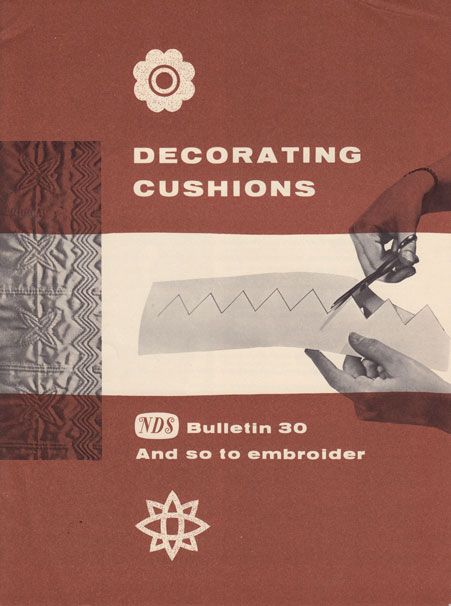 This week, in bulletin 30 of "And So To Embroider" by the Needlework Development Scheme, we learn all about sewing and embroidering cushions. Quilted cushions, designing cushions, bolsters and trims. We also find out exactly what a "housewife opening" is, and I discovered that I've been using them for years!
In previous weeks we've discovered all sorts of new techniques.
And So To Embroider 29b: Designing with Flowers, teaches us how to design from nature using floral motifs, complete with projects.
And So To Embroider 28b: Designing with Letters, features a full cross stitch alphabet and teaches us to design monograms in a large range of styles including Assisi work, padded satin stitch and more.
And So To Embroider 27b: Edgings and Trimmings, is full of tips and techniques for adding fringes, hem stitching and trims.
And So To Embroider 26b: Designing with Leaves, contains a lovely mid century needlework bag with leaf design to make, a cushion project, new embroidery stitches and tips for designing your own motifs and projects based on leaf shapes.
And So To Embroider 25b: Designing Four Aprons, features patterns for sewing three aprons, with design ideas for a fourth, plus lots of other projects for your kitchen.
And So To Embroider 24b: Preparing to Embroider, covers the right needles and transfer techniques for a range of materials and styles of embroidery.
And So To Embroider 23b: Embroidery on Woven Textiles, teaches us to look at woven textiles in a whole new way, and to put the floating threads in a weave to good use as part of an embroidered design, or even adding tassels to them.
And So To Embroider 22b: Designing for the Breakfast Table, features a range of projects for a special "breakfast in bed" tray or dining room table.
As always, I've included modern video and photo tutorials for any techniques included, for my fellow "visual" learners.
You'll find all of these, along with bulletins 1 to 21 (and a whole lot more!) on the Vintage Needlework Books page. I hope you're enjoying them, and I'll continue adding a new leaflet every week until the end of the series.