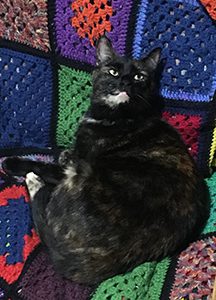 Whenever I think of crochet, I think of comfort. Cozy blankets thrown over the back of the couch, (usually covered in cats like our Tammy), and soft, squishy cushions.
I learnt to crochet in the 70's from a little paperback book that I probably bought from the Scholastic book club (knowing me). I learnt to make flowers, of course, then a Scottish lady who was a friend of my Mum taught me to make granny squares while she and Mum drank tea, ate biscuits, and talked about all that Mum stuff that 7 year olds don't care about.
I was hooked! (Sorry, I had to say it).
In this section of Knitting-and.com you'll find all sorts of vintage crochet patterns, going back to the 1890's, and some original tutorials and patterns as well.
Confused about crochet hook sizes? You'll find a conversion chart for crochet hooks here.
Patterns