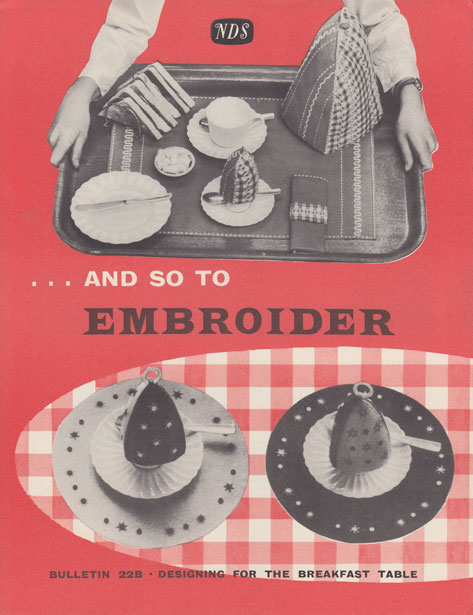 Leaflet 22b in the Needlework Development Scheme's series "And So To Embroider" includes:
A pattern for three-piece felt egg cosies
How to join felt using blanket stitch
How to make the design on the front of an egg or tea cosy work together even though they aren't the same
Embroidery designs for striped and spotted fabric egg cosies
Embroidery designs for a plain and gingham breakfast set with tray cloth, egg and tea cosies, napkin and napkin ring
The pattern for the tea cosy can be found in "And So To Embroider" leaflet 10b

Download "And So To Embroider" bulletin 22b
Drawn Patterns
The egg cosy patterns for this leaflet are drafted by the reader from the directions given. Since we're not used to drawing our own patterns these days, I've included links to two patterns that have diagrams as well for anyone who would like to us them.
A pattern for a three piece felt egg cosy can be found in The Australian Women's Weekly, July 28th 1934. This pattern can also be used as a guide to make the lined felt cosies in the leaflet.
A padded fabric egg cosy pattern from Honeybee Cloths