For the purpose of this document, the terms "website owner", "I", "my" etc refer to the owner of Knitting-and.com, Sarah Bradberry.
I am the sole owner of the information collected on this site. I will not sell, share, or rent this information to others in ways different from those disclosed in this statement.
Purchasing my patterns and books through:
Amazon.com
If you purchase any book written by me via Amazon.com I will have no record of any of your details or access to any information about your purchase.
Craftsy
I no longer sell through Craftsy.
Lulu.com
If you purchase a pattern of mine through Lulu.com I will only have access to the date of the purchase as part of bulk information. For example if I look up how many sales were made on a certain day I will only see the number of each pattern sold
Links
This web site contains links to other sites. Please be aware that I am not responsible for the privacy practices of such other sites. I encourage Knitting-and.com's users to be aware when they leave my site and to read the privacy statements of each and every web site that collects personally identifiable information. This privacy statement applies solely to information collected by this web site.
Cookies
Some of my business partners may use cookies on my site (IE: advertisers or services I have an affiliation with). However, I have no access to or control over these cookies.
For more information regarding the privacy policies of businesses I am affiliated with see the following:
Notification of Changes
If I decide to change my privacy policy, I will post those changes on my blog so my users are always aware of what information I collect, how I use it and under which circumstances, if any, I disclose it. If at any point I decide to use personally identifiable information in a manner different from that stated at the time it was collected, I will notify users by way of an email. Users will have a choice as to whether or not I use their information in this different manner. I will always use information in accordance with the privacy policy under which the information was collected.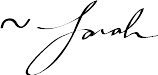 October 1st, 2018