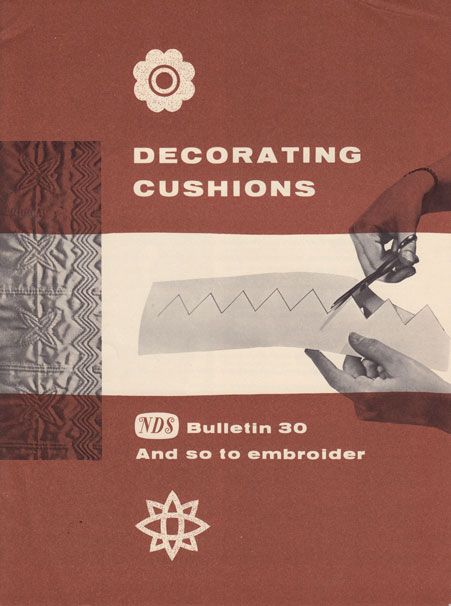 Leaflet 30 in the Needlework Development Scheme's series "And So To Embroider" covers different techniques that can be used to create fashionable cushion covers.
The techniques covered include:
Italian quilting. The cross and zig-zag design used can be seem on the cover of the bulletin.
English quilting, including four templates to enlarge and an outline for creating a quilted cushion cover with a feather design.
Designing a felt cushion using a simple cut paper design. This cushion also has an interesting felt trim cut with pinking shears.
An embroidered finger plate adapted from the felt cushion design.
An embroidered bolster cushion of striped wool with stitches including interlaced running stitch.
Note: the term "housewife opening" is used on one of the cushion covers in this leaflet. This type of cushion opening is more commonly known these days as an envelope style opening, where one side overlaps the other and both are caught in the top and bottom seams. See my envelope cushion tutorial for a step by step guide on making this style of cushion cover.

Download "And So To Embroider" leaflet 30
Modern Tutorials
A picture is worth a thousand words (and a video even more) when it comes to trying new techniques, so I'm including some modern tutorials for the new techniques covered in this leaflet.
English Quilting by Hand by Wendi Gratz
Italian Quilting
How to Cord a Motif in Quilting by Andi Perejda
Note: If you are using wool to cord your motifs, leave a small loop outside of the channel when you change direction so the fabric doesn't wrinkle when the project is washed. Andi is not using wool, so does not leave a loop when changing direction in the video.
Interlaced Running Stitch
Interlaced running stitch is worked in the same manner as interlaced band stitch, but over running stitch instead of back stitch. Work two rows of running stitch offset from each other as shown in the diagram in the leaflet, then work the lacing as shown in Stitch School's Interlaced Band stitch tutorial.