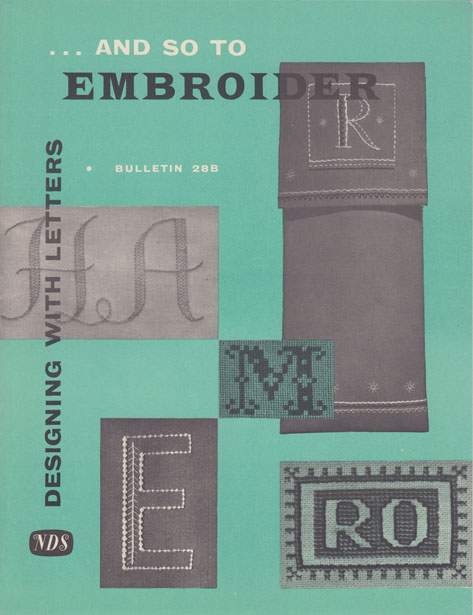 Leaflet 28b in the Needlework Development Scheme's series "And So To Embroider" covers different ways to add lettering to your projects with embroidery. It includes:
A full cross stitch alphabet
Lettering in bands and corner motifs
Tent stitch monogram of a fancy letter M
Initials in Assisi work
Using thick and thin threads for interest
A sample of how to use a monogram within a larger design on felt. This design is on a sturdy felt and fabric bag that would be easy to draft at any size you choose from the photograph and description.
A coat hanger case with letter R worked in simple stitches
Lettering incorporated into a calligraphic design using double knot stitch
Shadow work initials
Padded satin stitch monograms

Download "And So To Embroider" bulletin 28a
Modern Tutorials
Cross Stitch by Busy Mothers World
Assisi Work
This free Assisi design by Carol Leather will teach you all about working simple designs in Assisi embroidery
Tent Stitch by Sarah Homfray Embroidery
Double Back Stitch by Busy Mothers World
This video is quite shaky but it covers the technique better than any others I could find.
Double Knot Stitch (aka Palestrina Stitch) by Mary Corbet
Padded Satin Stitch
Padded satin stitch photo tutorial by Sarah's Hand Embroidery Tutorials