Beyond TAST is up to season 8 but I'm catching up slowly! I've just finished season 5, line stitches.
Because I experimented a lot with all of the stitches when I did the Take a Stitch Tuesday challenge in 2015-2017, I sometimes like to narrow down what I'm going to do in my Beyond TAST embroidery samplers. For example, this season's challenge was to explore line stitches. I chose to use wool threads on a woollen background. Specifically, some pieces of the old blanket I cut up and dyed a while ago.
I have a bad habit of almost always using a double thread when I embroider with wool, so my first sampler is a small selection of basic line stitches worked in a single thread, then a doubled thread. I made this for future reference, so I don't stick to my current habit of "double up all the woollen threads".
The threads I used are DMC Medici, Appleton Wool and DMC Floralia. Oh, and a local hand dyed wool (the orange), which I promptly lost to tag from (oops). The couched thread is Noro wool/silk something or other. It's one of my favourite thick yarns for couching that I bought at the op shop (charity second hand shop) a few years ago. I've used it a lot in my Take a Stitch Tuesday samplers. I'll be sad when it runs out.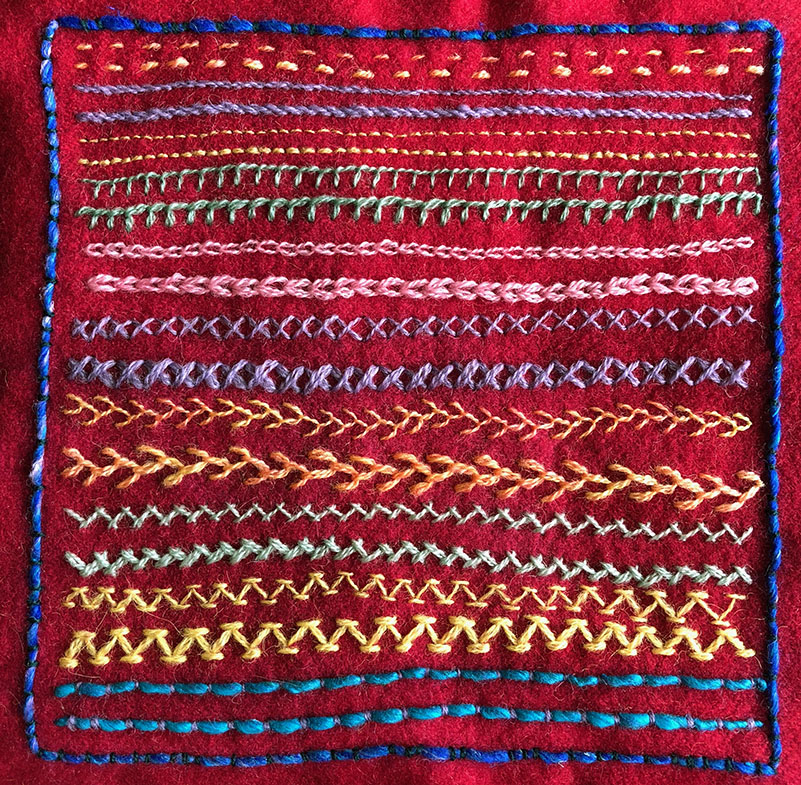 When I think of things with lines and stripes, the bands on rocks and stones are one of the first things that come to mind. Nope, not zebras, or candy canes! I made a Pinterest board of stripy rock research photos, and came up with the idea of making a sampler of stripy stones.
I usually limit myself to "ALL THE COLOURS!", so I deliberately limited my colours to blue and brown, and only two pieces of wool blanket. I kind of cheated since one was pink, green, purple ochre and blue, but we won't mention that 😉
First I stitched the pebbles down with silk sewing thread that matched the stones as much as possible. (I. E. Not very). Then I embroidered the stripes and outlines in stem stitch, and finally worked running stitch across the background in two colours to give the stones more depth and the background some texture. I worked a dark purply brown all over the background, then added a lighter brown in a couple of sections for more visual interest. I'm very pleased with the result.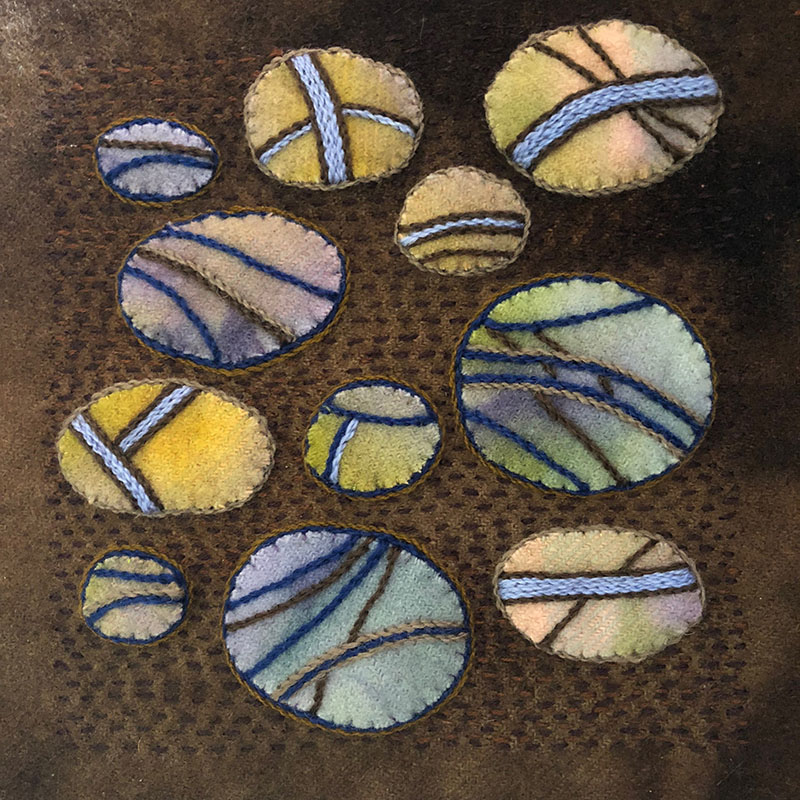 You can't see how three dimensional it is in the first photo so here's one taken at an angle. You can see the lighter shade of brown I used in the background clearly in the bottom right hand corner. The running stitch really made the pebbles "pop".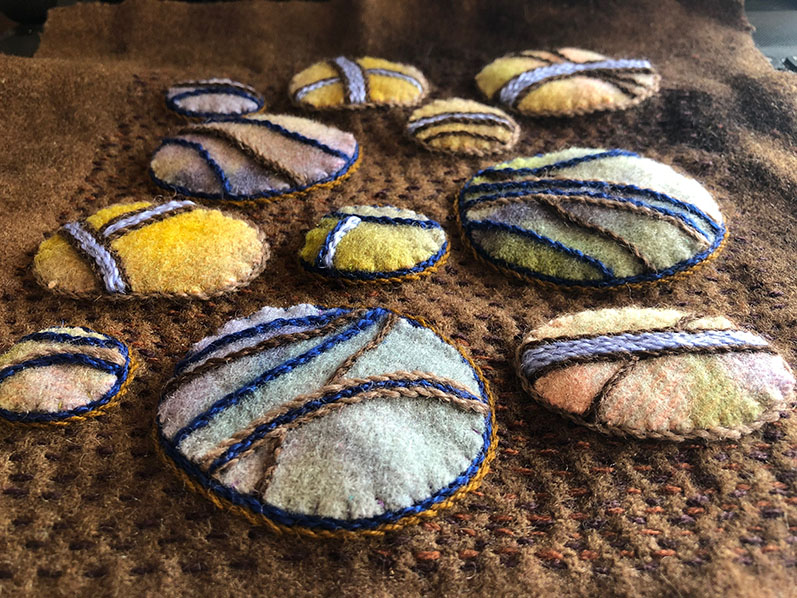 I'm super happy with the results and may need to dye some more blanket pieces in lighter colours to expand my stash.
I mentioned earlier that I had already experimented with line stitches a lot when I worked the 100 stitch TAST challenge in 2015 to 2017.
Some of my favourite line stitch samplers (You may want to grab a beverage and get comfy first):
Knotted Cable Chain, which I worked in a large range of threads from super skinny size 12 perle cotton to super thick Lopi knitting yarn. The same post has Portuguese border stitch and zig-zag coral stitch, which are also great line stitches.
Triangular feather stitch. This turned out to be a lot more versatile than I expected.
Raised chain stitches and reverse buttonhole bar are two very textural line stitches that I really enjoyed experimenting with.
Feathered up and down buttonhole (in the middle of this rather long post), is a wonderful stitch for natural elements like vines and cacti. It can be random enough to have a very organic feel to it.
Beaded oyster stitch. I added all sorts of beads and trinkets to this one. It can be a vert arty looking stitch, and very expressive. Alternating buttonhole stitch is also featured in this post. I enjoyed how graphic it can be when worked on striped fabric.
Pekinese stitch. I love how versatile this stitch is. It can be used as a filling as well as a line stitch. It can be worked in tiny threads for an antique look, or thick, soft cotton for a retro looking piece.
Shell and wave chain. I worked them in white sashiko thread on a vintage cotton serviette. I love the graphic quality of the white stitches on the dark background.
Magic chain. It was fun to play with both colour and thick and thin threads.
Fern stitch. Another lovely stitch for leaves and natural forms.
Buttonhole/blanket stitch. Check out those circles!
Half chevron stitch. I absolutely loved this stitch. I used it to make lines of stitching to form a landscape, using at as both line and filling in one go. It has a lovely movement to it, and is a great stitch for layering.
Stem stitch. How can you not love stem stitch? It's just about the most versatile line stitch there is and makes an amazing filling stitch, especially dimensional when you use wool.
Satin stitch. Would you count satin stitch as a line stitch? I'm not sure, but you can embroider great lines with it, especially working it over a padding thread.
Feather stitch. I'm still very fond of my little embroidered underwater scene.
Cretan stitch. Worked in a variety of threads and thicknesses, cretan stitch has a lovely painterly, artistic quality to it.
The final two stitches, and the ones that completely have my heart and I could play with forever would have to be couching, and running stitch. Both are incredibly versatile and energetic.
I feel like I've linked to just about everything, but I promise I haven't! The 2015 – 2017 Take a Stitch Tuesday (TAST) challenge covered 100 stitches, and I think I ended up working 115 or so.
Next up in Beyond TAST: Exploring laced and threaded stitches. I think I have an idea for that…