I have been madly stitching away on the Take a Stitch Tuesday embroidery challenge but completely forgot to post about my samplers so I'm going to try and catch up over a couple of posts. Because I like to go back and revisit older stitches, I'll post the samplers that go together rather than the order I made them.
Here goes!
Firstly, I really like running stitch so I worked two more running stitch samplers.  I really wanted to try embroidering on net. I drew the designs onto a piece of paper and pinned the fabric onto it. Then worked an even-ish running stitch in what I later found out is sashiko thread. I am absolutely in love with sashiko thread, it's really smooth and lovely to work with.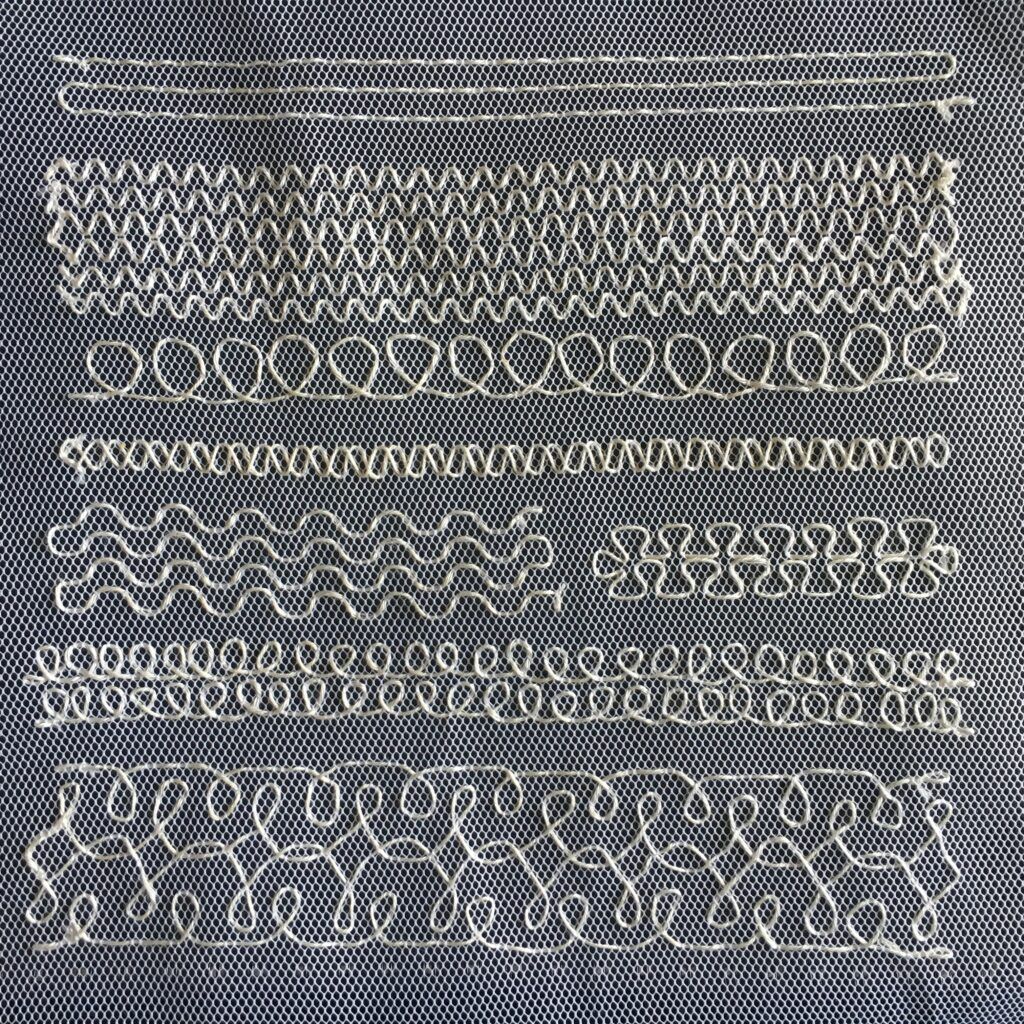 Done much later, I also worked an overall random plaid design in crewel wools on cotton. I think this sort of overall patterning would make a great background with maybe an appliqué figure placed over the top.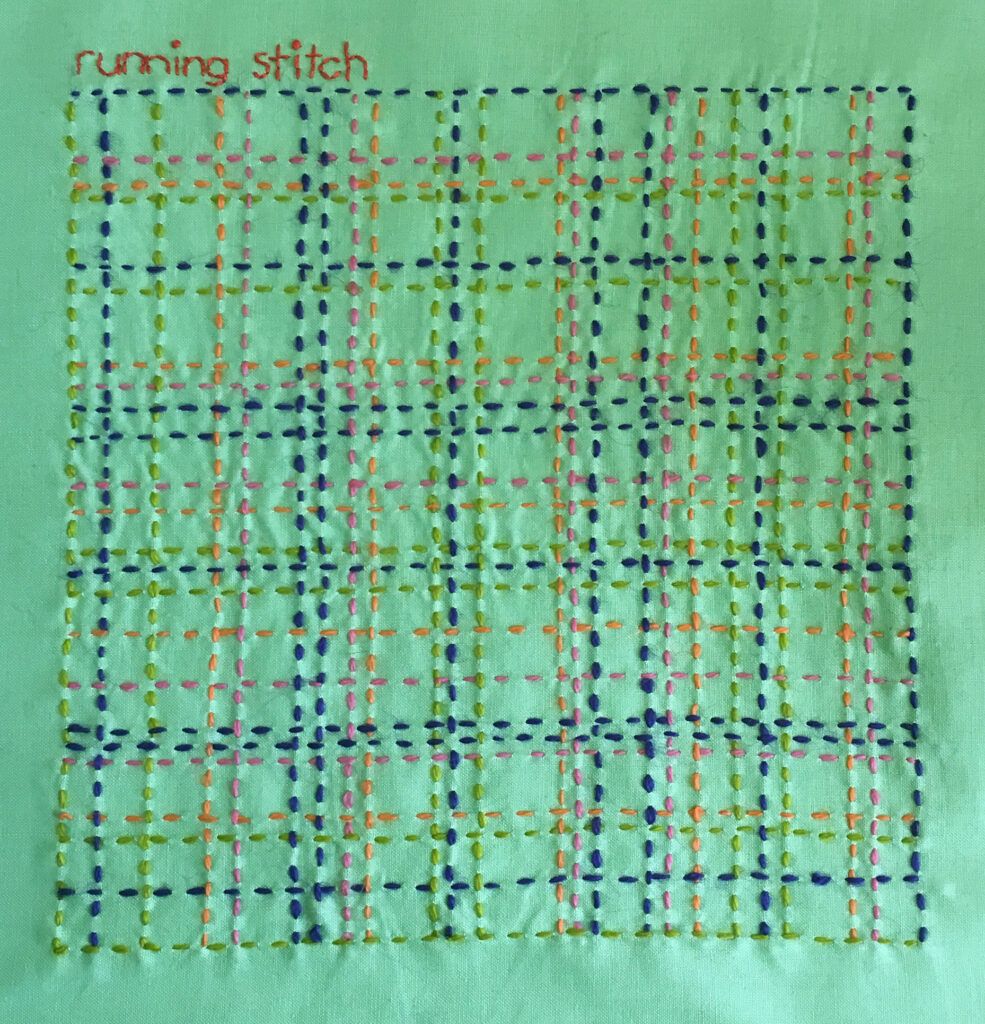 The next stitch is beaded oyster stitch, which I worked on a watercolour background. To make the background I coloured with Caran D'Ache Neocolor II water soluble crayons, then painted over the top with a 50/50 mix of water and textile medium. To my surprise, it didn't fade at all, even though I thoroughly washed it with detergent.
I worked the stitch with lots of different threads, and used couching for the outline. Size 5 perle cotton was definitely my favourite thread for working this stitch, but to be honest, I think it looks good in any thread, as long as it works well with the size beads you choose.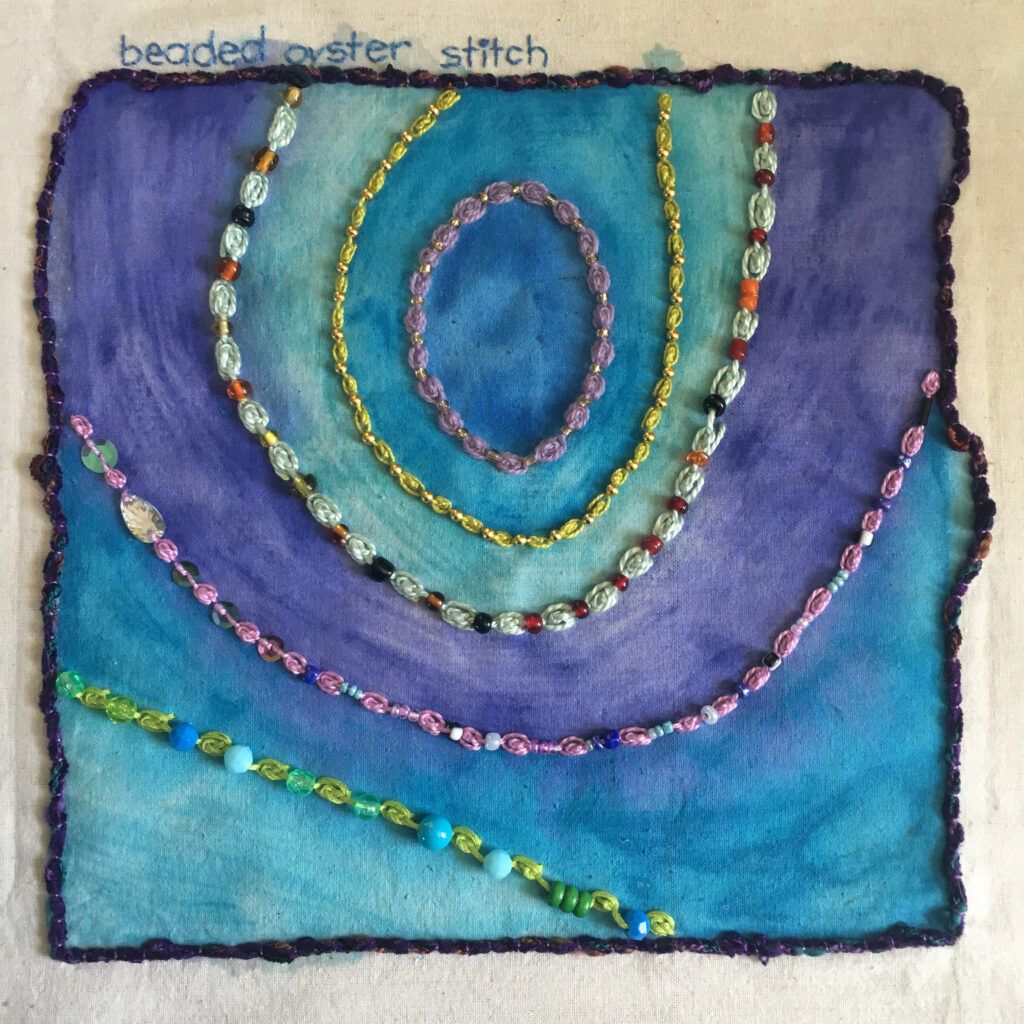 My next sampler has three stitches. Breton stitch, which I worked in curves, lines, as a filling and flowers. I varied the look by leaving a space between the tops of the stitches or joining them together. For the blue and orange band, I worked the stitch in navy blue, then laced the top and bottom with variegated orange floss. The filling worked in magenta crewel wool is three rows stacked on top of each other. Worked with a bit more care than I did here, it also makes lovely flowers.
I only worked a couple of rows of knotted cable chain in soft cotton, size 10 perle cotton and crewel wool. I really love the look of the stitch but found it awkward to work. I'll probably revisit it with a page of it's own at a later date.
Laced herringbone square is the third stitch on this page. I tried it with different numbers of wraps and different threads. I prefer this stitch worked quite small with only two or three wraps around the centre.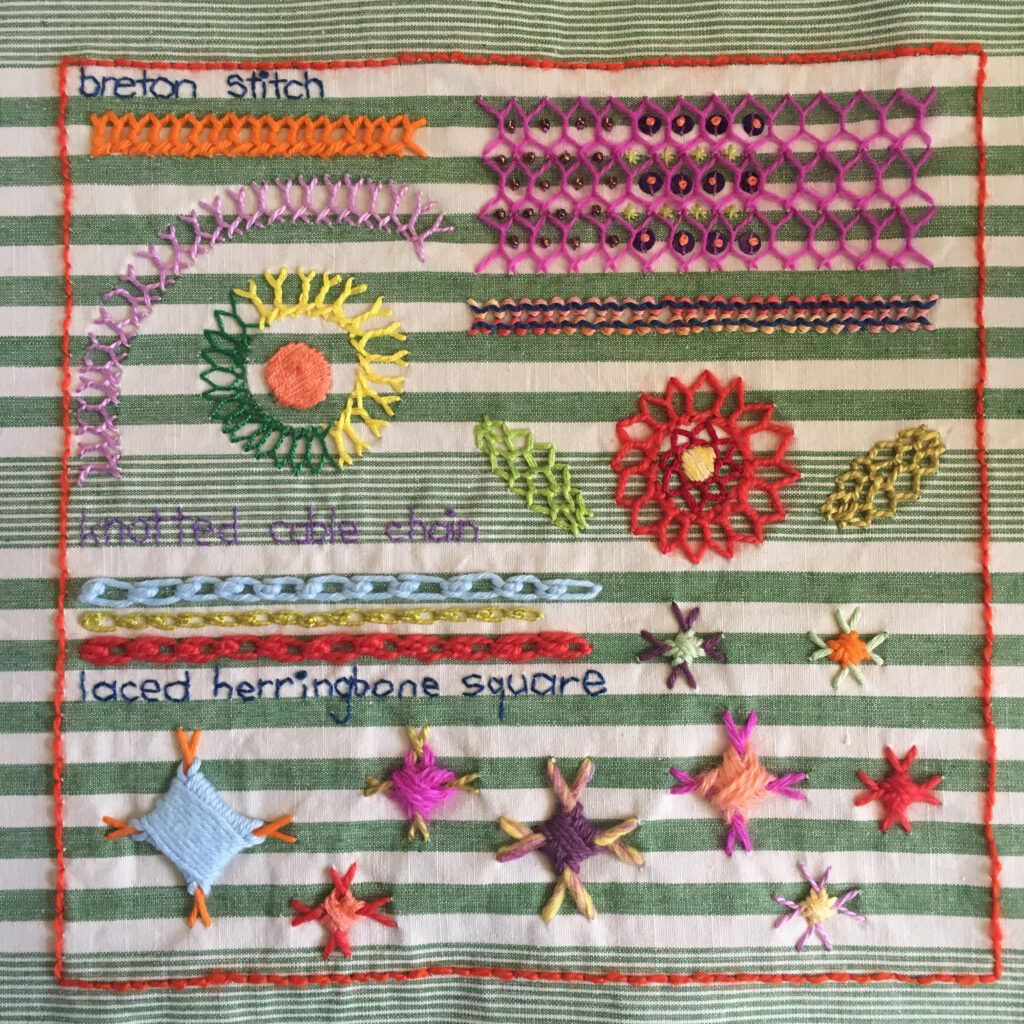 I had a lot of fun with buttonholed and alternating buttonholed cabled chain.
Again, since I will be making my samplers into fabric reference books, I tried lots of different threads. I think this stitch looks great in ever one of them. Working the stitch in a zig-zag line (the peach line with blue beads) was not very effective, but I left it so I don't bother trying it again!
Buttonholed cable chain loves beads. I even added some made from seeds.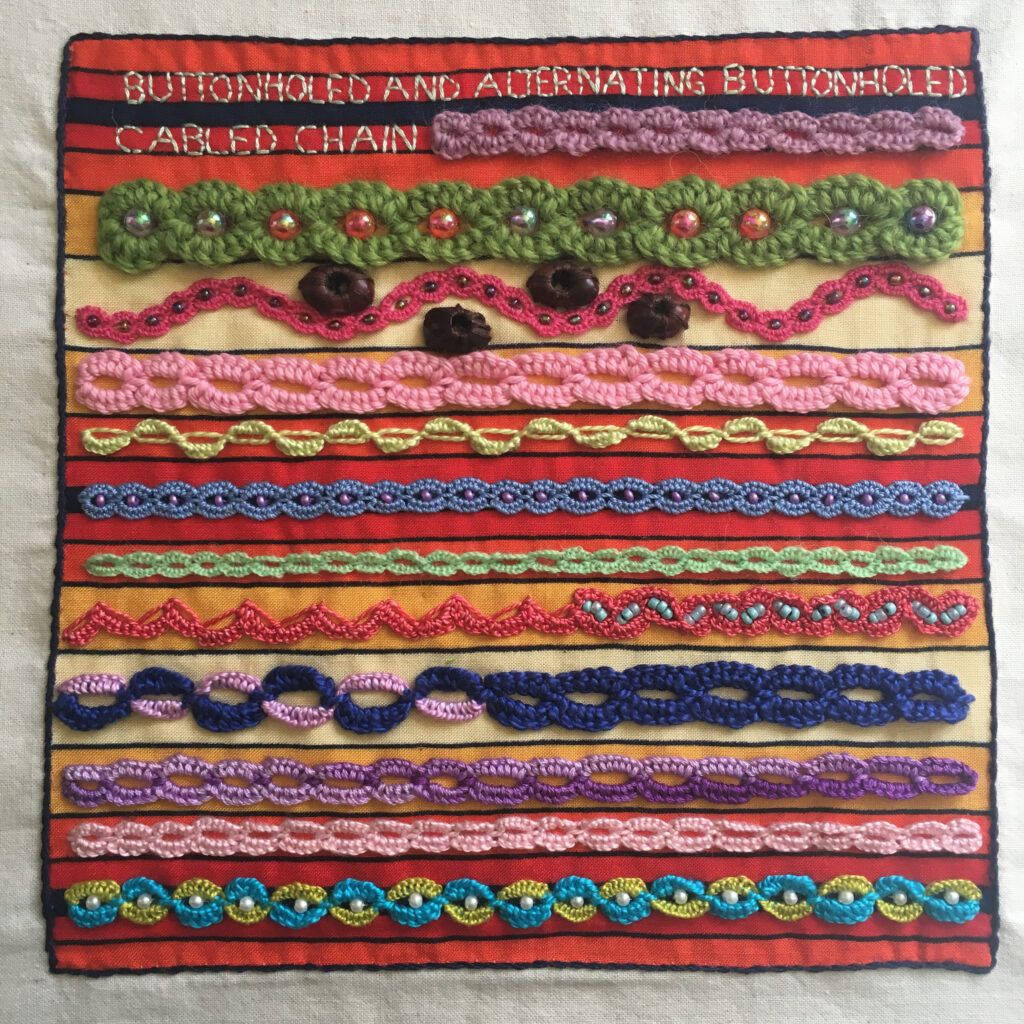 I worked two samplers for closed herringbone stitch, showing both sides of the stitch on the right side of the work. Technically, the shadow work sample is known as double back stitch, but it's the same stitch, just worked from the other side.
First I drew lozenge shapes and worked them in (from the centre out): size 5 perle cotton, soft cotton (needlepoint/tapestry cotton), printed size 8 cotton, crewel wool, embroidery floss and size 5 perle cotton in pale green.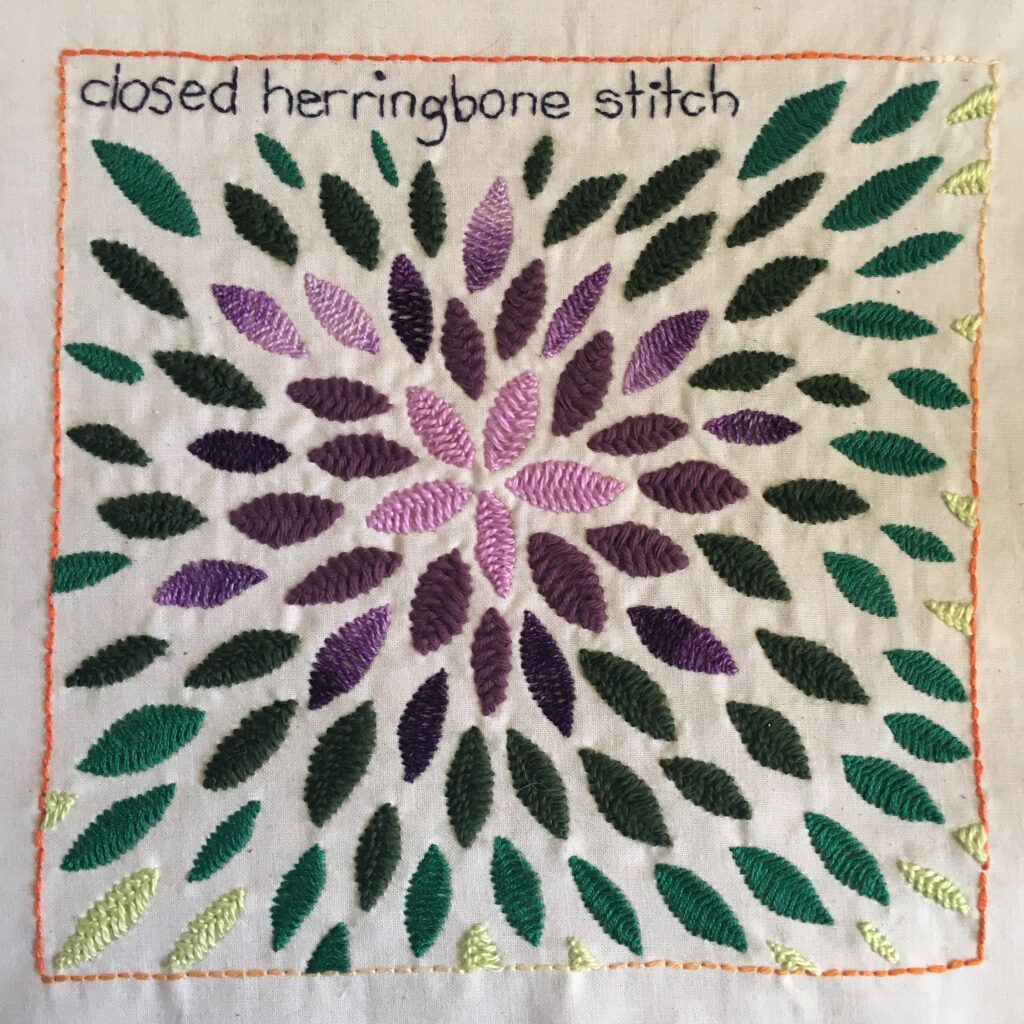 For my shadow work sampler I used three strands of cotton floss for the flower and the random shapes are crewel wool, six strands of floss, and perle cottons.
Next is another multi stitch sampler. Firstly raised herringbone stitch worked in different threads. I think this is a really pretty stitch that I'll use again. It makes lovely bands, and if worked in a fine thread, a really interesting filling stitch.
I have worked whipped chain stitch on a few of my chain stitch samplers, so this time I concentrated on trying lots of different threads.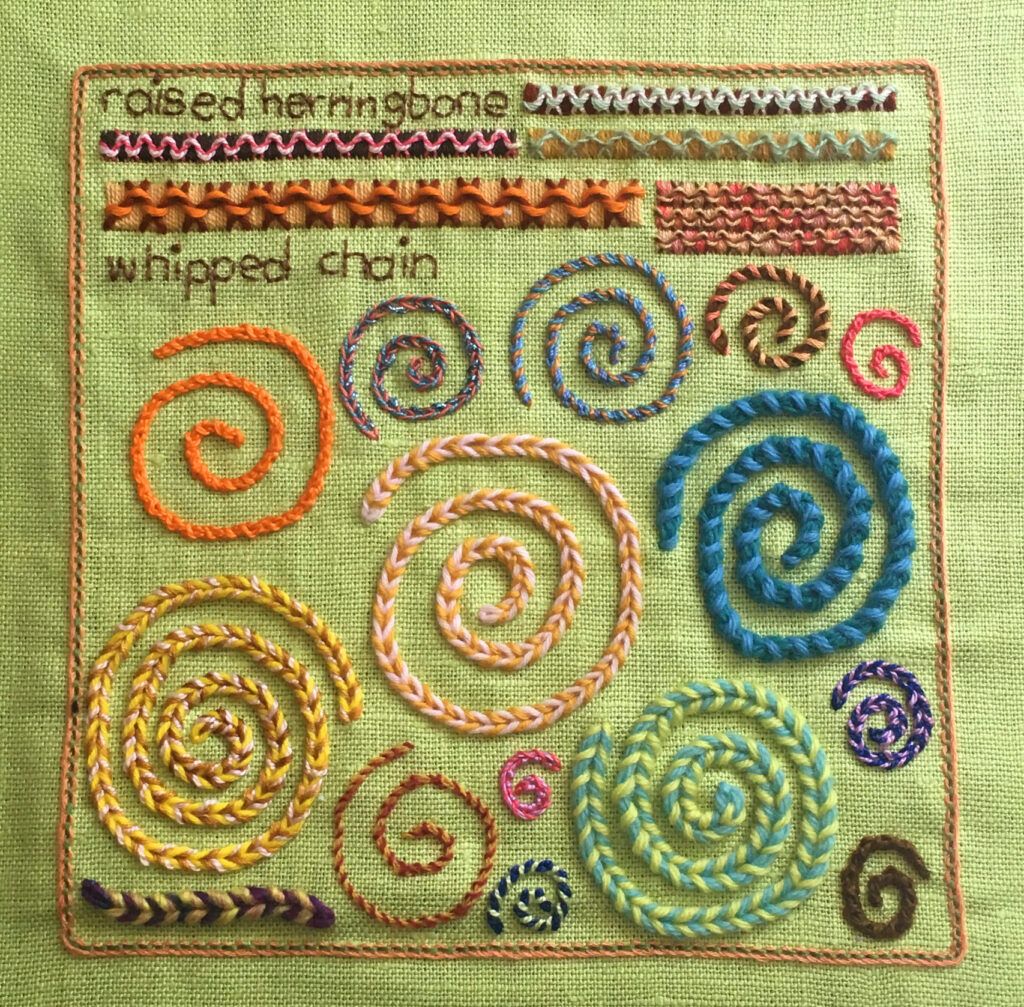 Portuguese stem stitch is a new favourite of mine! Worked in many different smooth threads and I think they all look great. I worked it as straight lines, curved lines and outlines on filled shapes. This stitch has a really lovely depth and texture.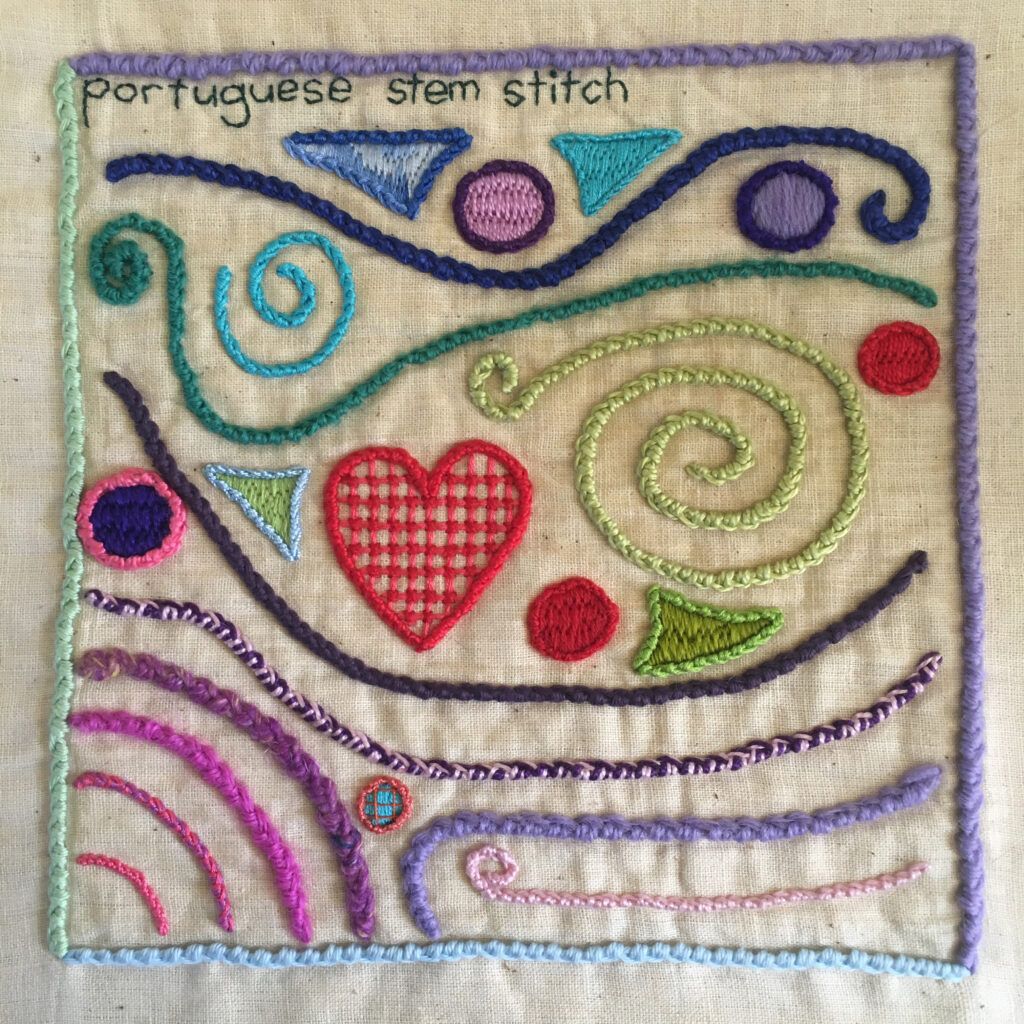 Finally for this post is pistil stitch. I just had to use this stitch to make flowers, but I think my favourite part is the moon, where I couched down the stems.
I used soft cotton for the yellow flower, tapestry wool couched with a couple of strands of floss for the moon, silk ribbon for the Suffolk puff flower and size 10 0r 12 perle cotton for the brown flower. Pistil stitch is not a stitch I would ever use on it's own, it really works best with other stitches. I'll definitely be using it more, especially the couched version.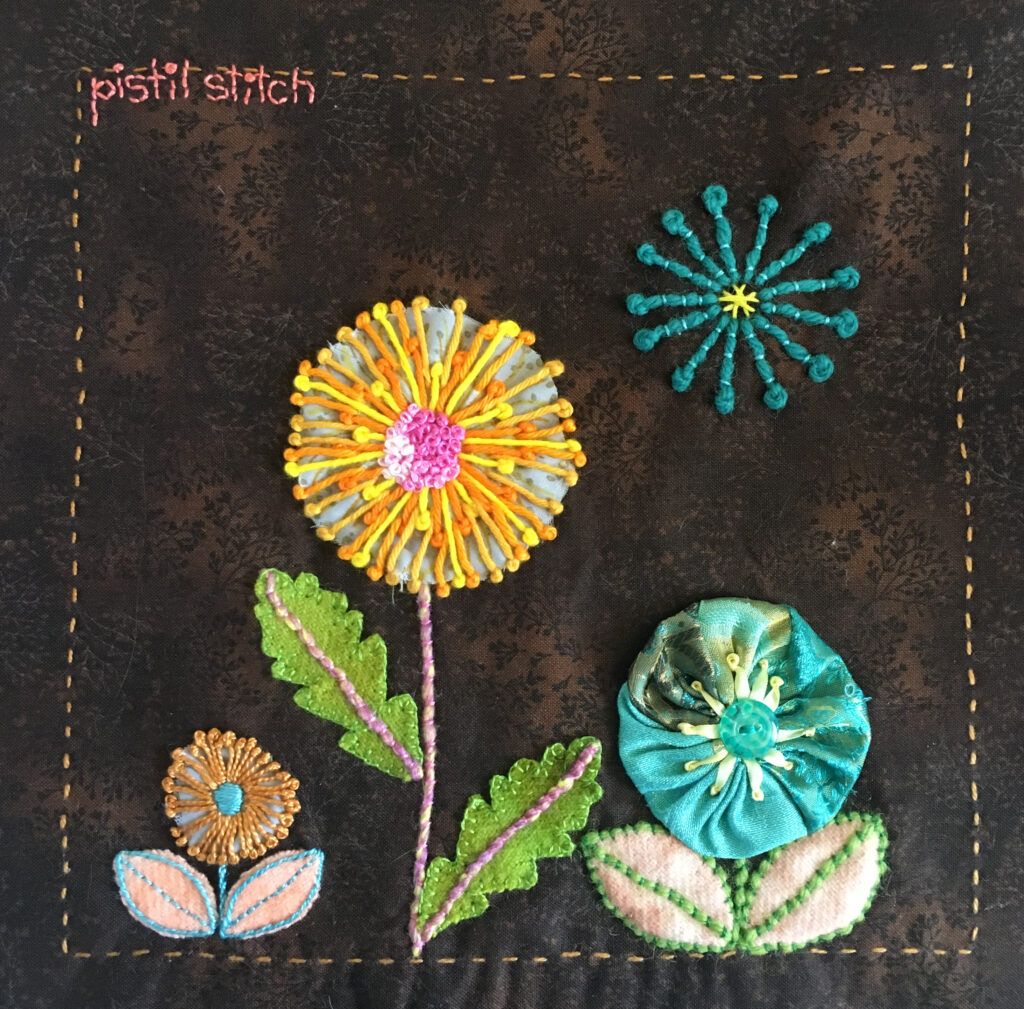 More to come in part 2, including some non-TAST stitches I couldn't resist!