Welcome to part 2 of my TAST catch up series, where I'm showing off the last of my samplers for TAST 2015-2017
For my triple chain stitch sampler I used a range of cottons and wools on quilting cotton. Triple chain is a very graphic stitch so I used it to embroider some 1960's mod style flowers on appliquéd wool felt. Changing the angle of the stitches that stick out either side can change the look quite dramatically. My favourite is the green "bamboo" worked in variegated green floss. I also wove some little grass bits with just one repeat of triple chain.
My final assessment of triple chain stitch is that it's great for dramatic looking borders, graphic flowers and stalks of bamboo.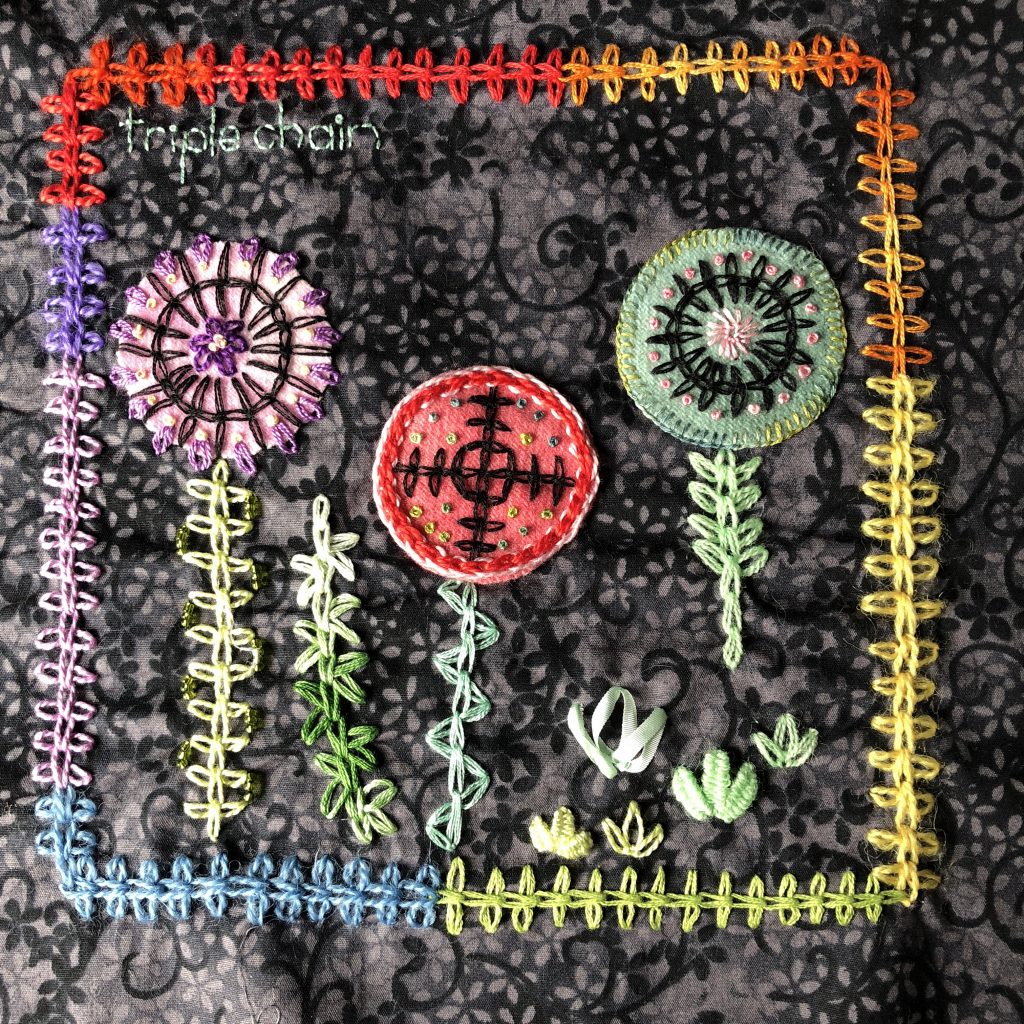 Stitch 63 revisited: Triangular feather stitch
I didn't do much with it, the first time I worked triangular feather stitch, so I decided to try it again. I chose to experiment with border treatments, layering and working circles.
For the border treatments I worked the stitch on alternating sides and tried different ways of combining two rows while also changing the lengths of the feathered part of the stitch. I quickly realised that this is one of those "chameleon" stitches that looks great no matter what you do with it.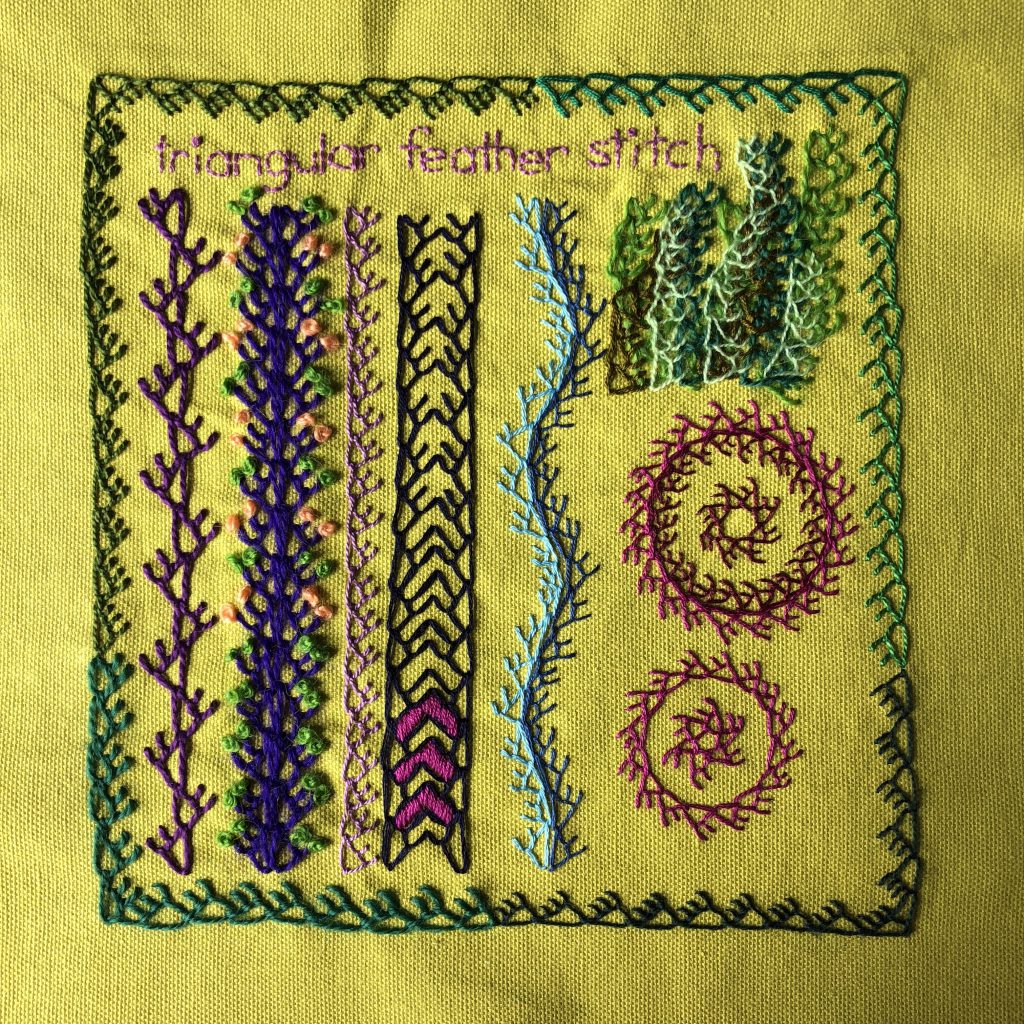 Stitch 97: Feather and chain stitch
At first I thought feather and chain stitch was a bit boring, just feather stitch with a loop. But I wanted to see what I could do with it that might push it a bit beyond that. I decided to work just on border treatments combining feather and chain and other basic stitches to create something that might look good on a crazy quilt (even though I don't sew crazy quilts). My favourite ended up being the pink flower bud border on the right. I worked two rows of feather and chain facing outwards, butted up against each other. Then added pink french knots to the feathers "stalks", and a darker pink detached chain in the diamonds formed by the zig-zag part of the feather and chain stitch. (You can click the photo for a closer look). I'm still undecided about the red row with woven chain. It's tick season here at the moment and they look a little buggy to me…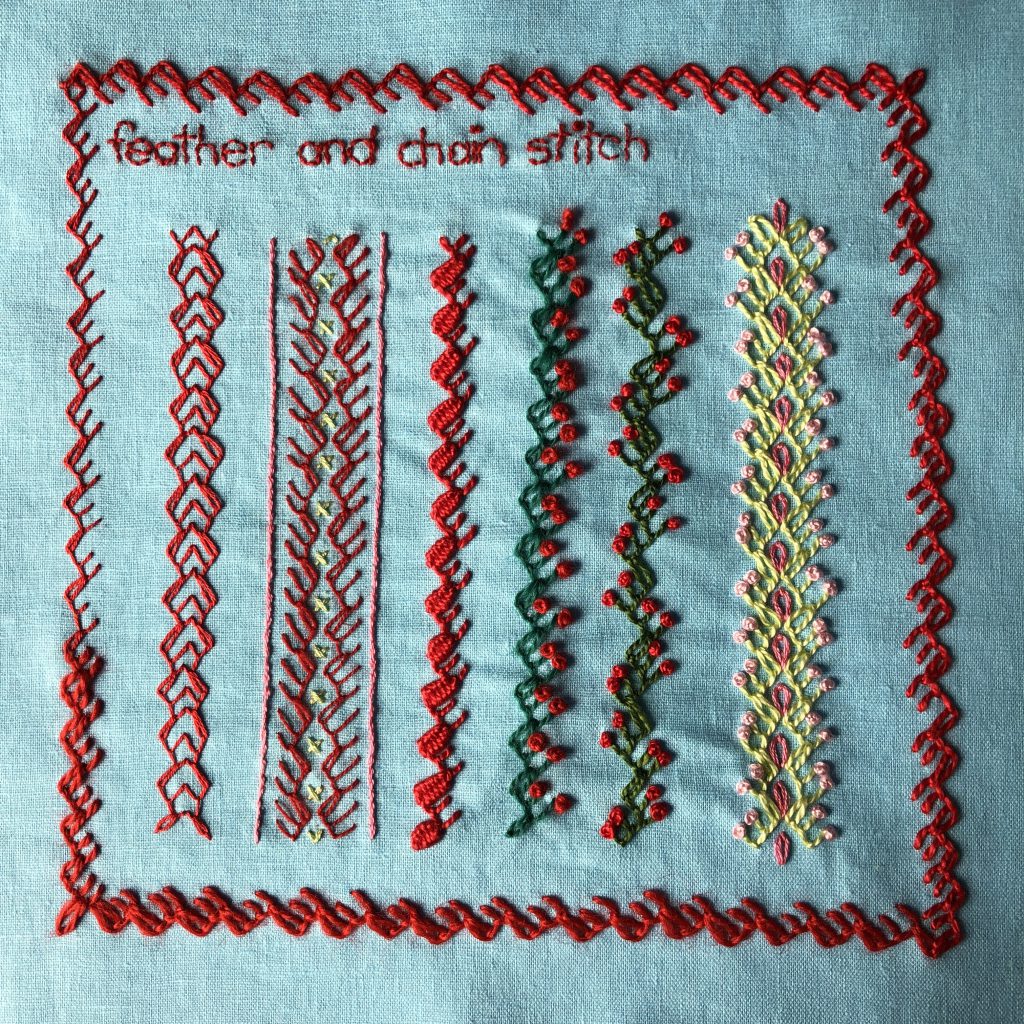 Stitch 37 revisited: Triangular buttonhole stitch
Triangular buttonhole is another stitch I didn't explore much the first time I worked it, only having added beads. This time I sketched out some motifs to try, and different ways to combine rows to make border treatments. I also worked a row with the triangles on alternate sides. I really like all of these experiments but I think the row with triangles alternating on the top and bottom  is my favourite.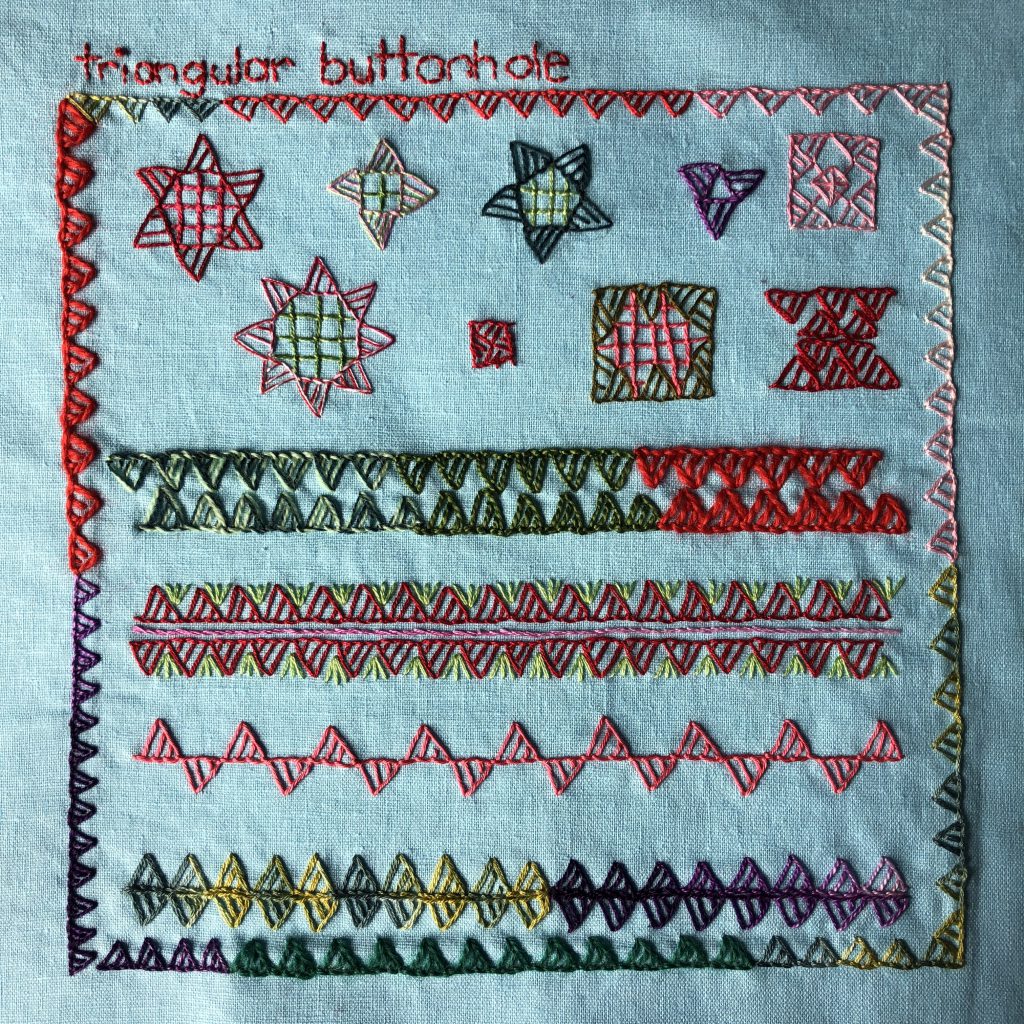 Drizzle stitch is one of those "helper" stitches that really don't work well on their own. I struggled a bit with deciding what to do with it, but then I found a scrap of Barbie doll fabric in my stash and this idea was born. Barbie just isn't my thing, plus the top of her head was missing so I gave her a makeover.
In this sampler the drizzle stitch is worked as the foliage for the flowers in the window box, the outer layer of Barbie's hair (her fringe is bullion stitch), the seaweed in the fish bowl, the petals of the top and bottom flowers and the centre of the middle flower. I added a bead to some of the drizzle stitches. I think it worked great for all these purposes and might use it in the future if I work something really textural.
Well that's it for part two of my five part TAST catch up! Check back tomorrow for part three.