In no particular order, a whole lot more TAST embroidery samplers, and a whole bunch of other non-TAST samplers 🙂
All of my TAST and stitch samplers are 20 by 20 cm or 8 by 8 inches square, and are worked on upcycled fabric (either other people's discarded fabric from the op shop/thrift store, or old pieces of textile). I also use 99.9% thrifted threads discarded by other stitchers. I have included a tiny amount of handspun cotton and a thread or two I've been given for my birthdays over the years.
Now onto the samplers!
Wrapped coral stitch worked in just about every kind of thread I have. I worked the stitches super close together, a bit further apart, with beads and without. I like them best close together and with beads that are a similar size to the wrapped knots. Smooth threads look the nicest but the wool still looks good.
Linked double chain also looks good in all sorts of threads. I tried it in lines, and as a textured surface with overlapping seaweedy frondy things. I quite like the three pronged effect on the top of the lines.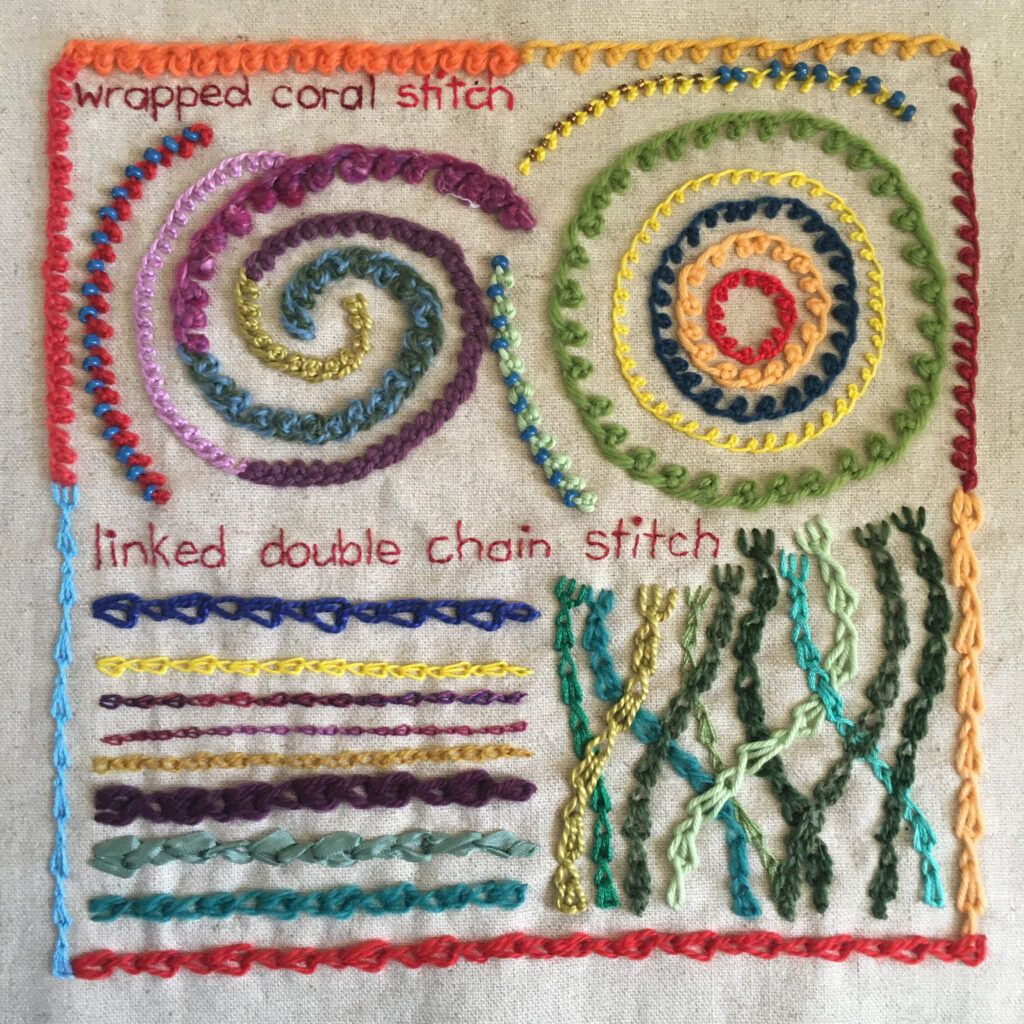 Woven cross stitch. I love to work on fabric with big polka dots and had been waiting for a chance to use this great white on black fabric that I found at the op shop. Woven cross stitch was a perfect choice of stitch.
This time, instead of just trying different threads, I also tried two colours and sometimes two different threads stranded together. Some of them also have a lot more than two cross stitches interwoven, a favourite being the one with two shades of purple. I worked a regular woven cross stitch in dark purple, then added the lighter purple on either side.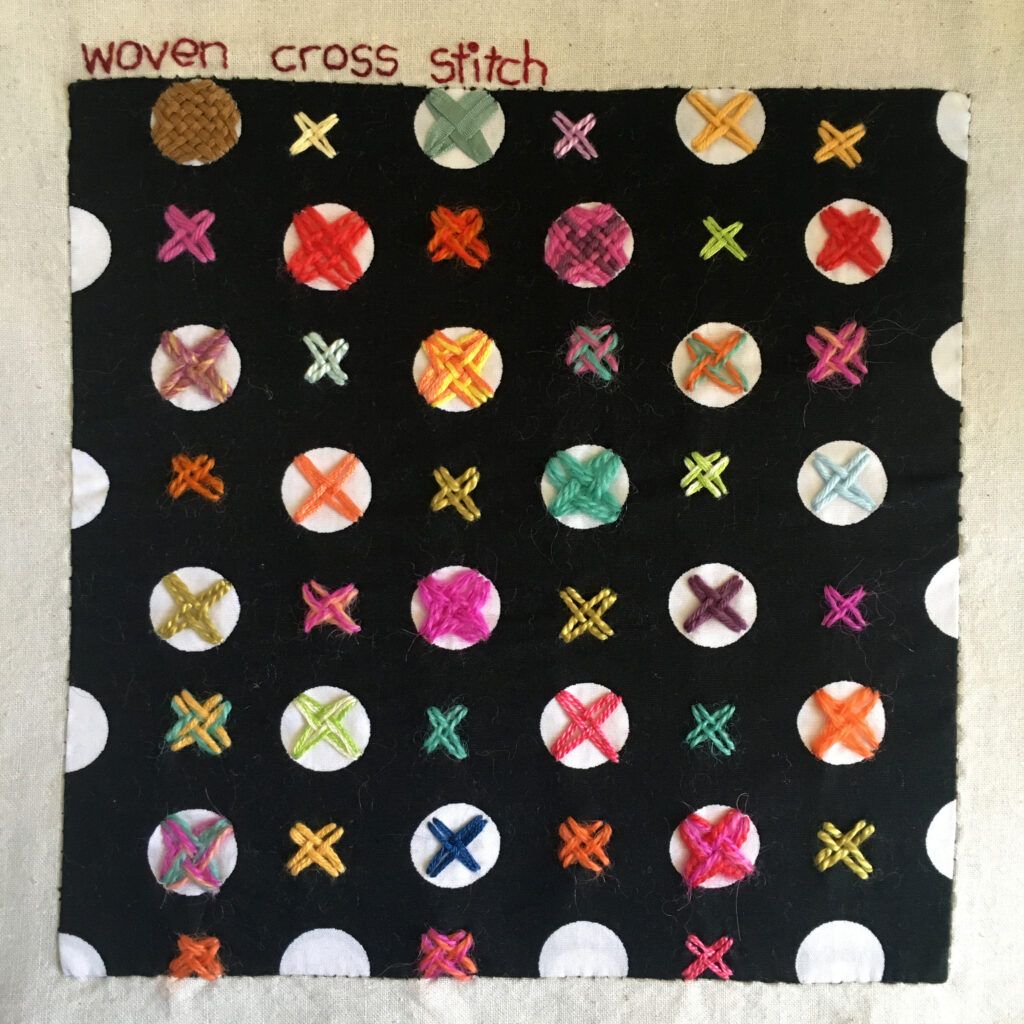 Whipped spoke stitch is an enormous amount of fun! This sampler is embroidered on a vintage serviette. This sampler is worked in cotton, from handspun to perle and everything in between. Whipped stitches don't seem work very well with threads like crewel wool because of the curl of the fibre.
This sampler is probably going to determine the size of my finished fabric books because I really want to keep the great edge of the original serviette.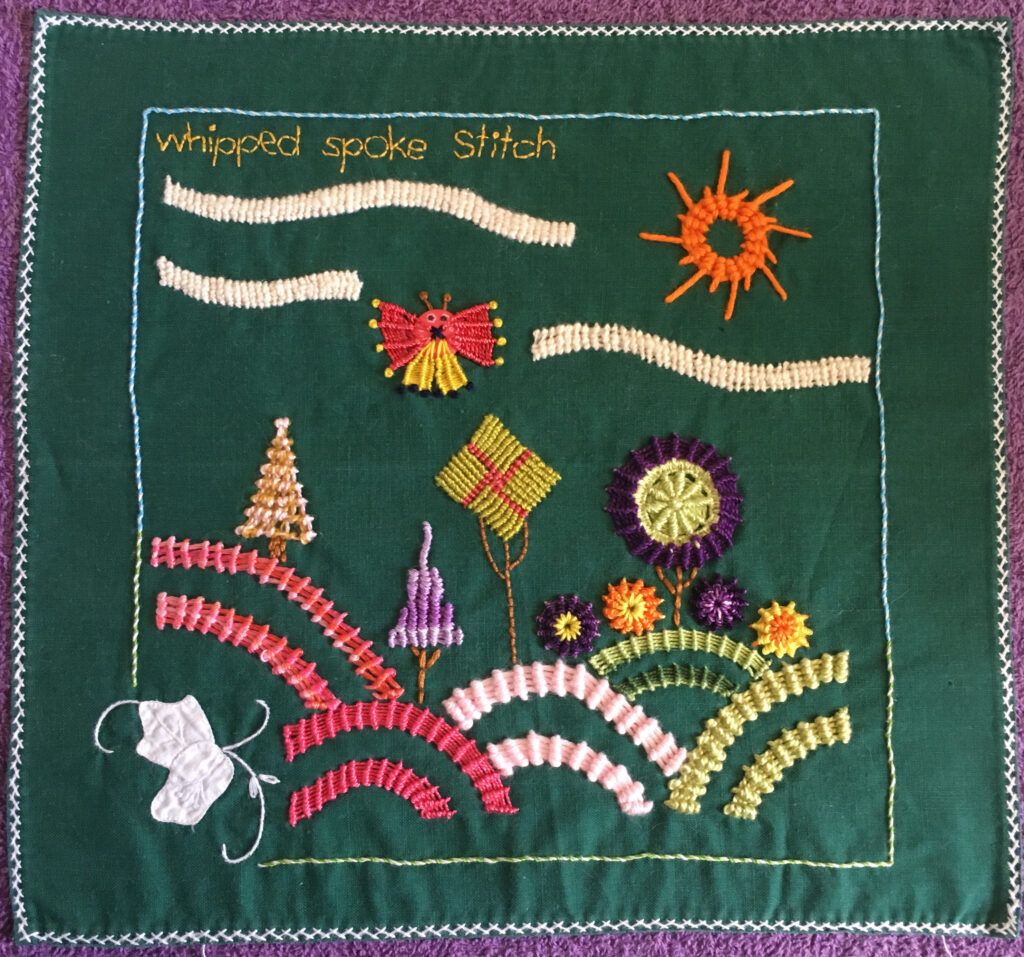 I don't use even weave fabrics often because I really like a freestyle approach to embroidery but the more I use them, the more I like them.
I worked sorbello stitch in everything from Medici wool, which is very thin, to bulky hand knitting wool/silk. I found that it's a really nice stitch to work in bands, but really shines when it's used as a filling. I especially love the variegated wool/mohair in purples and greens.
I love flowers, so of course I had to turn woven trellis stitch into a bed of flowers. Because it's a woven, rather than wrapped stitch it works well with wool or cotton.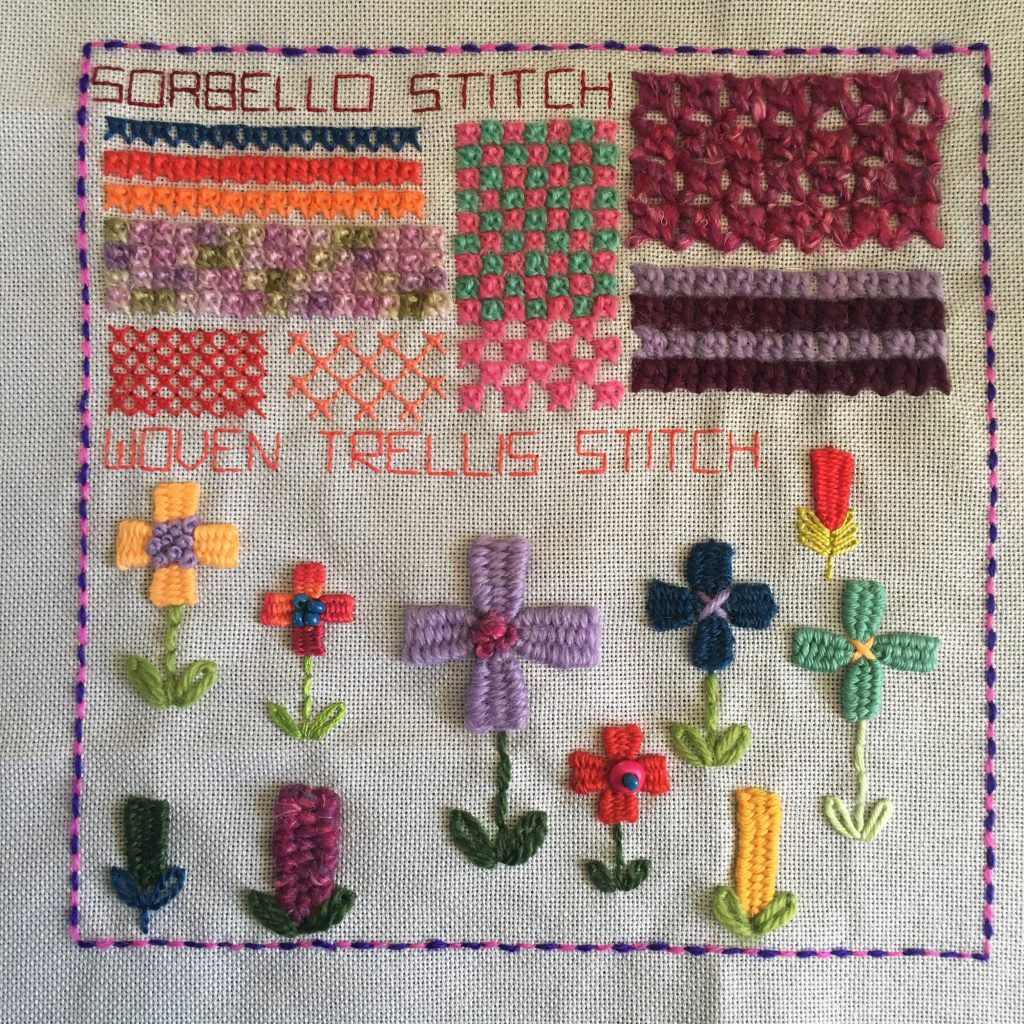 Next is another multi stitch sampler. I only worked a few lines of whipped double chain because I have worked quite a bit of it on my chain stitch sampler in week 8. I love this stitch so I may go back and work a whole page.
I really don't like beaded hedebo edge at all…
I worked just a few lines of interlaced up and down buttonhole stitch even though I like it because I just wanted to record the interlacement. I've investigated up and down buttonhole quite a bit in previous samplers as it's a stitch I really like, so just wanted to record the way the two lines are woven together this time.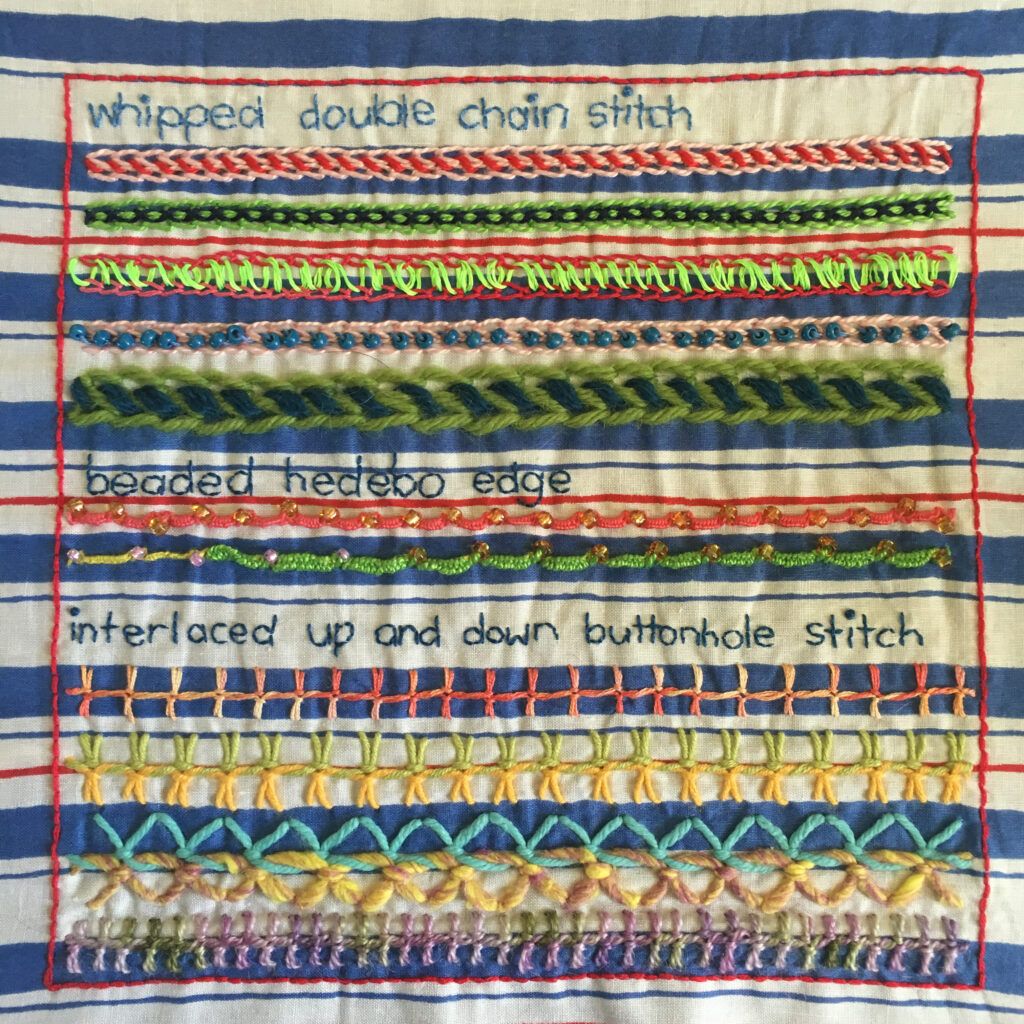 Feathered up and down buttonhole is one of my absolute favourite stitches. I HAD to use it as cactus prickles as it's such a perfect match! I also tried it with chain stitch leaves and French knot flower buds and layered with a range of different threads. This is one of my favourite samplers in the series.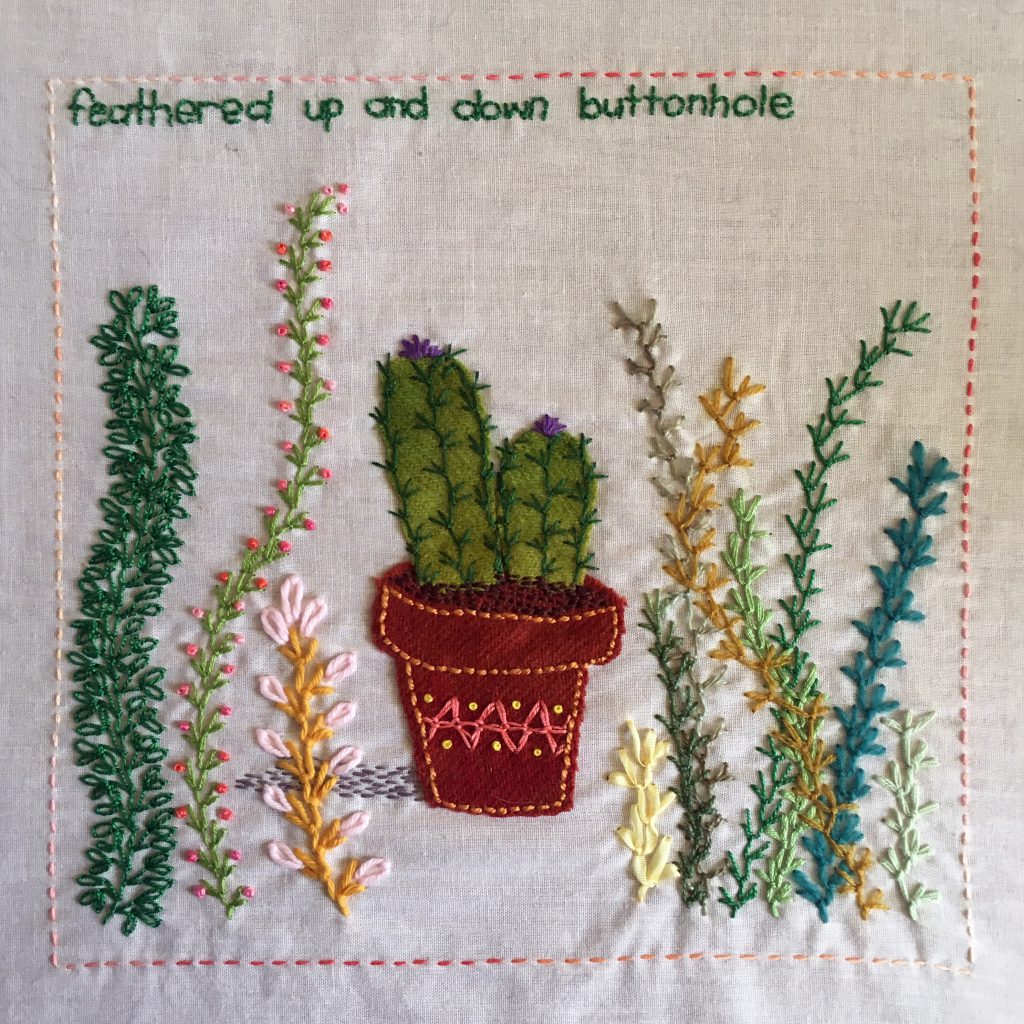 Crested chain stitch is a very graphic stitch that worked well in just about any thread I tried. I especially like the spiral worked in perle cotton, although it need the running to stitch in magenta crewel wool to finish it off.
I also added beads to the top of one row, which I like, but it might work better with a thicker thread.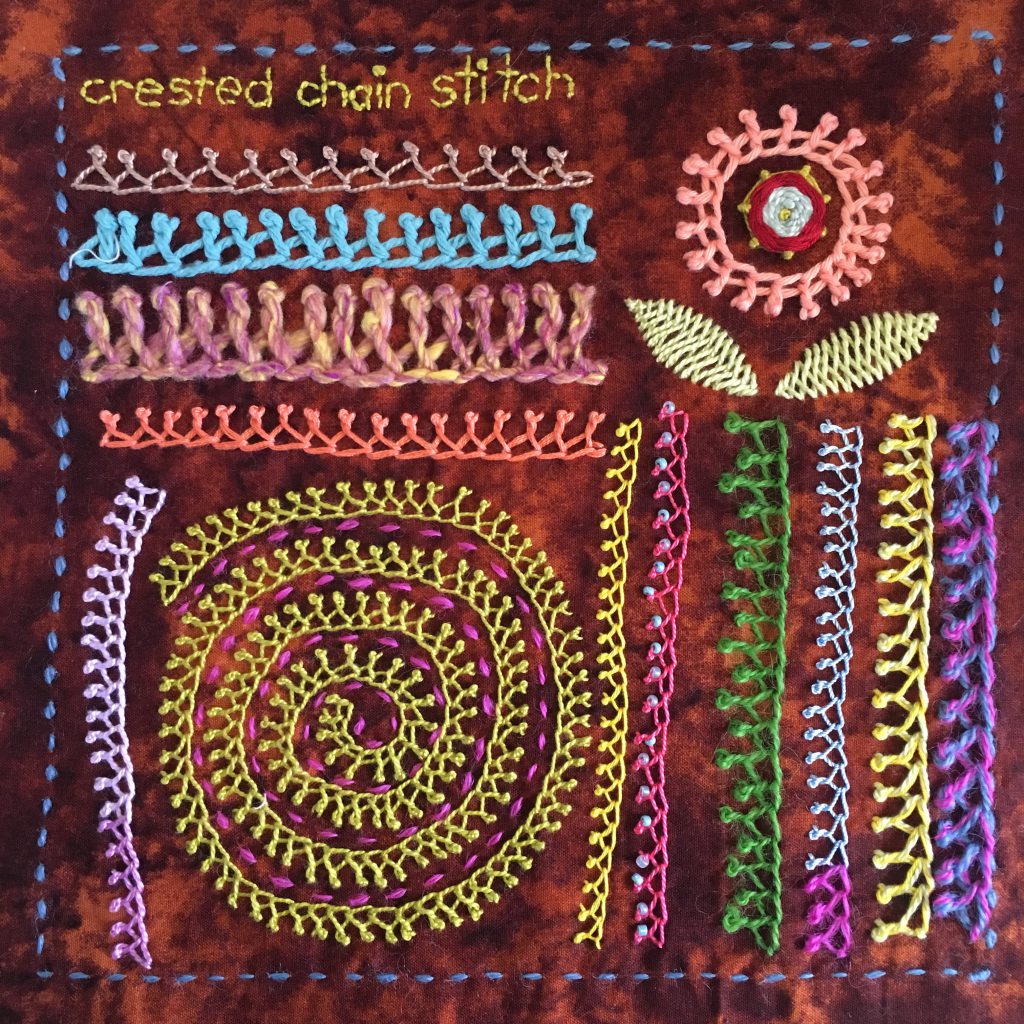 At one stage Sharon offered us a challenge to use several stitches in a small project during a few weeks off for people to rest or catch up. This little doll is from "Embroidery for Schools" by Joan Nicholson. A marvellous book with lots of fun ideas from embroidering on lino prints to stitching on card. I'd recommend it to any stitcher, not just beginners.
I still need to add some little beads for buttons on the bodice. I'm thinking of appliquéing her onto the front and back covers of one of my fabric books.
Of course, being slightly (ahem) addicted to embroidery, I couldn't stop at just the TAST stitches!
Edging stitch was mentioned in the TAST facebook group.
A really pretty stitch popular with embroiderers in India, edging stitch looks best when it's as tall, or a smidge taller than it is wide. I tried it as flowers, in different heights and without the twisted chain stitch.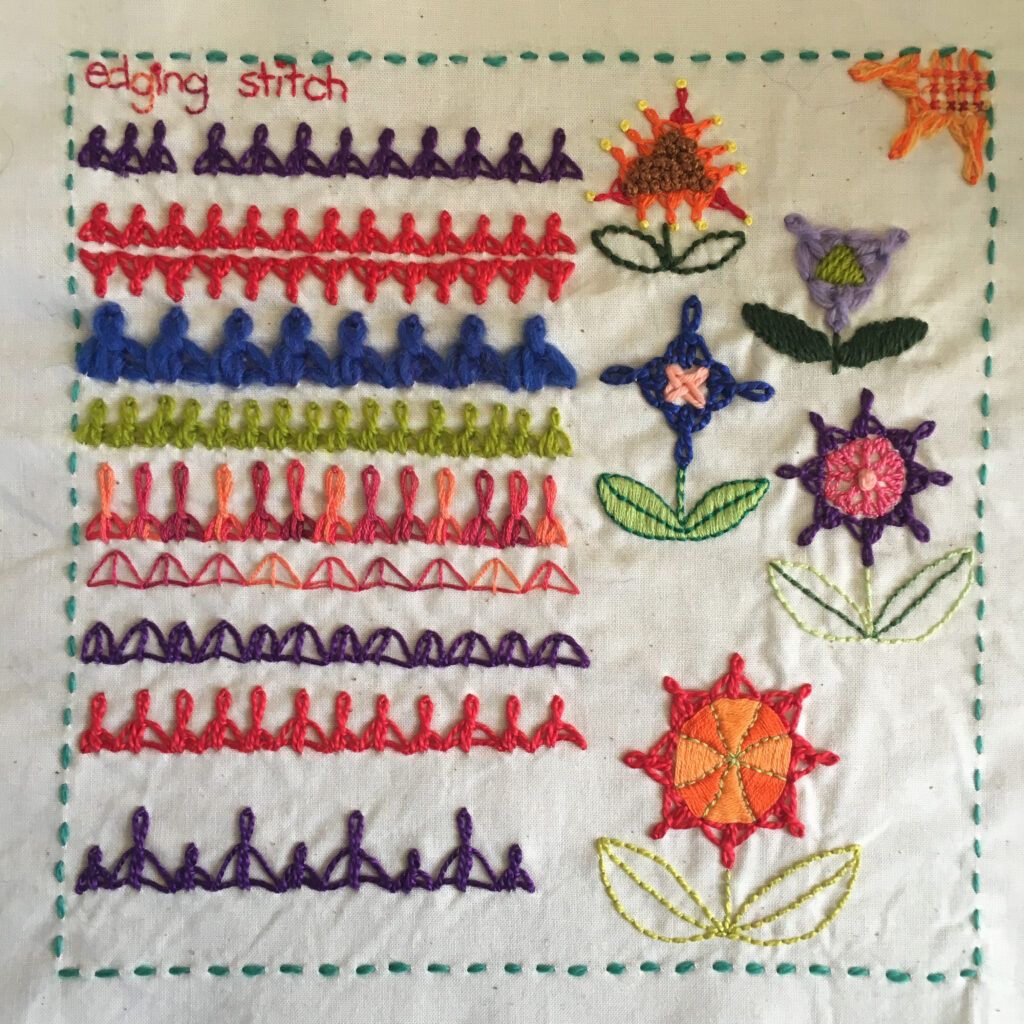 I've always wanted to try chicken scratch embroidery and now seemed like a really good time, so I did 🙂
I saved a load of inspirational bits and bobs to my Pinterest chicken scratch album and stitched out all the ideas I wanted to remember for later.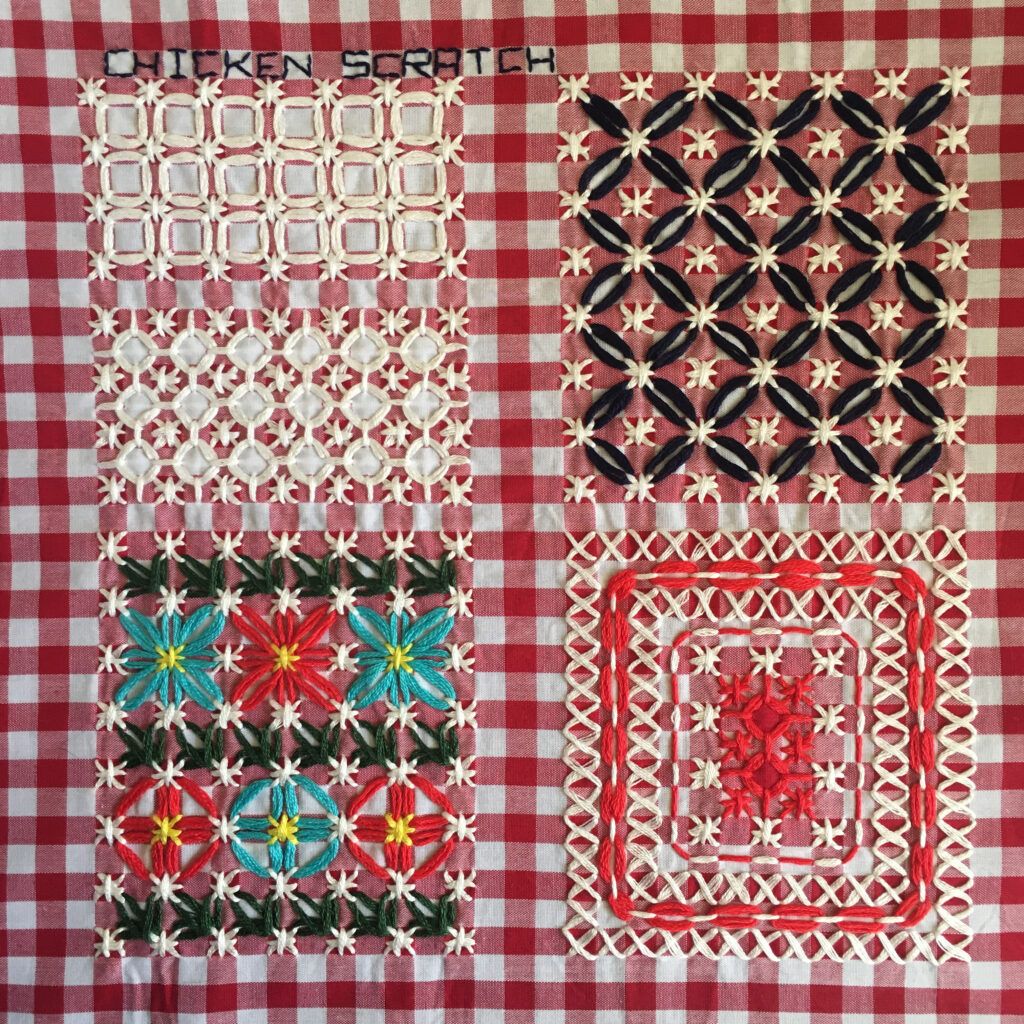 There was a lot.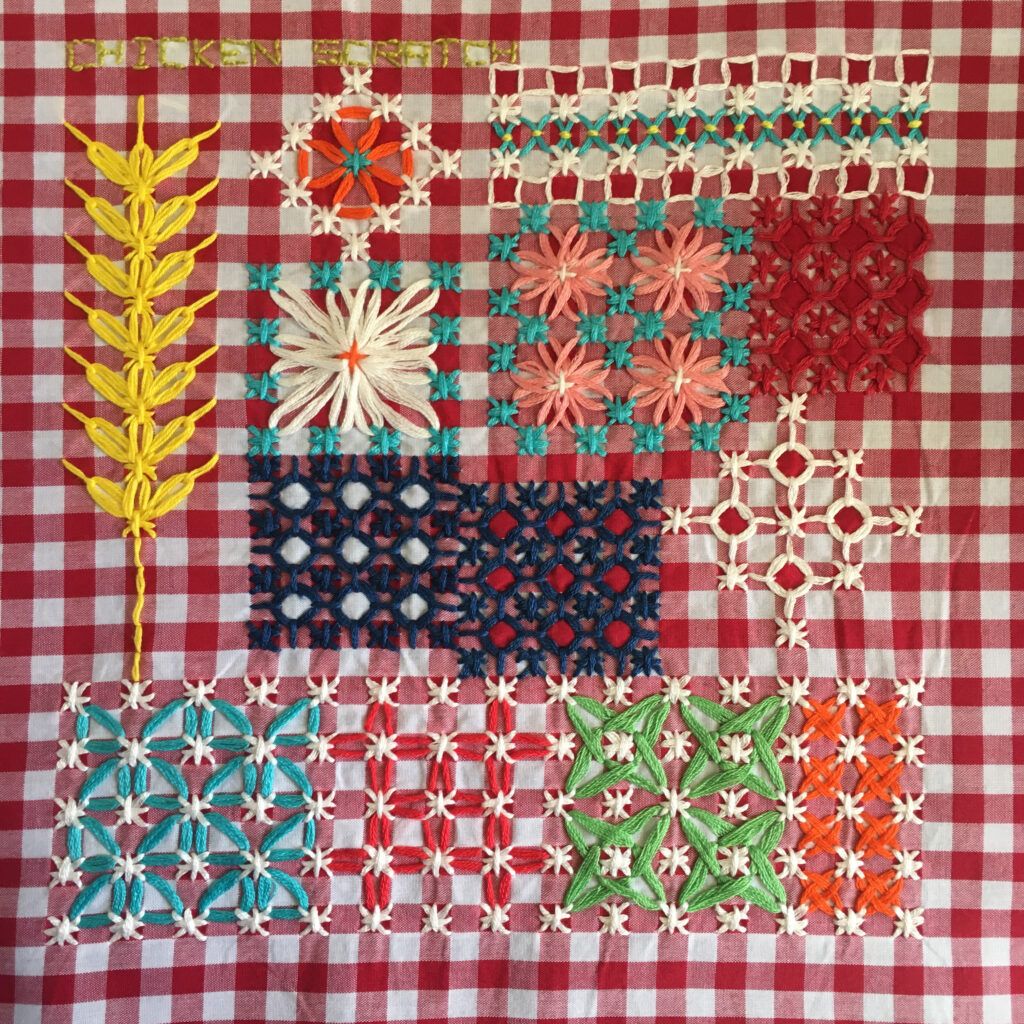 This isn't the last sampler I made, but I also wanted to record some of the very basic stitches that we didn't cover at the beginning of the TAST challenge. And there's not much more basic than back stitch. (Except running stitch but I've already done a HEAP of those).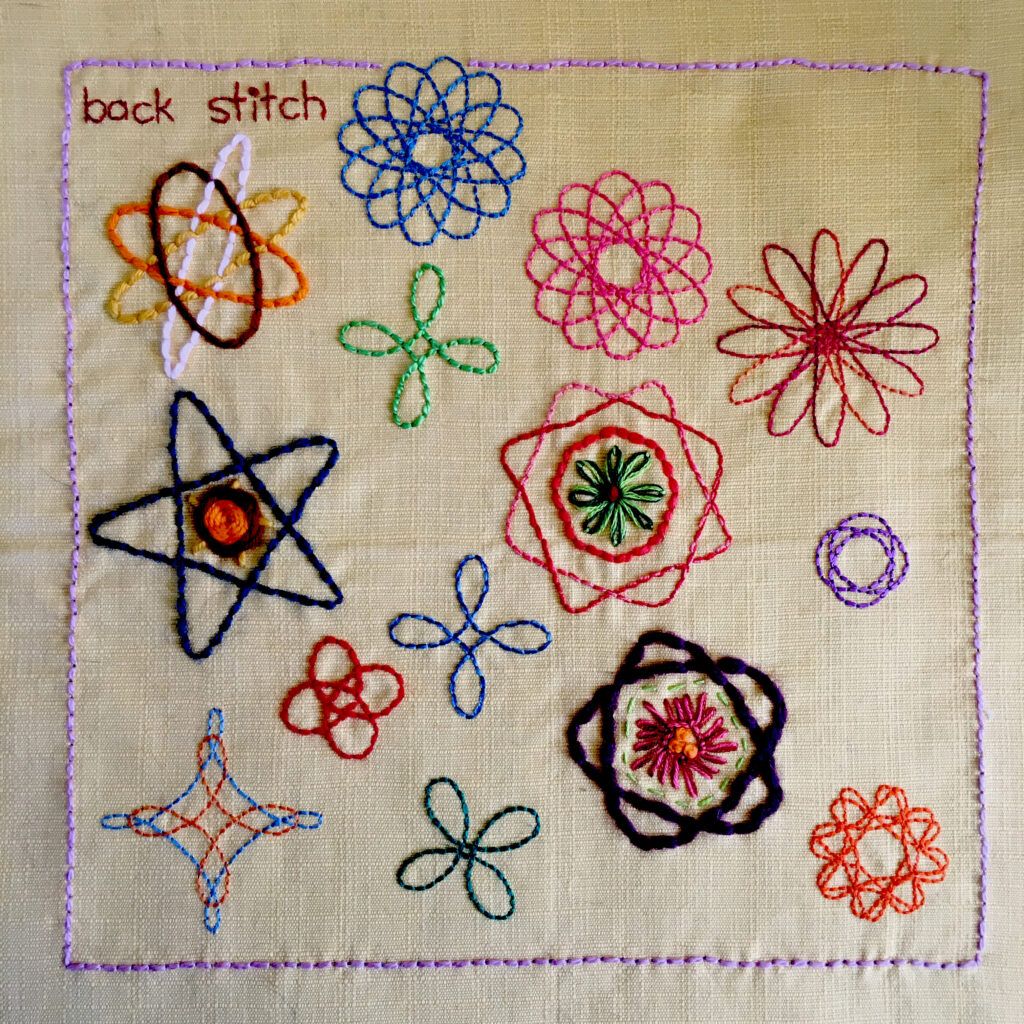 I also want to do a sampler or two for cross stitch and a few other non-TAST techniques but for now, I'm on to stitch 95!