Whilst rummaging through my boxes full of TAST (Take a Stitch Tuesday) embroidery samplers, I realised I had over 20 that I hadn't shown you yet. So this is the first in a series of five posts showing everything you haven't seen. (BTW, TAST has started afresh for 2018 so if you'd like to join in, visit the TAST FaceBook group for details).
These are in the order I embroidered them (sort of). Or at least the order I grabbed them out of the box when I ironed them. Click the photos to make them larger if you'd like to view details up close. Here goes!
I didn't really give raised chain v1 & raised chain v2 much of a chance when I first embroidered them so I went back and had another go. This time I tried threads from the thinnest (a fine cotton) to the thickest (worsted weight knitting wool). I stitched rings (the flower centres are filled with other stitches), leaves and clouds and even added beads to the ladder stitches with raised chain either side.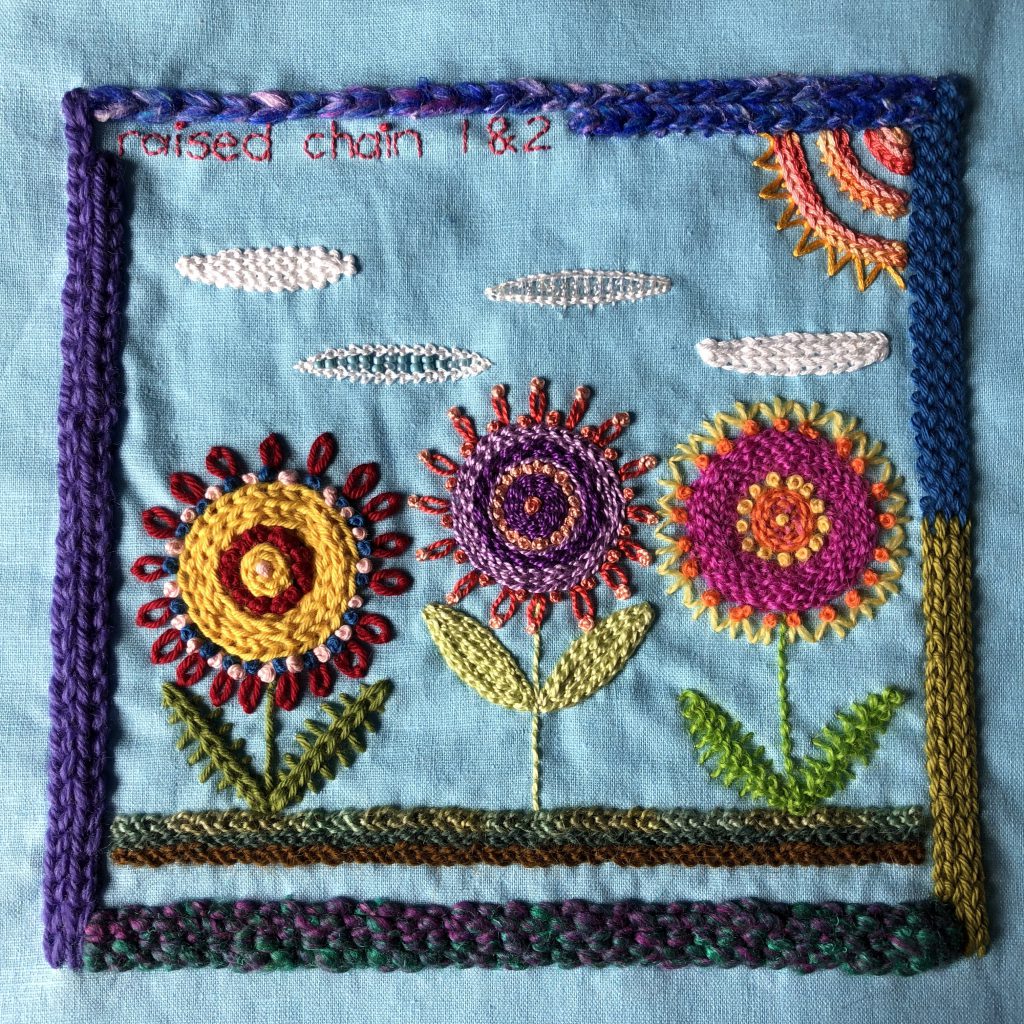 My conclusions after working raised chain 1 & 2  is that they make great ring shapes, look fabulous in just about any thread and are wonderful stitches for borders and "grounds" in garden scenes.
Next up was Italian border stitch, which I don't think was an official TAST stitch for the 2015-2017 TAST challenge. Again, I tried lots of different threads. I even used it to stitch down a giant leaf sequin.
I think my favourite uses for this stitch weren't the borders at all. I really love it for making circles and leaves.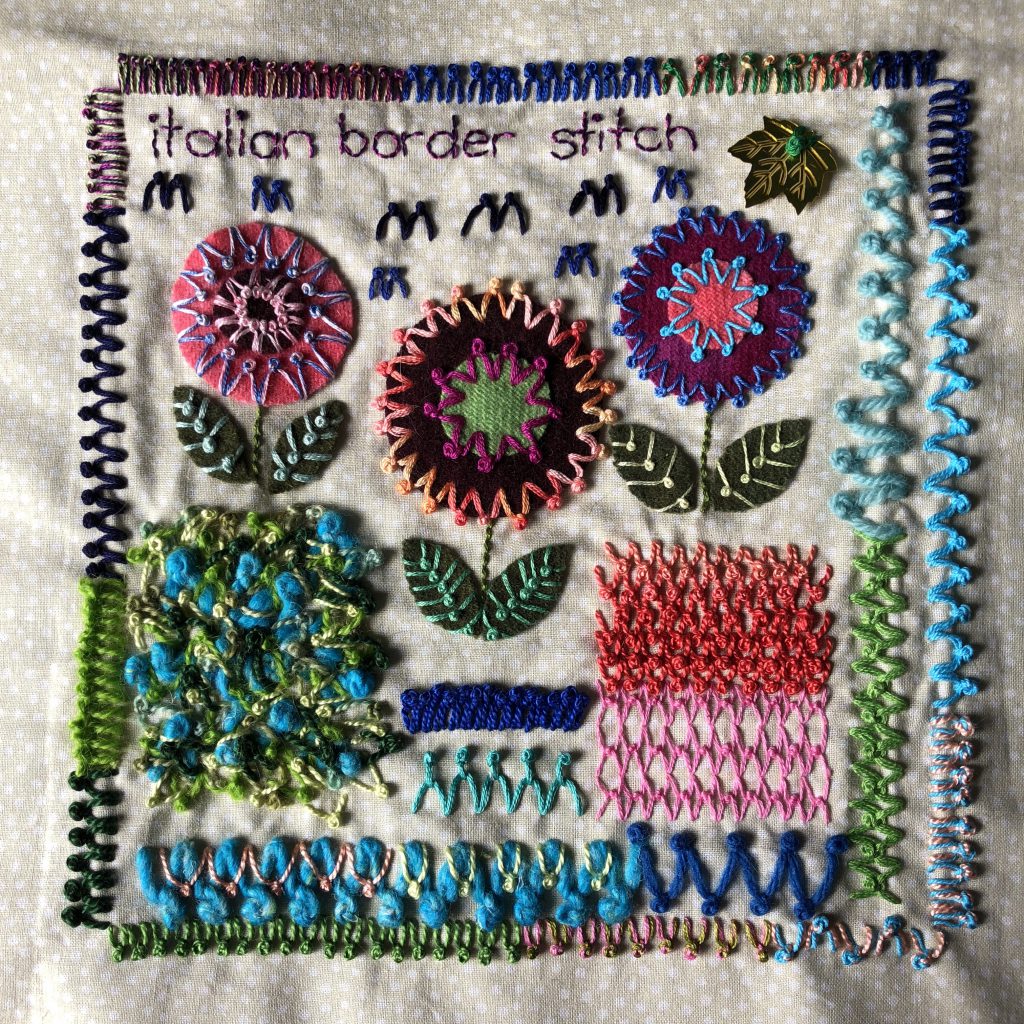 Next are a bunch of stitches that definitely weren't TAST stitches but after completing all 100, these were stitches I wanted to record for  future use. Frilled buttonhole stitch (from Let's Learn Embroidery), Kiko's flower stitch and cast on stitch.
As usual, I tried lots of different threads. I found Kiko's flower a bit tricky when it came to getting the bullion stitch to sit nicely. It's a very pretty stitch but one I'd use sparingly. I like the purple blue-bell looking flowers the most. Frilled buttonhole is a definite favourite though, as is cast on stitch.
Next up are more "not TAST' stitches. Shisha stitch and Gujrati stitch on a medium weight wool.
I used a few different methods for working shisha stitch. A google search will reveal many different tutorials but if you like working from books, I highly recommend "Shisha Mirror Embroidery, a Contemporary Approach" by Jean Simpson. It contains no less than 10 different ways to work shisha embroidery and has an amazing collection of motifs that include mirror work.
I used a couple of mirrors, but mostly experimental things. From left to right –
top row: sequins trapped behind a square of plastic, laminated playing card, laminated book page
middle row: a button, flattened bottle cap, mirror
bottom row: laminated playing card, mirror, old sequin.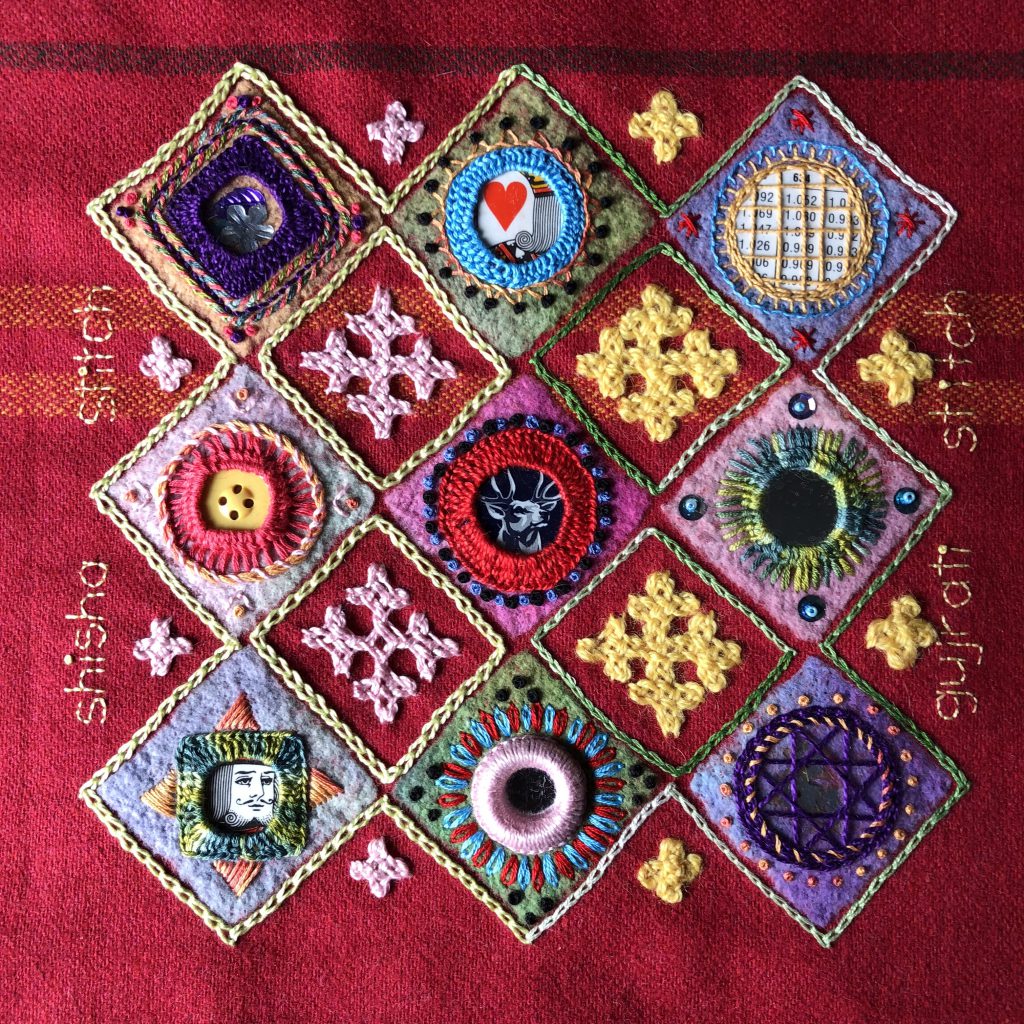 I worked the Gujrati stitch in cotton on the left half and wool on the right. These are two of my favourite stitches that I'm definitely going to use a lot more in the future.
Next up, TAST 2015-2017 stitch number 96 was reversed buttonhole bar.
I worked single rows on on the buttonhole (or blanket stitch) foundation, all the way up to filling it completely. This is another stitch that makes really great rings, borders and grounds. I'm especially fond of my little sun and the left hand cloud, which is worked in some of my very first handspun cotton.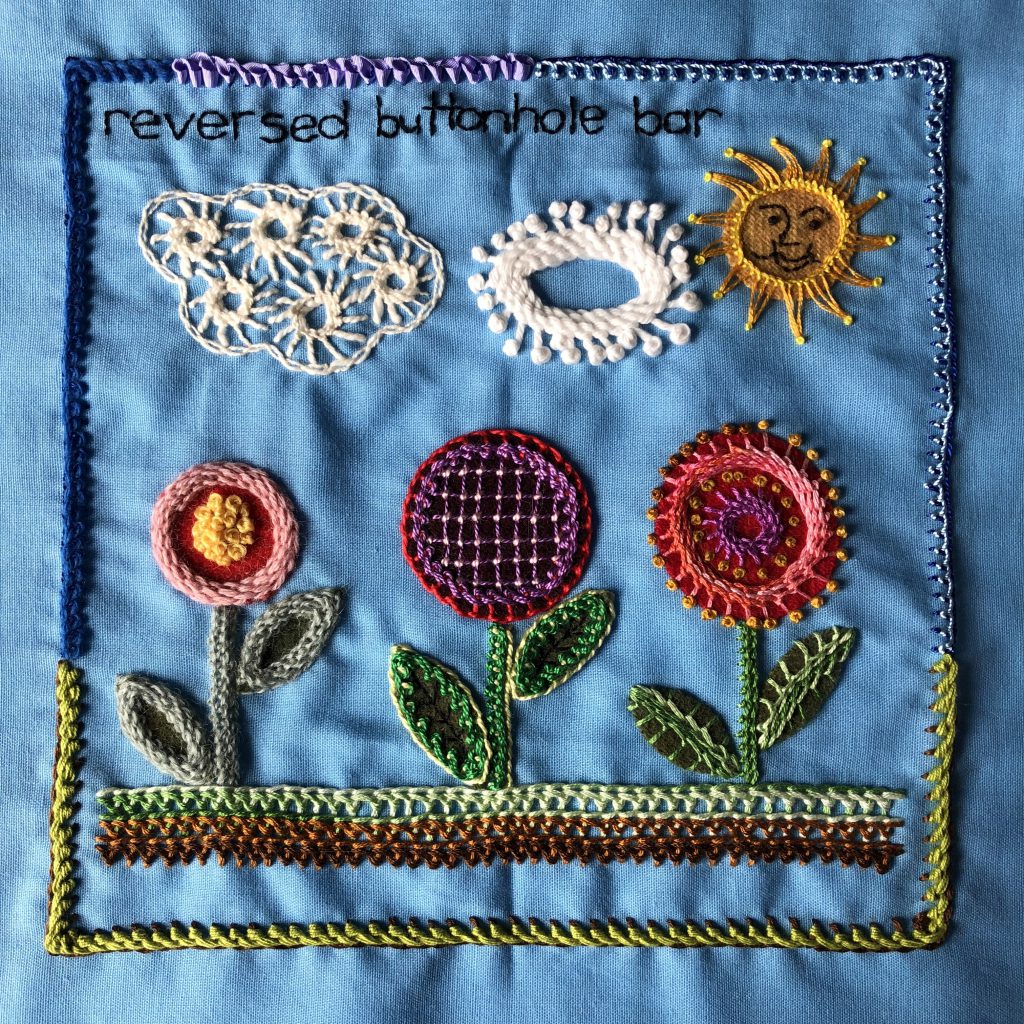 Well that's it for the first TAST catch up post! I'll be posting one a day for the next 4 days, then showing off a recently finished project and the first month of embroidery for "Beyond TAST" 2018 so look out for a whole week of stitchy goodness.