This week's Take a Stitch on Tuesday sampler is running stitch. Or I guess you could say it was last week's and I just finished it.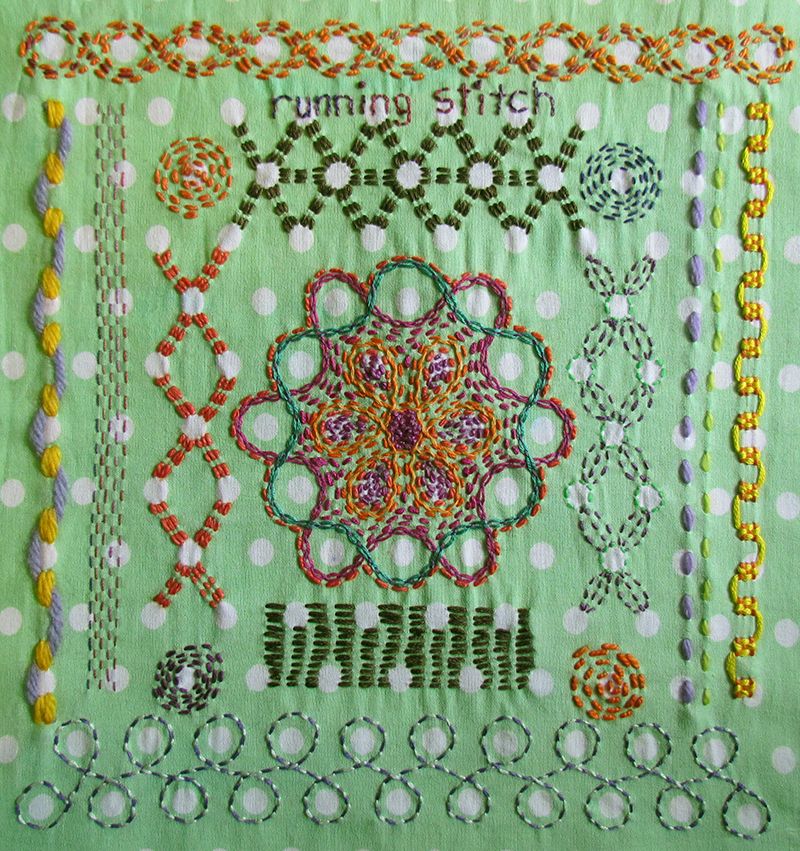 (Click on the photo for a larger view)
This week I decided to combine running stitch with spotted fabric and see what patterns I could create.
Stitches include:
Basic running stitch
Laced running stitch (left and right borders, outer border on the centre medallion)
Double running stitch (bottom border)
Whipped running stitch (centre flower of the medallion)
Pattern darning (striped darning between the spots near the centre bottom)
I usually use threads bought at the local (and not so local) op shops* but this time I tried a new thread that I had treated myself to some years ago. I intended to use it for machine embroidery but my embroidery machine died of old age and I don't intend to buy another one so I decided to use it for hand stitching. It's a really lovely thread called Valdani Cotton from Romania. I bought mine from The Thread Studio in Queensland. You can see it in my sampler in the vertical stripe of 5 lines of running stitch on the left hand side, plus I used it double to write "running stitch" in back stitch. It's a joy to stitch with, lovely and smooth with a nice sheen and the 35wt that I bought is strong enough for quilting. The colour I used seems to be discontinued "Midnight Roses v16" but the selection of colours available is quite extensive.
I love the movement and texture you can create with running stitch, especially the diamond shaped inner borders and circles.
Now on to the current week's stitch! My fabric is already hooped and ready to go.
Some useful links:
TAST on Facebook
Sharron's TAST FAQ on her website, Pintangle.
Free vintage stitch book downloads.
My TAST Pinterest Boards
*op shop is Australian for charity shop or second hand thrift store. Known as bric-a-brac shops for the most part if the proceeds don't go to charity.