This week's "Take a Stitch on Tuesday" embroider-along stitch was cretan stitch, which I honestly thought was going to be a bit dull after working feather stitch because they look so similar. I was wrong. I loved it.
I seem to have developed a habit of working a sampler with the basic stitch in whatever way takes my fancy at the moment, then working another with all the variations I like from my embroidery encyclopaedia so I thought, "What the heck", and have decided to do that with all the stitches from now on. Unless I don't feel like it at the time 🙂
Sampler number one is an homage to stitch samplers of the late 1960's/early 70's. I call it "Post Apocalyptic Fish". I used everything from for strands of embroidery floss (some with 2 strands of 2 different colours), to tapestry wool and cotton, number 3 mercerised cotton and metallic braids and threads. I laced the basic cretan stitch, whipped it and even tied some knots up the side of the brown closed cretan stitch wedge. The background is unbleached calico painted with acrylic paint & textile medium.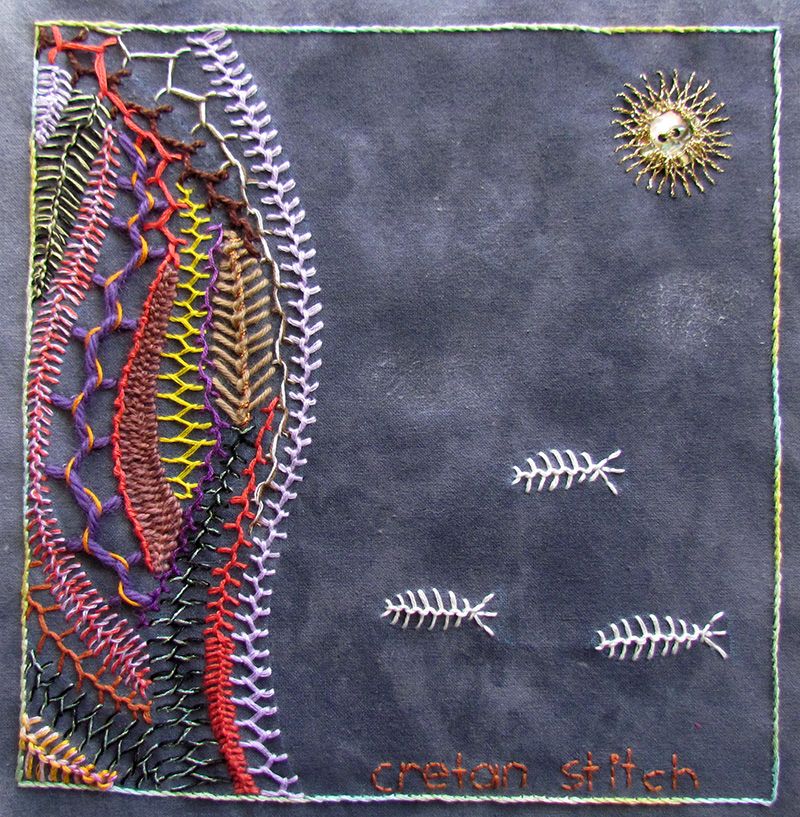 I had planned to stitch the whole thing but I'd tried all the threads and variations I wanted by the time I'd embroidered the left hand side so I added some fish and a shell button shisha stitched sun to complete it. I guess I hadn't worked the fish motif completely out of my system yet 🙂
I used a Clover chacopel pencil to draw the design and it worked really well. I was disappointed when it dried after I washed off the marks though, as an area that I rubbed a bit too hard on has fluffed up through the paint. I thought about painting it with some straight textile medium to flatten it down again but I don't want to risk making it worse.
For my second sampler I block printed a little tree and ruled a LOT of lines with a water erasable pen.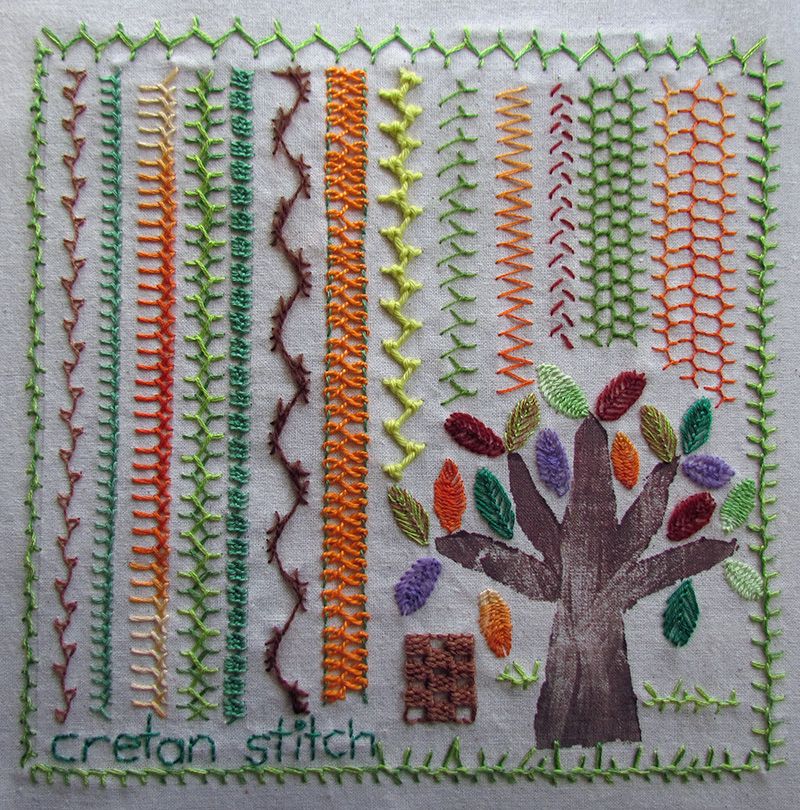 The stitches are:
The border: Basic cretan stitch in different widths. Some with the needle coming out straight along the centre line and some with a zig-zag. For the right hand side and the bottom I used a little blanket stitch wherever there was something in the way
From left to right:
Looped cretan stitch
Oriental stitch 5mm wide in green and 1cm wide in variegated orange
2 layers of cretan stitch on top of each other, offset to form diamonds
Scotch cretan stitch
Crossed cretan stitch
Raised cretan stitch
Knotted cretan stitch
Half cretan stitch
2 rows of slipped cretan stitch with different needle placements (orange then brown)
2 versions of honeycomb arrangements. The green one has overlapping spokes and the orange one has the spokes butted up against each other.
Finally, the tree has closed cretan stitch leaves and the box underneath is cretan open filling stitch.
Phew, that was a lot of stitching.
Thoughts from this week:
My favourite variations are probably the basic cretan stitch, scotch cretan and the honeycomb and diamond placements.
I'll definitely be combining block printing and embroidery more often.
I'll be much more careful when removing lines so I don't damage my background.
Some useful links:
TAST on Facebook
Sharron's TAST FAQ on her website, Pintangle.
Free vintage stitch book downloads.