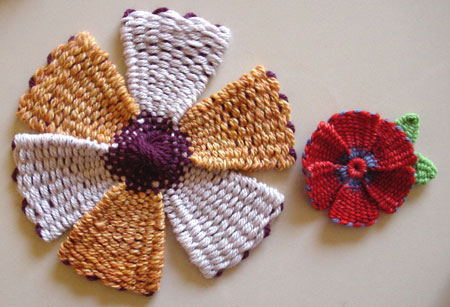 Weaving on a flower loom creates a whole new range of flowers and styles that you can create. I have created full tutorials for several styles to get you started but the sky really is the limit with what you can do.
I have listed all of my flower loom weaving tutorials below and have added a few more samples to get your imagination going.
For even more flower loom projects and instructions, see my small looms page.
Double weaving can be used to make pop art flowers, or to weave petals.

If you weave close to the edge you can finish with a knotted edging to stop the weaving popping off the loops, or begin inside a loop to keep it in place. You would then be weaving under one thread from one loop and one thread from the next loop, then over two threads, under two and so on.

Single weaving can also be used to make any kind of flower. You can weave all the way to the edge without the need for a knotted edge to keep it in place, although it does look nice.
Pointed petals on the Hana-Ami loom. This technique can also be used for looms with only 12 posts/pegs: see the example below for directions on a 12 peg loom.
Flowers with leaves on the Hana-Ami loom. These can also be made on a loom with 12 posts/pegs, although they will look a little different.

Fan shapes can be made on the Hana-Ami loom using the centre post, or on any loom using a post on the opposite side.

You can decorate them any way you like but my favourite way to make them is weaving.

Woven buds can be used with full flowers to create extra interest.

Tiny buds made with green yarn also make great leaves.

Even though you can't make a multi-layer woven flower on the loom in one go, there's no reason you can't stack them later!

Weave progressively tighter at the top of a petal to give it a rounded shape.

When weaving on a peg loom it's a good idea to get into the habit of holding the pegs down with your thumb as you weave. This will stop them popping out and driving you crazy 🙂

To create pointed petals on a loom with 12 posts/pegs weave slightly tighter towards the tip of each petal, then pull it completely tight when you darn in the end of the thread to create the point at the tip.

The picture on the left shows an extra large daisy winder but you can use this idea on any flower loom.

Different shaped looms can give very different effects.

As well as the square and hexagon shapes that come with the Hana-Ami loom, you can also weave on square Studio Twelve looms (using the inner square), square knit wits, triangular Applique looms and don't forget all the shapes you can make on a peg loom!
---
Copyright Sarah Bradberry, April 11th 2010. All rights reserved.