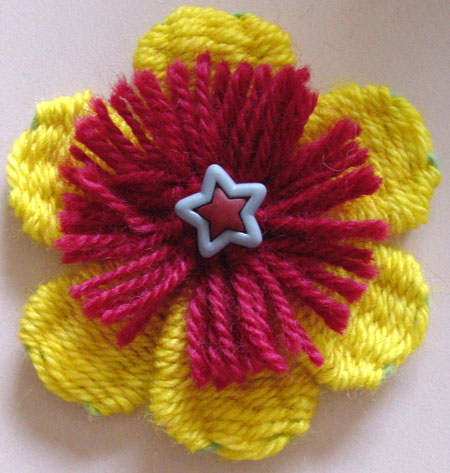 Woven petals on a flower won't allow you to create a multi-layer flower in one go but there's no reason you can't stack finished flowers.
Start with a woven flower with a small, flat centre.
Make another flower to go on top. You can literally make any kind of flower to go on top. Check out the list of tutorials on my small looms page to see all the different styles you can make.

You can even stack one woven flower on top of another.

Stitch the two together. You can sew them together around the centre of the top flower, join them with embroidery, beads, a button, the sky's the limit!
I snipped the loops of my centre flower and added a button for a fun look.
---
Copyright Sarah Bradberry, April 11th 2010. All rights reserved.