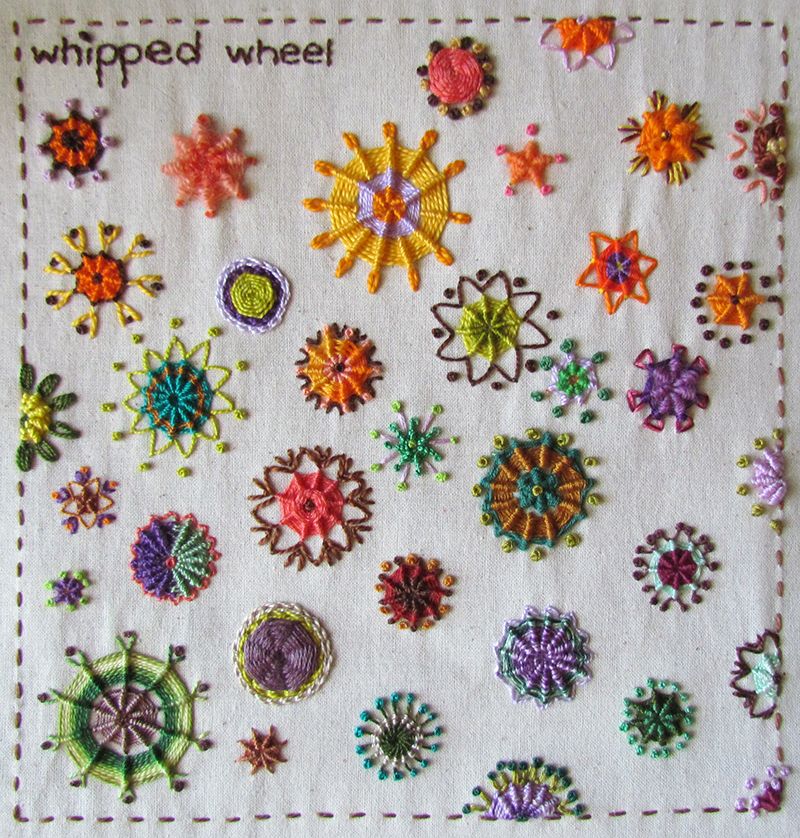 This week's embroidered sampler for the Take a Stitch on Tuesday challenged evolved a lot during stitching.
I started with the thought of making a simple spot pattern testing different threads, in a continuation of last week's spotty theme. After working the right hand third though, it was looking a little dull so I started playing with using different stitches for the spokes and all hell broke loose!
First I worked the large variegated green wheel on the bottom left, using fly stitch for the spokes, then tried the big lavender and yellow wheel with long tail chain. Adding the French knots to the green wheel made me think that adding decoration to the other wheels might look nice. Then adding the French knots to the outside of wheels made me think long tailed French knots might make good spokes.
I ended up trying a lot of different things for the decoration:
Lots of French knots everywhere
Outward pointing fly stitch, starting at the tip of each spoke to make stars and flowers
Outward pointing fly stitch starting between spokes to make little "tips" on each spoke (like the half purple, half green wheel with orange knot in the centre)
Inward pointing fly stitch between spokes
Inward pointing fly stitch between spokes with a straight stitch in the centre of each
Inward pointing fly stitch with a French knot in the centre of each
Straight stitch between spokes with a different coloured French knot on the end
Fly stitch spokes in two colours (one for the fly, one for the spoke)
Fly stitch spokes in two colours with a stitch across the end of the fly to make little triangles
Leaving half the length of the spokes showing
Working the whipping "upside down" so you can see what would usually be hidden at the back (go over the spokes, then back under instead of the usual way – under then over -). These look particularly nice surrounded by rings of chain stitch
Combining regular and upside down whipping
Working the whipping in two coloured halves, whipping half and then twisting around the other colour before turning and going back.
For spot motifs of this kind my favourite threads are quite fine with a firm twist. Flower thread, perle cotton in sizes 20 – 5 and Coats chain mercer crochet all worked well. For a textural piece just about anything would work well except fibres with a lot of natural curl to them like mohair. The mohair thread just wanted to go it's own way too much, rather than wrapping around the spokes where I put it.
Along with my beaded feather stitch fish sampler, this has turned out to be on of my favourite finished samplers so far!
Some useful links:
TAST on Facebook
Sharron's TAST FAQ on her website, Pintangle.
Free vintage stitch book downloads.
My TAST Pinterest Boards