This week's stitches for the Take a Stitch Tuesday stitch-along were barred and alternating barred chain. It took me a few days to figure out what format I wanted my sampler to take, but once I did, it was a quick stitch which I really enjoyed.
(Click on the photo to make it bigger).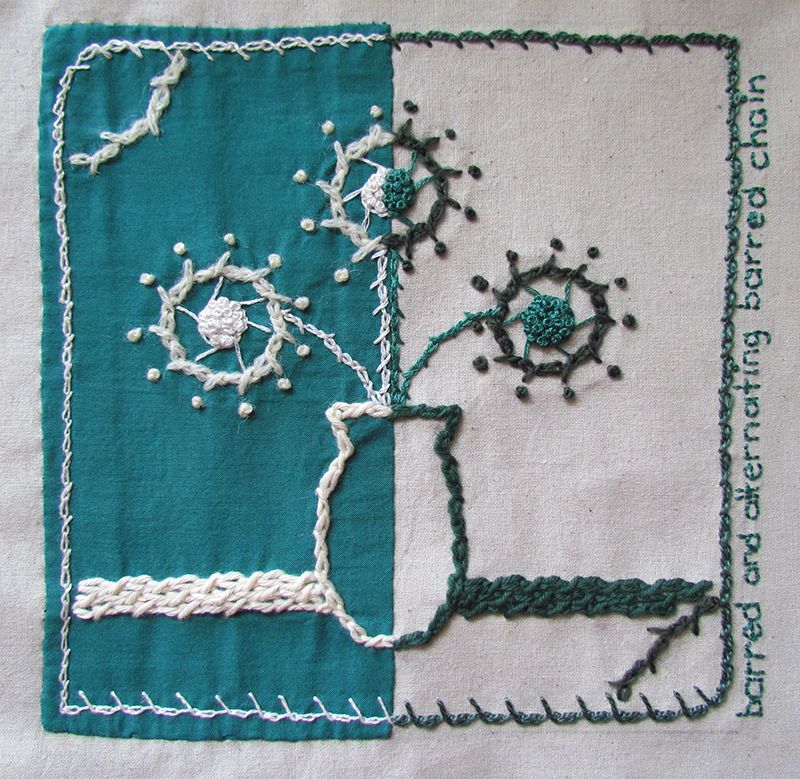 It's not as pretty as most of my other samplers but it records and works out all the things I wanted so I'm very happy with the outcome.
Whenever I don't know how to set out a sampler I first list what I want to achieve. For this sampler I wanted to:
Try both versions of the stitch
Use threads of wildly different textures and thicknesses
Make the bars different lengths
Try it on curves and circles
Stack several rows as a filling
Secondly, I need to find a format that will keep my interest. My samplers are 8 inches or 20cm square, which is pretty big. I chose the size because I wanted to try everything that interested me for each stitch and have a nice record at the end to use as a reference for future projects.
Sometimes you don't really need that much room so I like to throw myself a challenge. I decided to use as few colours as I could, while still keeping the design interesting. My first choice was to make a design that splits down the centre, with reverse colours on each side.
I learnt a few important things that I'm glad I have a record of (I keep a notebook with my samplers in which I'll be recording everything I've written in my blog posts):
I really like the texture of the stitches when worked with short bars in thick matte thread such as tapestry cotton
Circles don't work well if you work them with the bars pointing towards the centre as the twisted chain stitches fold over and won't lie flat
It's really difficult to make whipped barred chain look nice, which is why I ripped it all out
With long bars, the stitches would be more interesting used sparingly
In a design of this type, it's more important that the colour of the threads match each other, than to have some that match the fabric and some that "almost" match. Even if that means that all of your threads almost match the fabric. In fact, I think I prefer the darker green wool and cotton to the perfectly matched stranded floss.
Large areas of solid colour, when reversed on the background look nice (see the difference in the vase in my sampler and the sketch below)
With a few changes, this design might look nice done in appliqué and embroidery using much smoother stitches. Or at least not as many spikes 🙂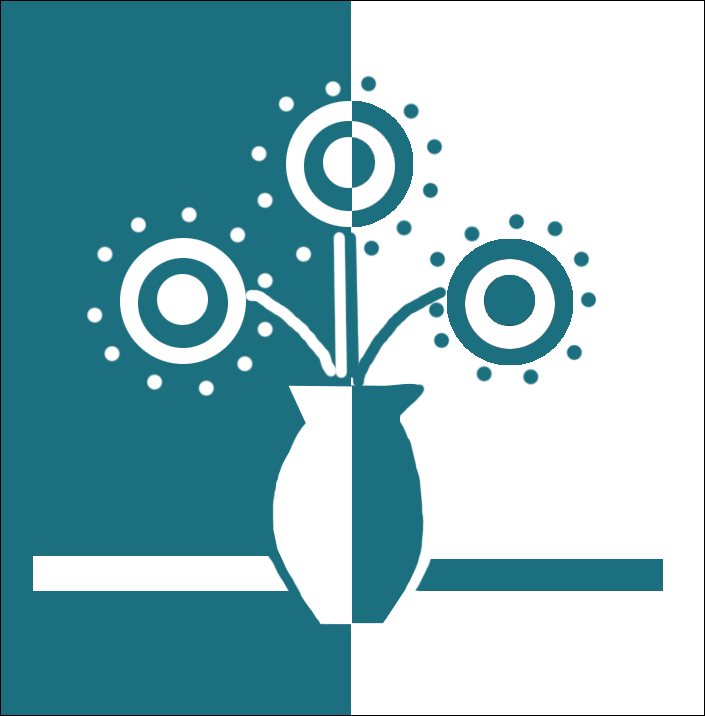 So the outcome, though somewhat ugly, taught me a lot!