Actually, I'm only temporarily online because of the aforementioned laptop-software-murder but I thought that while I'm here I should tell everyone who asked that yes, I am safe and sound! Sorry I can't reply to you all privately but the computer work I get paid for had to come first (SORRY!)
We still don't have a rental, and haven't ended up in the town I would have liked, but I'm a firm believer in "stuff happens for a reason" so it'll all be fine in the end, I'm sure. In fact, some of the reasons have already presented themselves and they're well worth the sacrifice. Well, at least one of them (the other is also good, but is also available in Wollongong, which is where we wanted to live but haven't ended up).
Did that make sense?
No, I didn't think so.
In the meantime I've been making stuff (in the name of sanity preservation. Is it working? Probably not).
Wanna see?
Of course you do, or you wouldn't be reading a knitting blog. 😛
The first couple of things you'll have already seen if you checked out the new patterns I uploaded over the last couple of days.
Firstly a quick recap with the Dr Who Scarf: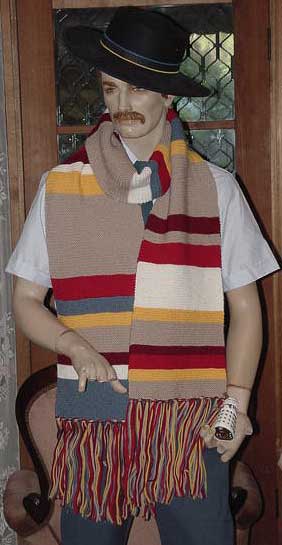 In case you're wondering, yes, all that garter stitch is enough to drive you barmy. And no, that is not my mannequin. My family are somewhat nuts, everyone seems to have mannequins all over the place (actually, the same mannequins seem to get passed around, although my Dad did just buy a new one…)
The other project you might have already checked out are some cushion covers that I made from old denim samples I bought from Reverse Garbage in Marrickville. (Fellow Aussies, you can google their website and order online! Very cool)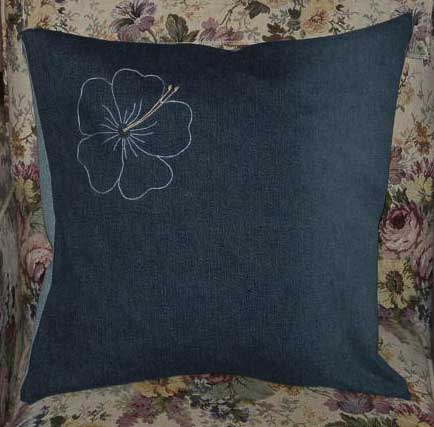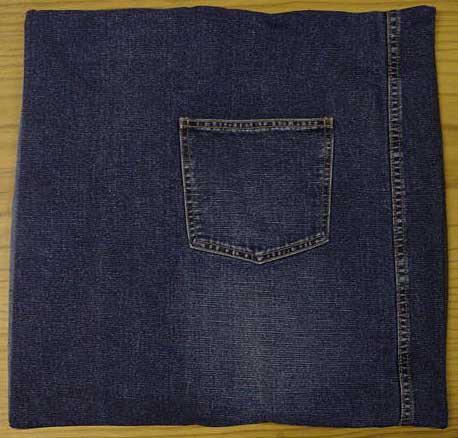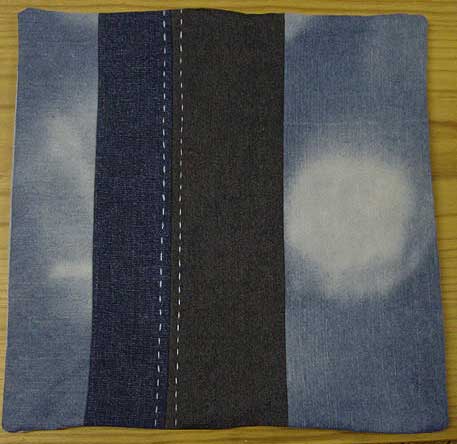 Not bad for $5, huh? I only consider myself an advanced beginner when it comes to sewing, but I'm particularly proud of these. My favourite is the one with the embroidered flower.
But that's not all I've been up to! I've been learning teneriffe lace.
This is the only thing I've made so far. It's the beginner's lace mat from "The Technique of Teneriffe Lace" by Alexandra Stilwell. It's an excellent book if you want to learn Teneriffe lace and well worth seeking out. It also has a chapter on daisy looms that I want to explore. I bought my copy through http://www.abebooks.com from an Australian seller, and there still seem to be plenty of copies around at excellent prices.
I thoroughly enjoyed it and am definitely going to learn more.
Whilst cleaning out one of his rooms, my Dad brought out an old favourite that I made for him last century! I don't think I ever showed this one online because I didn't have a digital camera way back when I made it.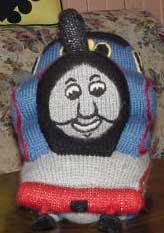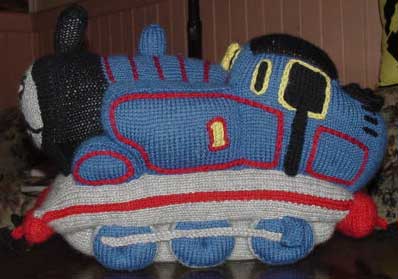 It's Thomas the Tank Engine. The pattern is from the Robin yarn company in the UK. I don't know if you can get it any more but if you have anyone in your family who appreciates knitted trains, then it's well worth seeking out. You knit a few pieces, sew them together, knit a few more, sew them on, ad infinitum. I think there were over 60 pieces in Thomas. The pattern is extremely well written. I never forgot what a piece was for, and aside from stuffing the base a little too firmly I think it turned out really well.
Of course all I care about is that my Dad loved it so I don't care that I overstuffed the base.
🙂
At the moment I'm making another "Badly Written Doily", in the hopes of being able to put up the corrected pattern with charts as my next update in a month or so. I have MORE that enough yarn to finish this one, so I'll get past round 172 this time! I also have a very large book of graph paper to chart it with so there's no way I'll run out of that either.
In fact, I think I bought enough yarn to make 2. I'm up to round 154 and haven't used all of one ball of cotton yet and I bought 3!
Finally, a quick list of birthday goodness.
I had my 36th birthday while offline and received a gift certificate from Borders, which I spent immediately on some fibre and philosophy books which I'll tell you more about later. Dad gave me an embroidery frame that he made for me. I also managed to score 2 glass display heads with $$ from my sister. I've been looking for some for YEARS, so when my Dad's friend phoned up and said that a local camping supplies shop was closing down and selling the shop fittings, off we trecked and lo and behold, just what I needed! Somehow I also ended up buying some down feathers too. I wonder if I can add them to my spinning without inhaling half of them…
I'll try and post again in a couple of weeks. Don't have too much fun without me!