We've knit Winter warmers and Christmas stockings, decorated our trees with hand embroidered felt baubles, now for my final "OMG it's almost Christmas!" post, I thought I'd feature a few toys that you still have enough time to knit.
Sure you do. Sleep is for suckers. 🙂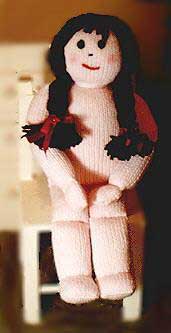 Bliss's dolly was the first pattern I ever put online, way back in 1996. I'd designed her to be knit with any yarn as my gift to the Knitlist email group in 1995. The pattern has stitch by stitch instructions to knit her with dk weight yarn, and a recipe for knitting her with any gauge yarn of your choice. The original pattern includes undies and a dress, and there's a separate pattern for Bliss's netball uniform for the sporty types. In fact, if you add a couple of pom poms, the netball uniform would make a cute cheerleader's outfit too.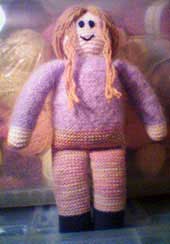 If you'd like a doll that's faster to knit but just as cuddly, my easy knit doll pattern is a quicker knit. Knit in dk weight yarn, she'll measure 12 inches tall, but I've written the pattern out in rows rather than measurements so you can make her with any yarn that you have, at any gauge.
If you just want some little stocking stuffers, why not knit a Pebble Baby or twelve? They're great stash busters, and if you add a bit of catnip to the stuffing, they make fabulous cat toys.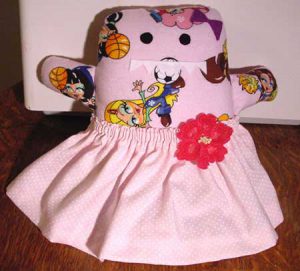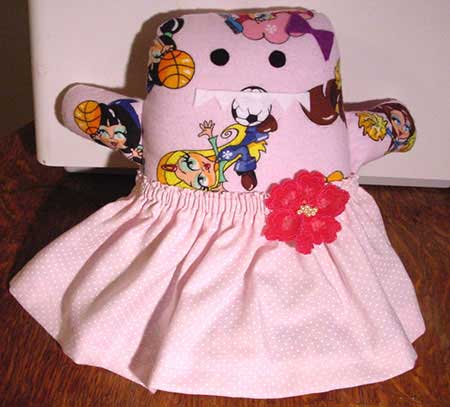 Florentine the monster is a quick sew pattern I designed when I found an unfinished pyjama top at a local re-use shop. She can be pink and frilly, furry and fabulous, or left plain and packaged with fabric pens for a DIY decorating project!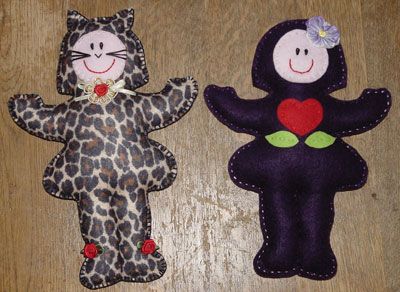 Finally, check out the Betsy Dolls, available in three sizes. Full size (about a foot tall), can be made from any fabric, a slightly smaller size (shown) is designed to fit on commercially available sheets of felt, and a Betsy Doll Christmas tree decoration that can be made from scraps of felt and hung on your tree.
These are just a few of the toy patterns here on Knitting-and.com. If you'd like teddy bears, cats, clowns, bunnies and more, check out the knitting patterns for toys, and the sewing and embroidery projects pages. And remember, when it comes to Christmas crafting – sleep is optional!