I love knitting for babies and one of my favourite things about it is the huge range of cute, and sometimes bizarre, novelty buttons that you can find to sew on them.
As a mother, however, the one thing I hate most about knitwear for babies is trying to do up the buttons on a cardigan wrapped around a 4 kilo mass of wriggling baby, especially when the buttons aren't chosen to be functional.
If you've ever knit something for a baby and it has never been worn, it might not be because the parents are ungrateful un-knitworthy hand-made hating ingrates. They might be, but they might have just had a difficult time doing up the buttons. So from my years of experience doing up cardigans on wriggling babies, here is my guide to choosing buttons for baby garments.
The irresistible but poky novelty button.
These are the type of buttons that have little poky bits sticking out everywhere but they'e cute so we must put them on all the things. Star shaped buttons are the WORST. Unfortunately they are also adorable.
These buttons should be used strictly as a decorative element, as trying to put them through a buttonhole that is in constant motion just causes yarn snags, sudden knitwear hatred and wild emotional swings (especially if the person trying to do them up is sleep deprived).
 The irresistible but mostly round novelty button.
This type of button works well on knitwear most of the time. If it has any part that sticks out, like the cat's ears, they are smooth and won't snag.
The only time I would avoid using buttons of this type is if my yarn is particularly splitty as it still might snag, but who wants to knit with that kind of yarn anyway?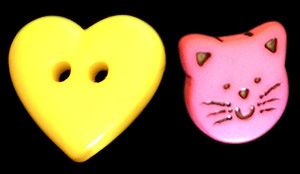 Round decorative buttons
These are my favourite type of buttons to put on baby wear. Printed with cute characters or flowers, special 3D look patterns or interesting moulded but completely smooth shapes. The buttons below are all vintage but you can still get printed buttons with classic children's characters in most shops that sell buttons.
They'll never snag the yarn, no matter what you've knit with, how wriggly the baby is or how tired the person trying to do them up.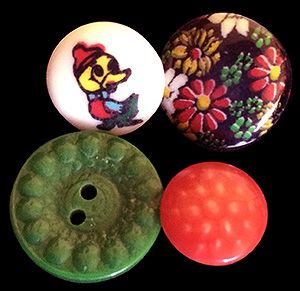 Putting my buttons where my mouth is
Figuratively speaking.
This is a baby surprise jacket that I knit for my nephew. I used vintage pale green buttons for fastening the front and a poky novelty ladybird button purely for decoration.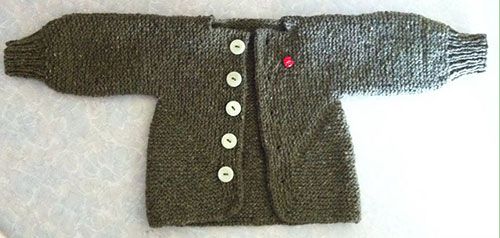 I'd love to hear your thoughts on choosing buttons for baby and toddler knitwear so please feel free to leave a comment below!