My son Charlie and I have finally succumbed to the Rainbow Loom craze! Yes, it took us a while but with friends on Ravelry telling me I should get one, people ending up on Knitting-and.com looking for information on them and then Charlie coming home from his best friend's house with them all up his arms, I decided it was time to give in. Plus they're, you know, kind of cool 🙂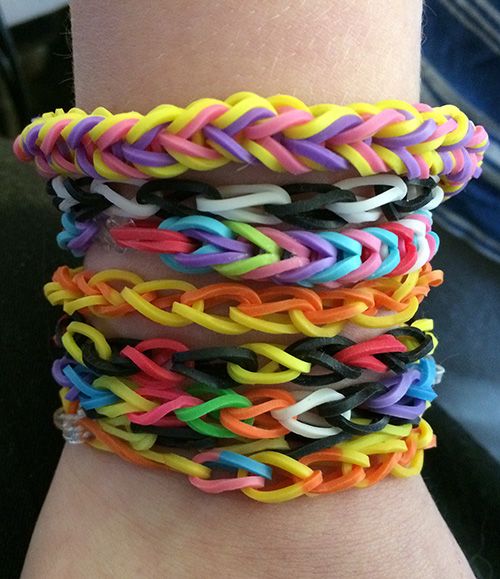 Our loom was on backorder so Charlie decided to get his Dad to buy a cheap pack from K-Mart, which came with a little plastic crochet hook. At first, we used the instructions that came with the bands. They're basically the same as the instructions in this video, except you pinch the beginning bands between your fingers instead of using the mini loom. We made them with single bands, then two bands of different colours at a time (like the top bracelet on Charlie's arm).
Our loom still hadn't arrived so I bought a pack of proper Rainbow loom bands with a gift certificate from Spotlight (thanks Spotties!) and decided to try this technique, which is apparently called a fishtail bracelet.
I think we both love the fishtail bracelets and using double bands more than the others. They're much more substantial and you can play with blending colours. When I say "we", I mean I make the bracelets and Charlie wears them and runs away with the ones I made for myself 😉
I was very surprised at the difference in the quality of the bands. The K-mart bands started perishing within a couple of weeks of making the bracelets. When Charlie stretched them, they became pitted and weak, making many points along each band where they eventually broke. The real Rainbow loom brand bands however, have been treated to an equal amount of abuse and are holding up fine. I also found them to be easier to work with as they're thicker and less likely to twist.
If you'd like to keep up with which projects Charlie is getting me to make for him on the loom (when it finally arrives), you can sign up to my blog over there in the right hand menu and be notified whenever I post. It's a great way to find out when I post free patterns and booklets as well 🙂
Now I'm off to finish a crochet blanket. I'll show you Charlie's new hat tomorrow!