Welcome to part three of my "I can't believe I finished the TAST 100 stitch embroidery challenge" catch up series. I accidentally published two posts yesterday (oops), but never mind, I have a feeling there will be a lot more embroidery going on around here to tell you about!
Braid stitch wasn't a TAST stitch as far as I can remember. I tried it with a few different threads and I'm really not a fan. I just couldn't get it to look nice, no matter what I did.
Stitch 99: Woven chain bar
Once again, I tried this stitch in an assortment of threads. It didn't work well in wool because of the crimp or bounciness of the thread. Cotton lays nice and flat, however and looks pretty good. I'd reserve this for graphic elements worked in straight lines. Ever shortening rows stacked on top of each other for a roof, for example, or perhaps a single row for a window box.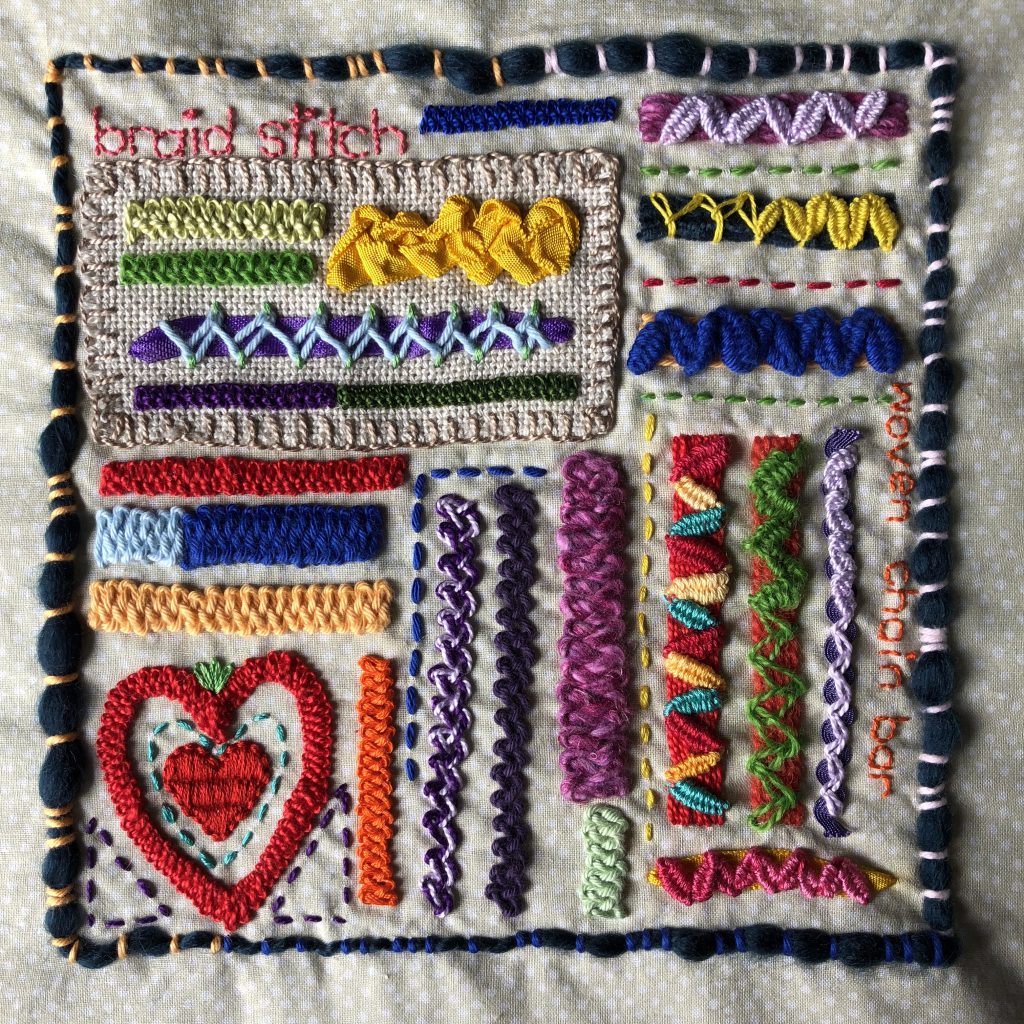 Rosette of thorns is another non-TAST stitch. I had to try it because I love pretty much all variations of blanket stitch. I tried lots of different threads, from my finest perle cotton to thick knitting wool/silk mix. I love how useful this stitch is. It makes great grass and flower stems, eyelashes and geometric borders. It also works well in straight lines, spirals and curves. I think my favourite, however, is the top of the border where I alternated which side of the line the stitches were formed. Worked vertically in green it would make an amazing fern-like plant.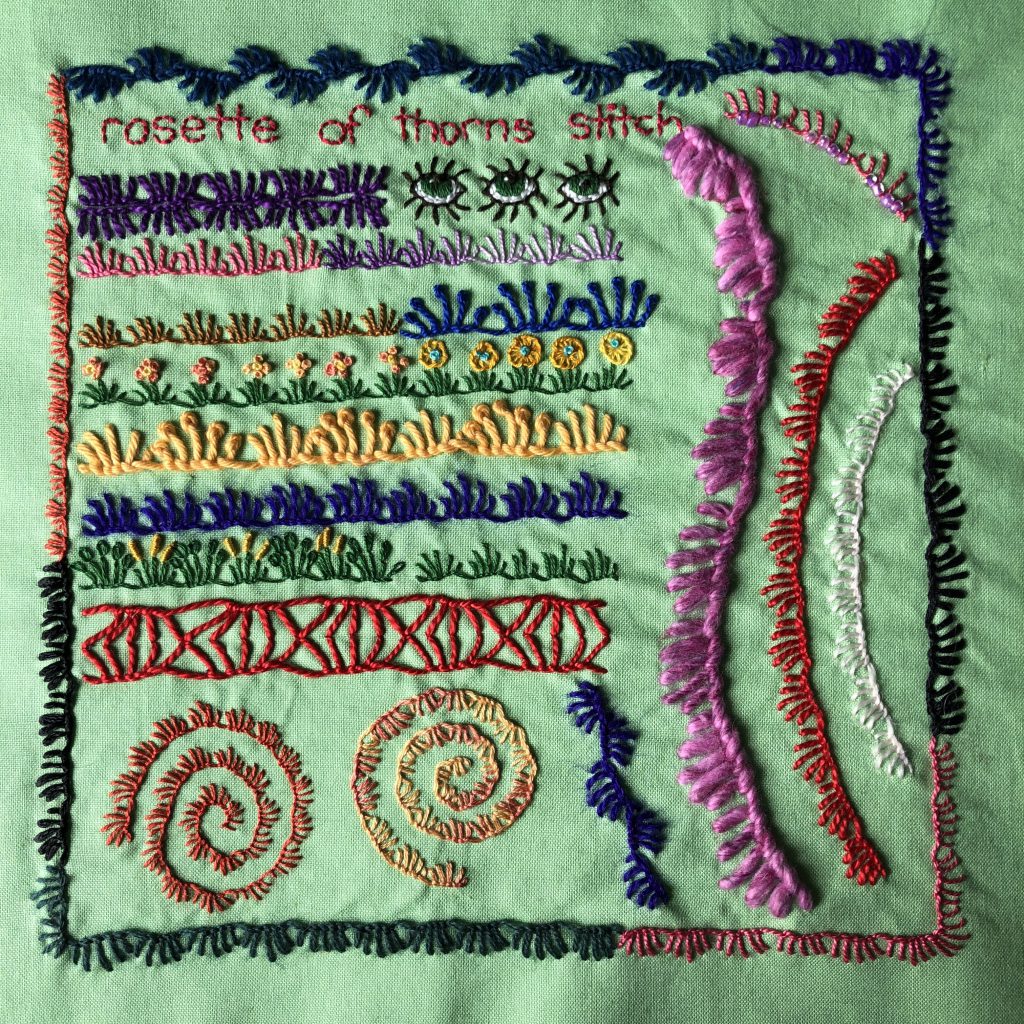 Stitch 80 revisited: Double whipped chain stitch.
I worked a few different lines of whipped double (or double whipped) chain stitch back when it was first announced, but I had a lot more variations and threads to try out. When I came across this great fabric in my stash, I knew they'd go perfectly together. I tried just about every thread I have in both wools and cotton, whipped triple rows, spaced rows apart, whipped the centres and the edges and whipped in both directions to make cross stitches up the centre. This would be a tricky stitch to work in circles, but it's a great one for border treatments and seams.
Stitch 38: Revisiting cloud filling stitch.
I recorded cloud filling back in August 2016 but didn't experiment with it at all. In this sampler, I tried lots of different ways of spacing the ground stitches the yarn is woven through, as well as lots of different yarns. In the pale pink area I started more spread out on the left and gradually made the vertical rows of stitches closer together, which gives a lovely sense of movement and perspective.
I then used cloud stitch to embroider most of this little picture.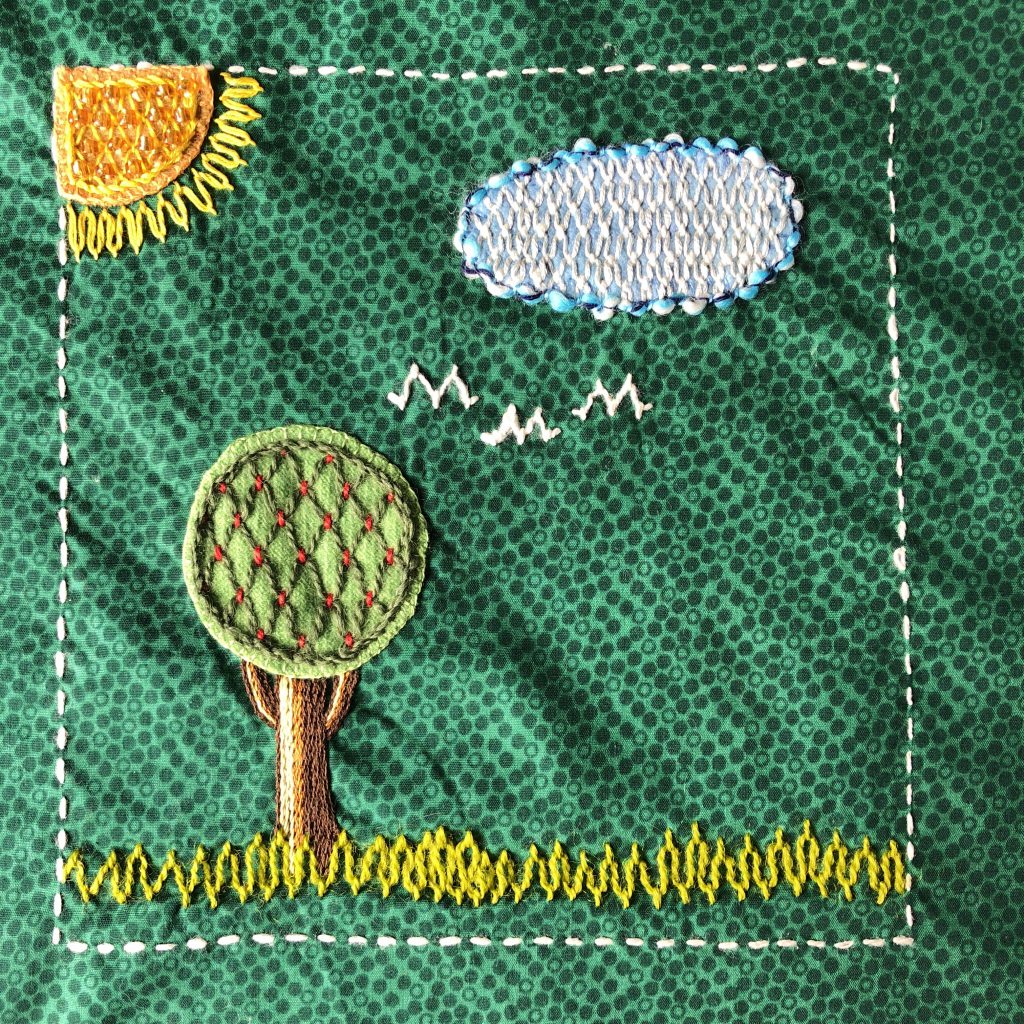 I'm particularly fond of the beaded section in the sun. After working the cloud stitch, I stitched a gold bead into each diamond shape.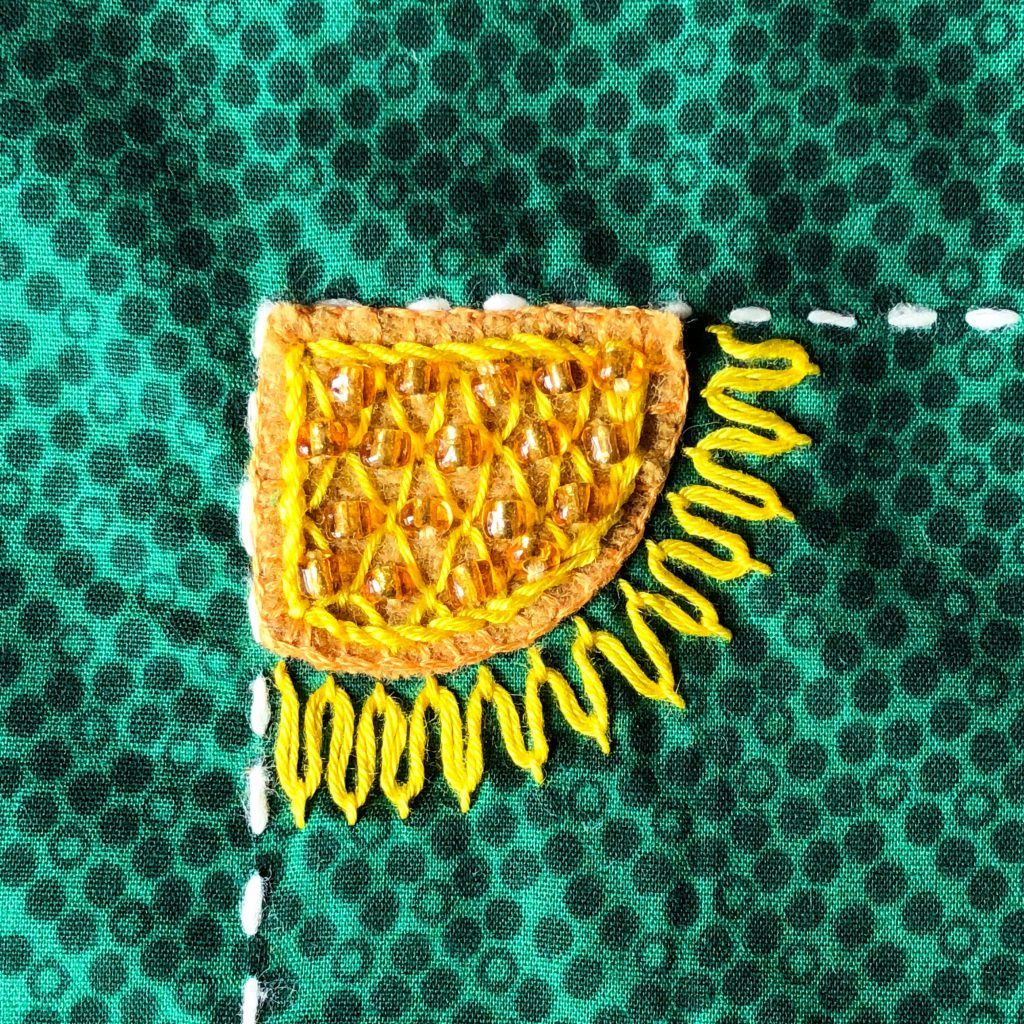 Well that's it for part three of my five part TAST catch up. See you tomorrow for more!