I'm making great headway into knitting the patterns from Lace from "The Ladies' Guide to Elegant Lace Patterns, Etc", published in 1884. In fact, my sample box is now full so I had better get blocking before I knit any more to make room!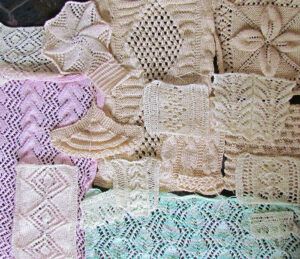 For anyone that doesn't already know, I decided to knit and modernise all of the lace patterns from the book (which is available in it's original form for free download), as it didn't have any pictures and the language used in Victorian patterns can look very confusing if you're not used to it. Also, the scan of the book is very faded and difficult to read.
I've knit 16 of the patterns so far, with 30 more to go so I expect to take a week or two to finish. I started with the largest patterns though, so I'm more than halfway there with the actual knitting!
There are variations on a few old favourites, such as the green leaf tidy you can see a tiny bit of at the bottom, and some patterns that I've never seen before (which is saying something since my edgings and insertion patterns collection numbers well over 300)!
Now please excuse me as I have some blocking to do, and a lot more knitting!