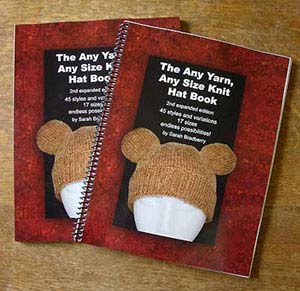 Have you ever picked up a skein of yarn to knit a hat and been frustrated that you couldn't find a pattern for your yarn in a style that you like?
With "The Any Yarn, Any Size Knit Hat Book" you can knit hats in any of 45 styles and variations with any yarn you like. Each pattern can be knit in 17 sizes from 8″ circumference for premature babies all the way up to 24″!
"The Any Yarn, Any Size Knit Hat Book" contains 144 pages of patterns and techniques, illustrated throughout with large black and white photographs of each hat with colour photos available online in the photo gallery. You can also view a slideshow of hats that I have knit from the book below.
View a slideshow of hats knit from the patterns in the book
Where to buy it!
The book is available as a pdf
PDF version available on Payhip US$21.95
Errata
On page 117 in the pattern for the Knit & Felt Monmouth Cap the instructions for the top of the hat have a minor typo. The text reads "Repeat the last 5 rounds until 8 or 16 stitches remain". It should say "Repeat the last 6 rounds"
This has been corrected in the latest version of the book.
Reviews
November 2007
Knitter's Review
The Any Yarn, Any Size Knit Hat Book has received an excellent review on Knitter's Review this month!
Clara writes, "Instructions are clear and accessible, and they really do give you a sense of infinite and achievable possibility. Strong technique and recommended readings sections round out the book well".
September – October 2007
Sticks & String Podcast
David Reidy – Sticks & String Episode 38 (an interview with me about the book is in episode 39)
"The nice bit about [the book] is it's limited only by your imagination. – It's a very Elizabeth Zimmermann approach to doing things and I love it, I think it's a wonderful way of doing it – All in all a wonderful book. There's more than enough to keep you knitting for many, many years."