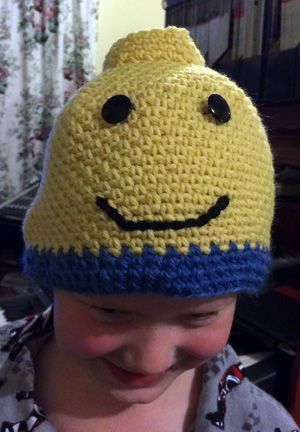 As promised, here is Charlie's new hat! Not only is it proof that I can crochet, it's also proof that sometimes I buy patterns that were written more recently than 1969 🙂
Here are the details, because this hat is so ridiculous that everyone should make one!
Pattern: Blockhead Man Hat by Darleen Hopkins – $4.50 US
Yarn: Cascade 220 (not superwash, just the regular kind)
Hook size: 5mm/US size H
Size: medium/large (Charlie likes his hats loose and long so he can pull them down over his ears but the smaller size really was going to be a bit tight)
Skill Level: Super easy but make sure to keep track of the end of your rounds!
Charlie insists he's never going to take this hat off, so I had to sew a name label in it because of his school's clothing policy (I.E. put a name label in all your kids clothes or we'll look at you with the same expression we use on the 5 year olds when they've done something silly).
Of course, I could find neither the name label tape, nor the laundry marker that I bought for this purpose (It's probably in my sewing box which is the only place I didn't look), so I made a label with vintage seam tape and a Sharpie.
Fold the ends of the tape over and fasten the thread with a few stitches over the top of each other. Then over-sew to the hat, catching just the back of the stitches so it doesn't show from the outside.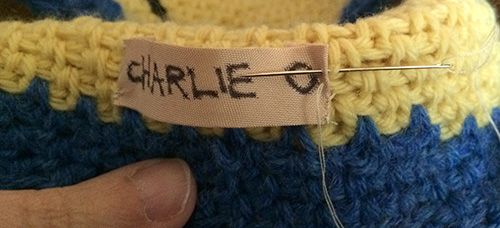 Make sure to leave a slight "bubble" in the label so that there is enough room for the crochet to stretch.
Here it is seen from the side.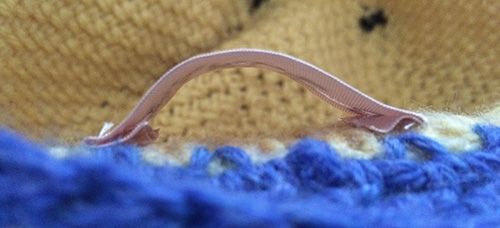 I have my fingers crossed that Charlie doesn't still manage to lose it. Whenever his Dad or I pick him up from school, he's always managed to spread his belongings all over the classroom verandah so you never know!
Now I'm off to play with my our new Rainbow loom, which arrived during breakfast this morning!