My rainbow loom arrived at last! Next time there's a rainbow loom "drought" in Australia I'm just going to wait for shops to get stock in. Back ordering mine was a bit of a disaster since the shop didn't keep customers up to date with the ever changing delivery times. But it's here now (and Charlie has stopped asking how many sleeps until it arrives) and that's all that counts.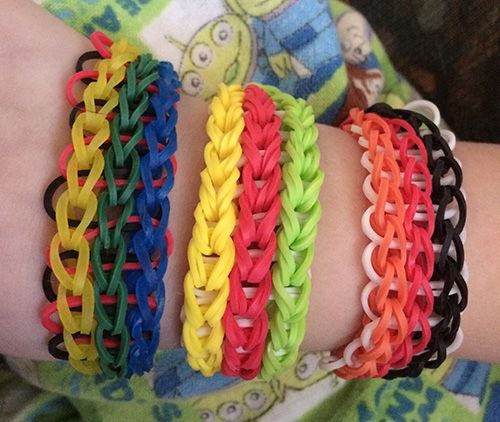 Charlie and I decided to start off with an easy style of bracelet since he likes stripes and I like to stop my brain from melting and leaking out my ears. We (and by "we" I mean "Charlie") chose the triple single bracelet.
From left to right the photo above shows: a bracelet that Charlie (age 5) put on the loom himself. I finished it off for him but he really enjoys making the patterns with the bands on the loom. In the centre is a bracelet I made with two bands held together for the stripes,  and finally a bracelet with single bands in the stripes.
I used the following video, which takes you step by step through the process with clear and thorough instruction for both weaving the decorative part of the bracelet and making it longer for different sized wrists.
Charlie and I disagree with what to make next. I want to make myself a beaded bracelet but he wants me to make him a red Angry Bird charm. So I guess I'll be doing both!
Don't worry if you come here for free knitting patterns and other vintage crafts though. Knitting-and.com hasn't turned into the all singing, all dancing rainbow loom show just yet. At the moment my partner is working on scanning book four of the Good Needlework Gift Book series, and I have some vintage knitting patterns ready to type up, which I'll release one at a time over the next couple of, um, years (there are hundreds of them). I'm also still working on translating my vintage Latvian knitting book from 1956, which is going extremely well considering I don't speak any Latvian!