This week's stitch for the Take a Stitch Tuesday embroidery challenge is knotted buttonhole band. It ended up being quite a versatile stitch, which I wasn't expecting.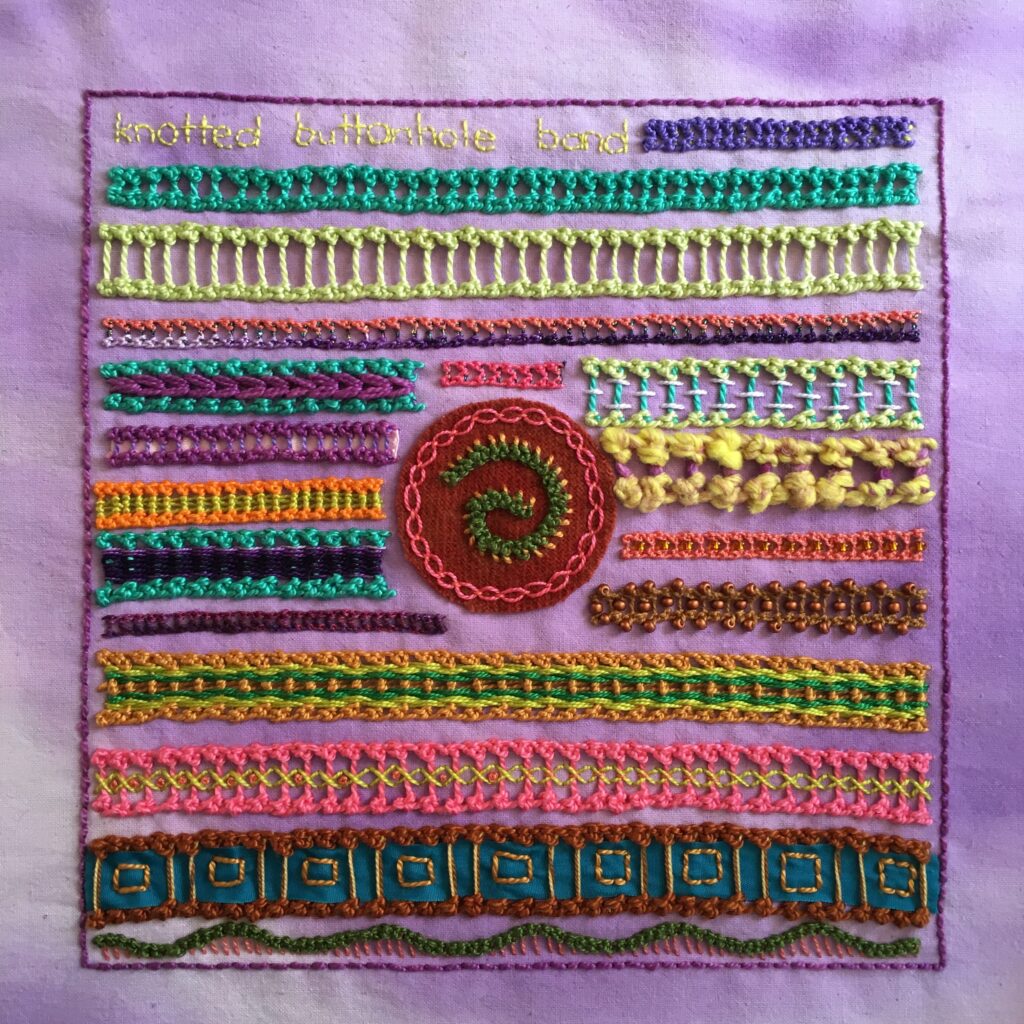 I worked the top three rows first, which you can probably see as the purple band on the right of the title is quite a mess, but they do get progressively neater!
I Googled a lot when I found out about this stitch because I didn't particularly like the look of it and I wanted to see what other embroiderers had done. The first thing to catch my eye was the spiral worked by Queeniepath on Queeneie' Needlework. I really liked it at the point where she had worked the knotting along only one side so I tried that in the centre and on a wavy line at the bottom. I really like both and will definitely be using it that way again. I think the wavy line would look really nice if it was mirrored to create a line of lozenges.
I also really like the way knotted buttonhole band can have a ladder down the middle and thought it would be interesting to try lots of different treatments over the ladder stitches. On the left hand of the spiral I worked:
Knotted buttonhole band with Portuguese border down the centre.
Couched ribbon.
I whipped the ladder threads, then
I wove them.
Finally I stitched a band with two strands of sewing thread.
On the right I:
Couched the ladder threads down with three rows of running stitch.
Then I thought I'd go against everyone's best advice and try a bulky wool/silk knitting yarn with no twist whatsoever. (For the knitters: It's Noro something or other that I found at the op shop). I think it looks very 70's.
The I tried threading beads on the ladder threads and
beads everywhere!
The final three bands at the bottom are:
Whipped and woven on the same band.
The ladder threads are couched down with cross stitch. I worked a few treatments on this band. I made a french knot in every diamond created by the cross stitches, then every second diamond, then worked a small running stitch at the centre of each cross stitch.
And last but not least, I wove a ribbon over 2 ladder stitches, then under 2 and stitched boxes in on the ribbon with large and small stitches!
My background is a little different this week as well. It's the same unbleached calico I've used quite a lot but I soaked it in water and painted it with fabric paint. Then I sprayed it with more water so the paint would bleed. It was quite drippy when I hung it up, but the end result was worth the mess.
I can't wait to see what stitch Sharon has for us next Tuesday!