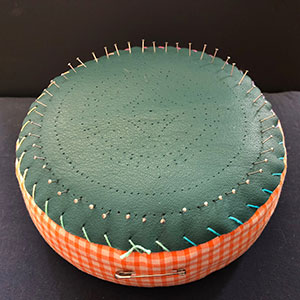 After using them to make lots of lacy bits and stalking the blogs of people who make them, I have updated the instructions for making a teneriffe lace pad (cushion or pillow).
The updates are basically this:
Stuff the inner pad until you can't stuff it any more and then stuff it some more anyway.
If you like to change templates a lot, cut them smaller and use the pins in your design to hold them in place instead of sewing them on.
I like to sew on a favourite template on one side, and leave the other free for using any others.
Don't forget to come back tomorrow for this week's free knitting pattern. It's a good one!