After having so much fun with my plushwork embroidery over the past few weeks I have a little catching up to do with the Take a Stitch Tuesday challenge. Here are my samplers for weeks 19 and 20, bullion knots and butterfly chain.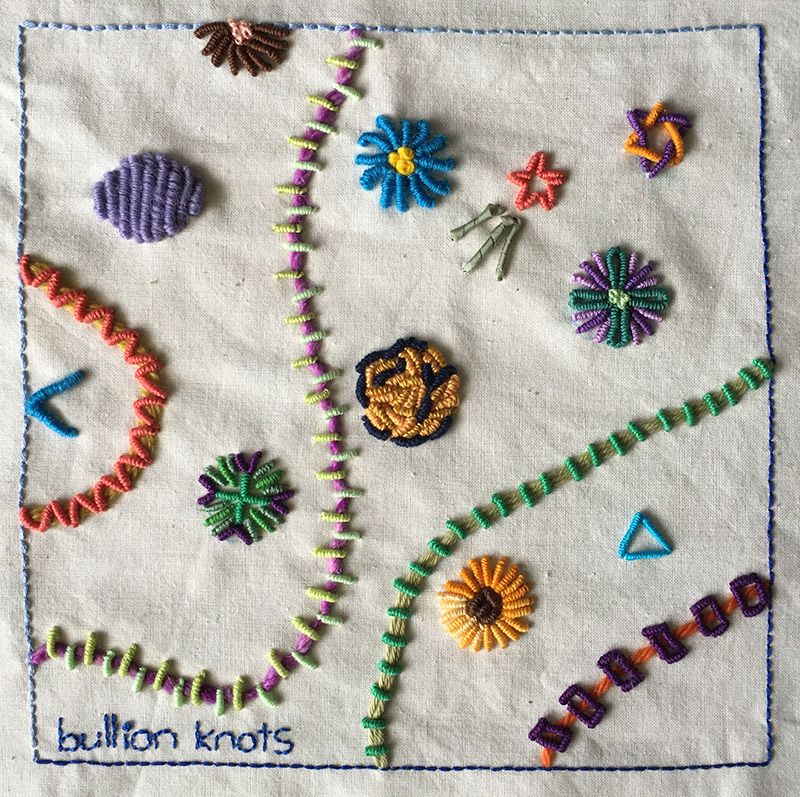 Whilst I'm quite fond of working bullion knots and I think most of mine came out great (thanks to using a milliner's needle and smooth threads), I think the bullion knot is best suited to flowers. The couching is a lot of fun but I'm not sure where I would ever use it.
Confession time: I tried to work a bullion rose but it just looked like rubbish so I made the 6 pointed star to cover up where I ripped it out so many times 😛
I ripped out the threads I didn't like,  and the ones that are left are:
Centre caramel and navy circle: size 5 perle cotton.
Aqua flower and purple oval: tapestry wool
Star trail: silk ribbon
Everything else: 6 strands of stranded embroidery cotton.
I worked:
Regular bullion knots
Looped bullion knots (the brown ones in the centre of the variegated orange flower).
Looped bullion knots couched down (in the green and purple flower).
Lots of bullion knots couching down other threads.
Next is my butterfly chain sampler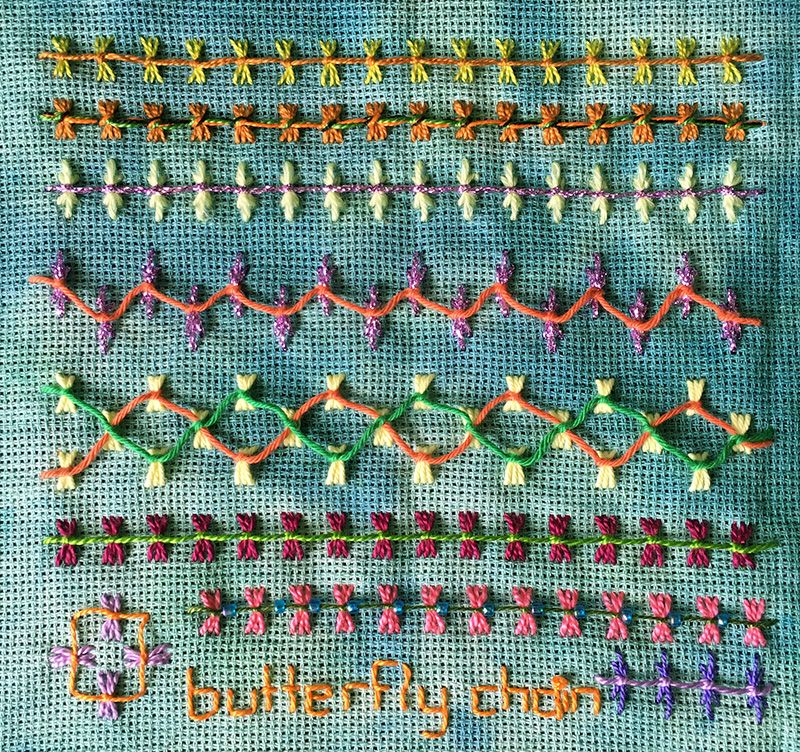 Obviously this would make great borders on lots of things. I like the thicker threads the best.
From the top row:
Size 5 mercerised cotton for both stitches and tying strand.
Size 5 mercerised cotton for the straight stitches and 3 different cottons for the tying.
Fingering weight knitting wool for the straight stitches and glitter knitting yarn for the tying.
The same glitter yarn for the straight stitches and cotton/acrylic for tying. I shouldn't have used the cotton/acrylic as I'm allergic to acrylic and paid for it with a rash up my arm for two days!
All cotton/acrylic. For the tying threads, I slipped the second one under the knot made by the first instead of making another knot. I tried both ways and this looked much nicer.
Next row: Size 3 mercerised cotton for both. This is my favourite thread for this stitch.
Pink size 3 mercerised cotton with a finer cotton and beads for tying.
For the square the lavender is size 3 mercerised cotton and the orange is finer (I'm not sure what number as I never had the skein band).
And finally the small purple section is again size 3 mercerised cotton.
I suspect liking purple glitter yarn this much when you're older than 5 is illegal.
Now onto the knotted cretan stitch. I thought I had already done some on my cretan stitch samplers, then I remembered that I purposely didn't because I knew it was coming up a stitch for it's own week.
Some useful links:
TAST on Facebook
Sharron's TAST FAQ on her website, Pintangle.
Free vintage stitch book downloads.
My TAST Pinterest Boards