I'd like to show you the sketches for my very last Beyond TAST embroidery sampler. Just like any of my embroideries that I have designed myself, the design process goes through a few stages before I come up with the final concept because almost no-one comes up with a final design without a bit of thinking and sketching first.
The challenge outline was to create something using at least three of the techniques covered in previous Beyond TAST challenges. I decided to base my design on my investigations into filling stitches, pattern darning and line stitches.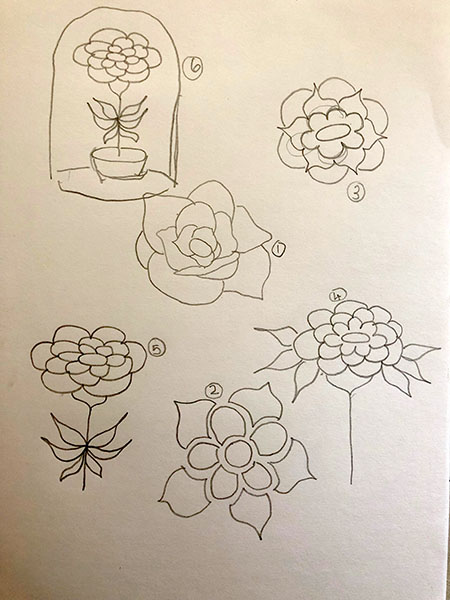 Step 1: I decided I'd like to base my design on a rose. But I didn't like the shapes in sketch 1.
Step 2: I tried a more geometric approach but it looked too much like a stencil design. Stencils are cool, but not what I want for this.
Step 3: I used similar shapes to step 2 but joined them together to be less stencil like. Now I'm starting to get somewhere I like.
Step 4: I kept the petals round and made the pointy petals into leaves instead. Then I added a calyx and stem, which meant the leaves were now in the wrong place. Hmm.
Step 5: I put the leaves in the right place. Now I like it, but such a rare specimen would be kept safe under a bell jar, right? (or maybe I've been watching too many Victorian era episodes of Doctor Who. Naaaa, that's not possible).
Step 6: Now it's under a bell jar.
Step 7: I made a Pinterest board with pictures of bell jar terrariums/cloche terrariums. The board quickly became more about the bell jars than actual terrariums and morphed into a conglomeration of things wealthy Victorian era  people in England liked to stuff under jars.
Step 8: Stay tuned…