I have an admission to make. Even though I have embroidered more than 120 original "investigative" samplers in the last few years, sometimes I love nothing more than working on a pre-printed sampler so I don't have to design anything, and I often get to try something I never would have thought of myself.
My favourite pre-printed samplers are Dropcloth Samplers by Rebecca Ringquist. You may have seen my previous post about her book, Embroidery Workshops, in which I showed my finished sampler that comes with the book. Well, I just finished my fourth Dropcloth sampler, Paisley.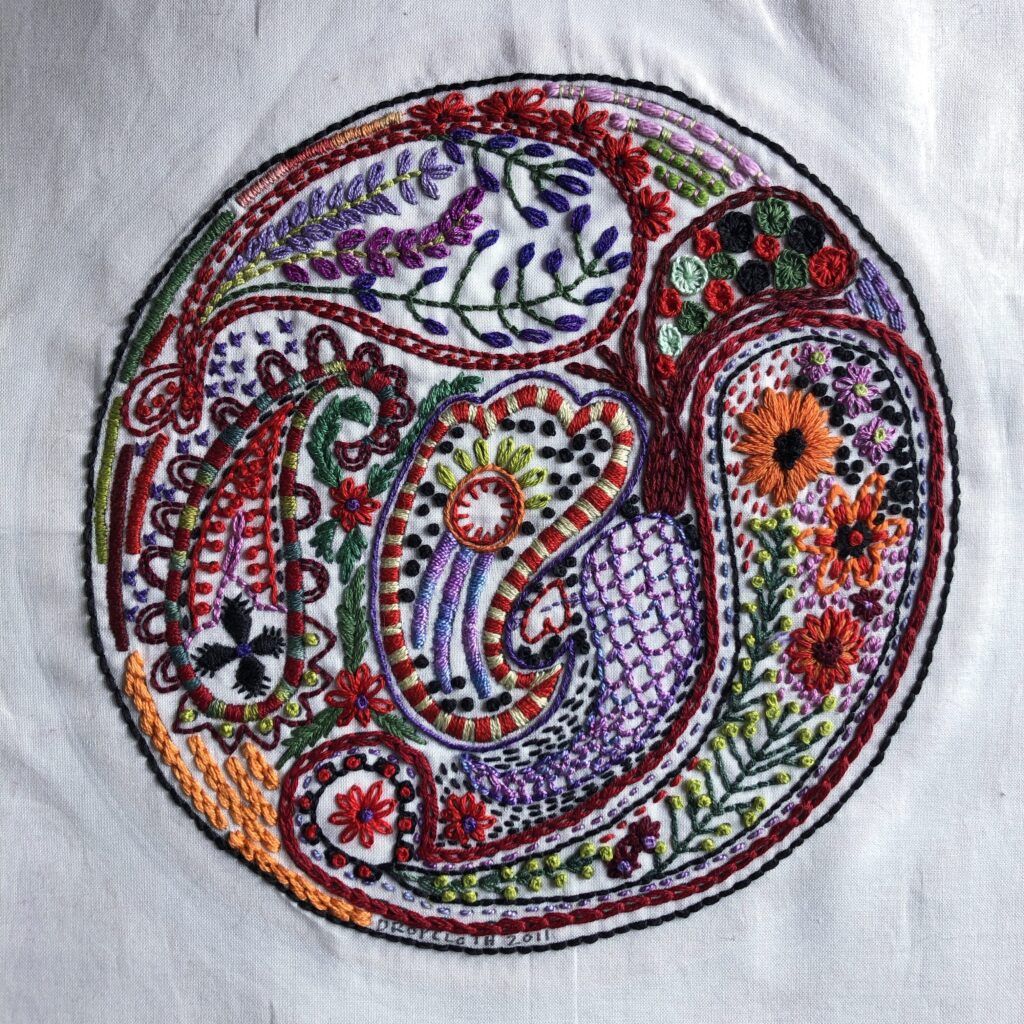 Yes, that's right, my fourth.
I've also embroidered Red Stripe (note that not all my stripes are red. I'm such a rebel),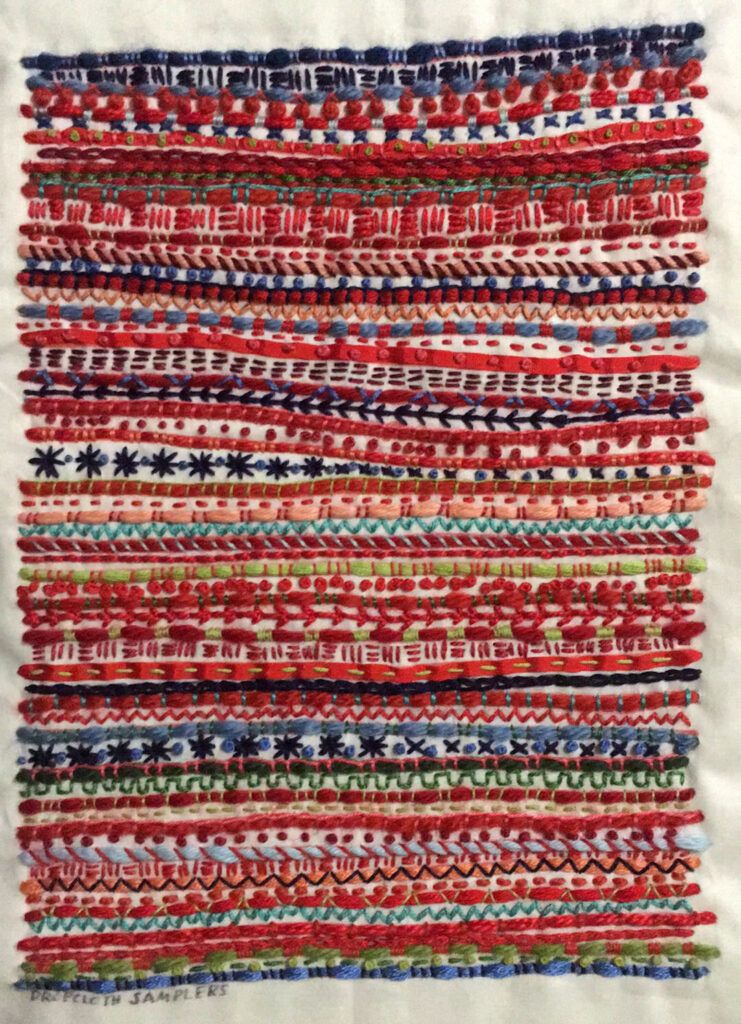 and the Original sampler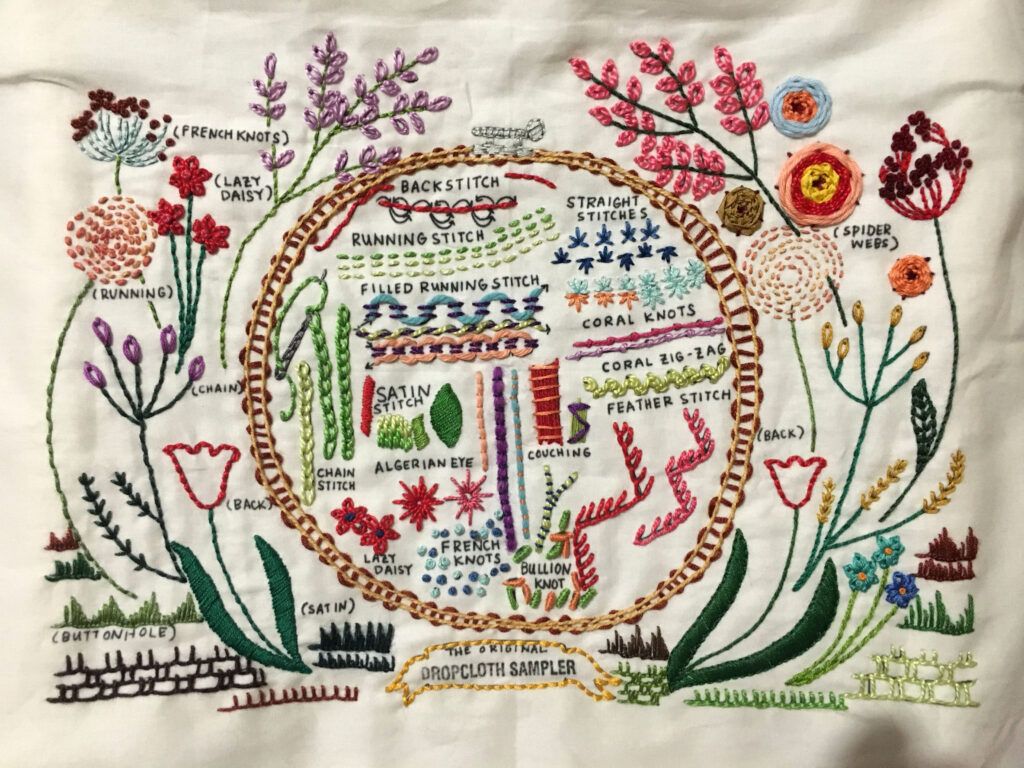 and I have the Sequel sampler all ironed and ready to hoop.
I love how densely stitched the red stripe and paisley samplers are, and every one people embroider are completely different. I love having guidelines and still have the freedom to choose my own threads and change things up if I feel like it (which is why my hoop on the Original Sampler is a bit wild). Check out the hashtag #dropclothsamplers on Instagram for lots of inspirational photos and to see other people's versions of Dropcloth samplers.
If you're new to embroidery, or looking for a project that's a bit out of the ordinary Rebecca also has some classes on Creativebug, including the Original Embroidery Sampler, the Advanced Embroidery Sampler (aka The Sequel Sampler), Embroidery Transfer Techniques , Layered Floral Embroidery (I'm going to try this soon), Embroidered Heirloom Napkins , Embroidered Kids Pillow , Embroidered Photo Ornament and the Embroidered Embellished Skirt. You don't need to buy any of her samplers to do any of the workshops. All you need is fabric, thread and a hoop.
For a limited time you can get a 14-day free trial to Creativebug and save 60% at Joann Fabric and Craft Stores.
Now I just have to decide whether to take another look at the layered floral embroidery class or start my sequel sampler. Hmm…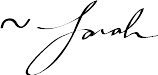 This post contains affiliate links to Creativebug. The links to Dropcloth Samplers on Etsy are not affiliate links. Rest assured, I only link to products and services I enjoy, and believe my visitors might like too.