Ponto Fofoca ou Ponto Origami?, originally uploaded by Carla Cordeiro Artes.
I had planned on playing with my singercraft tool last night but I was overwhelmed with curiosity about this technique and how it's done. So me and my investigating feet* went on a little hunt.
The text with Carla's photo is in Portuguese and I don't speak Portuguese so I started (and ended) by looking in the bible of fabric squishing The Art of Manipulating Fabric by Colette Wolff. There it was, in the chapter on smocking. Apparently this is called north American (or Canadian) smocking and is the flower design.
I had a go, and since I'm English and I really love the vintage gingham I was using, I had a go at English smocking too.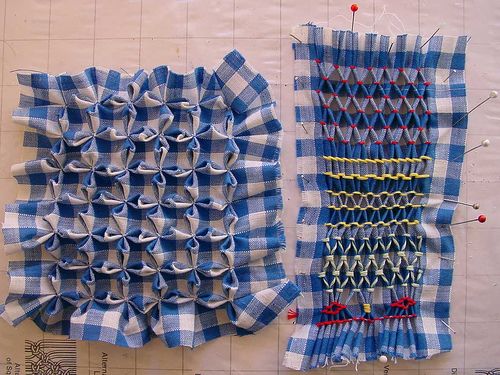 I really love the top design in the English smocking sample that I did (the diamonds). It has both a pleasing geometry and a lovely stretch, plus the gingham makes an interesting effect of darker diamonds on a lighter background with stripes.
I'm definitely going to file these techniques away in subconscious as totally cool and hope they resurface in a project soon 🙂
* 10 points to anyone who can tell me the source of this quotation!