I'd been looking forward to working basque stitch for the TAST embroidery challenge and really went to town with both the stitching and my background fabrics for this sampler.
Since I love flowers and floral designs, I chose to stitch a little garden.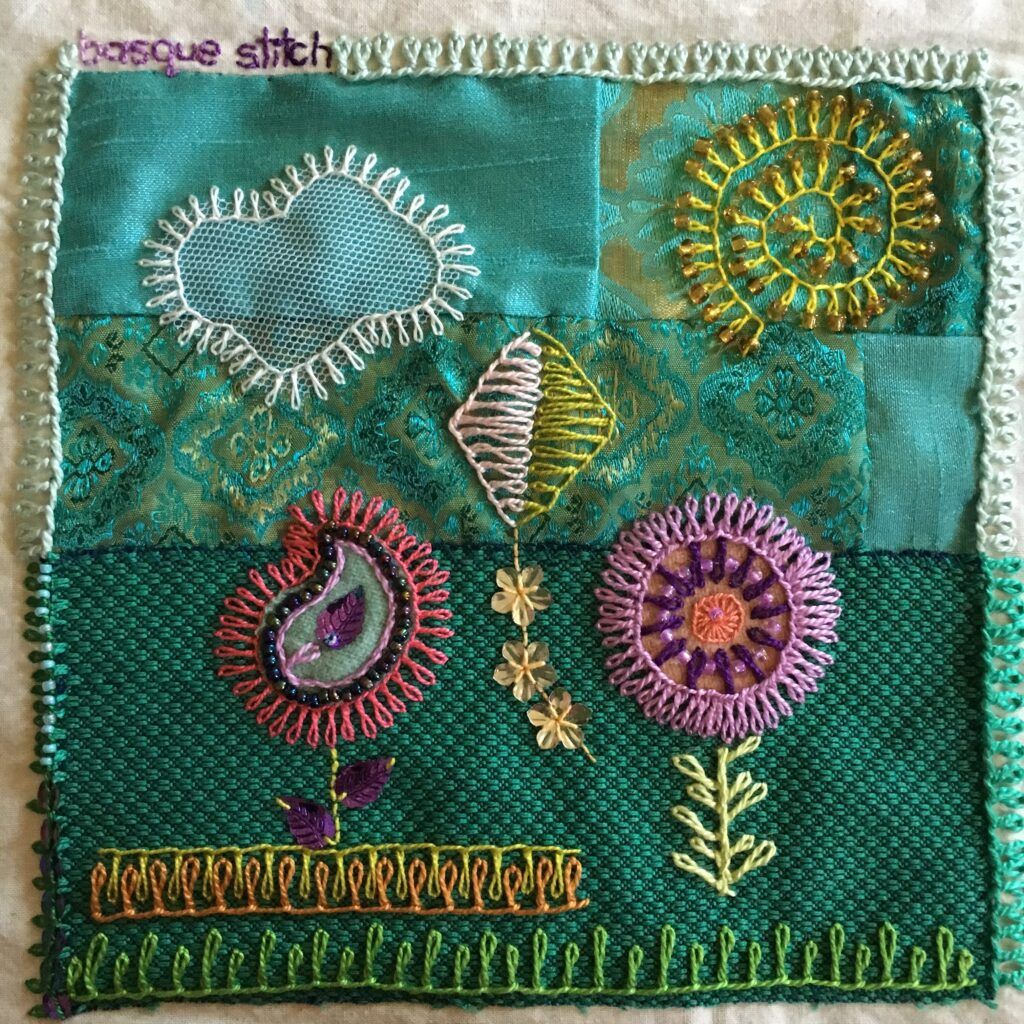 For the background I used some found patchwork for the sky in what I think are acetate and rayons. The grass is a piece of scrap anonymous industrial offcut I bought at Reverse Garbage earlier this month 🙂
I used various cotton threads, all of which have a firm twist, mostly flower thread, mercerised embroidery and pearl crochet cottons in various sizes.
For the sun, I added a gold bead to the little stitches that hold down the tip of the loop.
The cloud is appliquéd net stitched with (I think), size 16 soft cotton. It was a very large unlabelled skein and may be some sort of candlewick thread.
The kite and the ground under the paisley flower were inspired by another TAST stitcher, whose work I really liked.
The borders are all worked in different mercerised cottons. On the bottom left hand side I added some little blue beads between stitches, then tried the same with sequins.
They tended to flip up and become messy with just basque stitch.

However, when I added a row of running stitch to secure them I was really happy with the finished edge. It would be even fancier with beads on the tips of the stitches as well.
Some of the things I learnt about basque stitch:
It really loves being glammed up with beads and shiny fabrics.
You need a thread with firm twist or it looks like something the cat gacked up. I tried crewel wool, it was horrible.
It makes a great filling stitch (that was a surprise)!
When worked around a curve it looks nicest worked close together.
I'm not sure whether to revisit shell stitch or pekinese stitch next. I didn't explore either as much as I wanted when I first stitched them…