As you can see, I decided to make a second embroidered sampler for TAST week 2, blanket and buttonhole stitch. There were so many things I wanted to try that didn't work on my other fabric and I had plenty of time so I thought, "Why not?".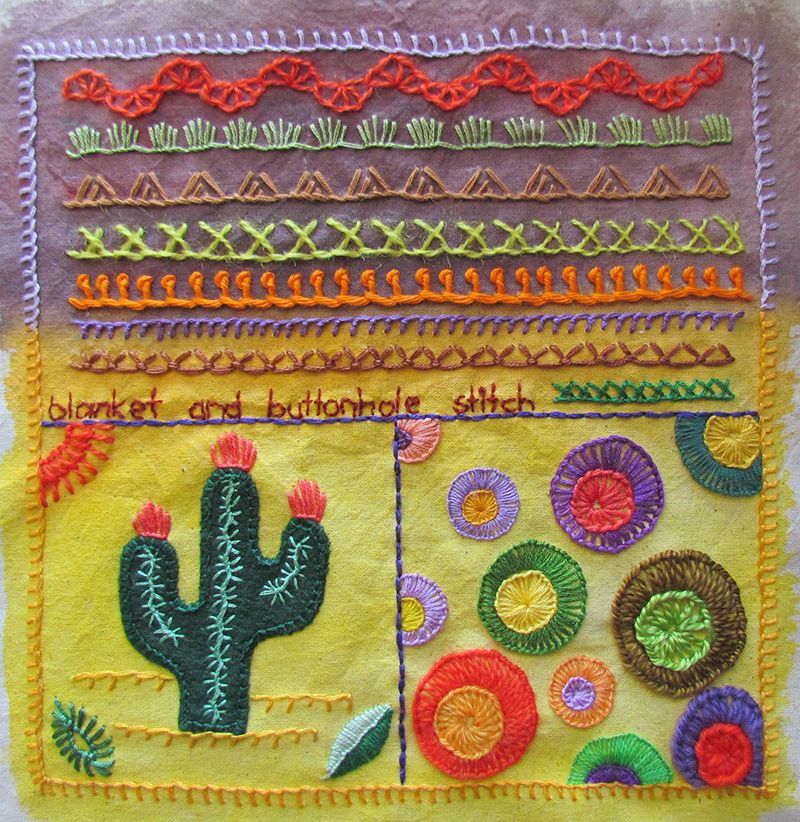 First (thanks to Diane's comment on my last post), I painted the background with a 50/50 mix of acrylic paint and textile medium, mixed with a lot of water.
Then I traced my outer square, dividing lines and circles with a fine Clover water erasable marker like this one. I haven't had any trouble with the blue coming back but I haven't used it on linen yet, which is the fabric that seems to have this problem most often.
Purpose of making this sampler:
My first painted background
To learn variations of blanket and buttonhole stitch I hadn't tried before
To test different threads in buttonhole circles
To record some ideas I had seen online.
I really, really wanted to stitch a felt cactus 🙂
Things I learnt:
I love working on a painted background.
I thought I would hate crossed buttonhole stitch. It turns out I love it.
Pulled buttonhole stitch (the purple line second from the bottom) is my new favourite stitch 🙂
My favourite threads for stitching large buttonhole circles are vintage Danish flower thread (partial green and gold circle on the top right), and DMC Medici (lime and purple arc at the bottom).
I want to stitch cacti on everything but I'm going to develop the idea using different stitches first.
Some useful links:
Buttonhole and blanket stitch on Pintangle (inspiration for my leaves)
Buttonhole wheel on Pintangle (with a pic of the ric rac border on my first row).
TAST on Facebook
Sharron's TAST FAQ on her website, Pintangle.
Free vintage stitch book downloads.