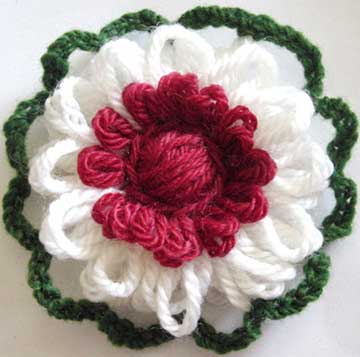 Double sided flowers are great for any flower loom project that has both sides showing such as scarves and big hippy shawls 🙂
They also make extra thick, warm blankets.
The Boye Bloom Loom was designed specifically for making double sided flowers but you can make them on any loom that has posts. They won't work well on a Daisy Winder or Knit-Wit though, as the second small flower will become quite messy.
You will need to know how to wind your loom and work a back stitch centre.

If your loom only has one row of pegs you will also need to follow the instructions for making a double layer flower on a single layer loom.

Start by winding a small flower. Make two rounds for each petal. If you want to make the flower on the other side the same colour, don't cut the yarn.

Next wind a large flower with 5 rounds on top of the first flower.
Finally, wind another small flower with two rounds.
If the yarn threatens to pop off the top of the pegs as you wind, hold the centre firmly as you wind.
Cut your yarn, leaving about 24″ or 60cm of yarn. You can use any colour to stitch your flower.

Work a back stitch centre through all three layers.

Carefully pop your flower off the loom.

Turn it over. You can see that on the back, the centre looks like you worked a stem stitch centre.

If you look at the stitch near where you ended, the round of stitching doesn't look complete yet.
Put your needle under the next stitch
and pull it through to finish it off.
Hide the ends of your yarn by stitching them behind the small flowers.

You can make a couple of stitches from one edge of the small flower to the other to fasten it off securely.

Work any edging of your choice.

Each petal on your large flower has five loops. Work your edging so that you have two loops on either side.

For my sample I have worked chain stitches and joined to the petals with a slip stitch.

Your finished flower will have two complete layers on each side.
---
Copyright Sarah Bradberry, February 28th 2011. All rights reserved.