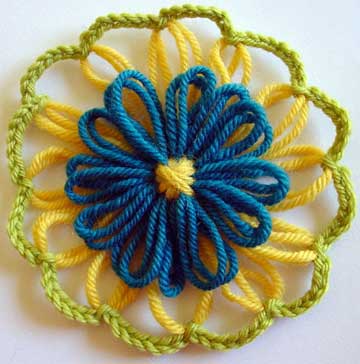 Flowers with two layers can be made on any flower loom by using a special winding technique.
All of the flowers I made for this tutorial were made on a Suzie's loom, a cheap copy of the Knit-Wit loom available from Spotlight shops in Australia.

You can use this technique to make double layer flowers on any type of round loom.

Firstly, you will need to print the instructions for making larger flowers on any round loom.

Use these instructions to wind your larger flower. Wind as many times around the loom as you like.

Wind your second flower over the top, using the regular winding technique.
Stitch a centre of your choice. I made a double woven centre for this sample.
And finish with your chioce of edging (or not)!
---
Copyright Sarah Bradberry, February 6th 2011. All rights reserved.