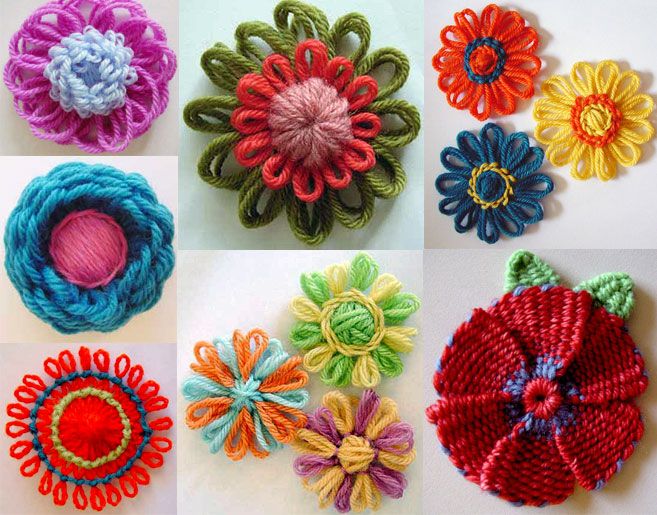 Instructions for all the techniques shown here can be found on my flower looms page
A piece of teneriffe lace finished with a crochet edging

Flower looming, or daisy looming, is an off-shoot from the more complex Teneriffe lace that was popular in the 19th century.

Whilst Teneriffe lace is composed of detailed embroidery and weaving worked on a spoked wheel of fine thread, flower looming often concentrates on the materials and joining methods used to create visual impact.

A flower motif made from torn strips of crystal organza and purple satin. Wool has been used to stitch the centre.

Common materials used in contemporary flower looming include brightly coloured yarns, fine threads and strips of fabric.

Synthetic "ribbon straw" or Swistraw is also popular.

Left: ribbon straw

Right: coloured yarn

A vintage pattern worked in thread

Flower loomed motifs usually have very little embroidery on them, often only a small amount which holds the webbing in place at the centre.

Occasionally more embroidery, pom poms, buttons, beads or other embellishments are used to decorate the centre.

Motifs sewn together to create a finished block

The edges can be left free, crocheted or knotted to hold the petals in place. These techniques may also be used to join the motifs together at the same time as working the edging.

Sometimes a collection of finished and edged motifs may be sewn together to create a finished project.

Yarns
This flower was made using a bulky acrylic chenille yarn

There are many yarns that work well with daisy looms. In order to produce an attractive, well formed motif, your yarn should be of an even diameter throughout. The texture of your yarn is totally up to you!

I have successfully used a large range of yarns including:

Plain wool, acrylic and rayon
Acrylic and wool bouclé
Acrylic/wool chenille
Tulle strips (Sold as a yarn wound into "wheels" in craft shops in Australia)
Mohair
Ribbon yarn
Ribbon
Raffia
Rayon and polyester ribbon straw
Strips of fabric

All work well, and produce a large range of different effects.

Yarns that don't work well (like those on the left), are uneven in width. They produce lumpy, uneven flowers.

My samples include an off-white thick-and-thin wool on the bottom right, a blue ladder yarn with big, firm bobbles on the left, and a textured pink and orange yarn with big pink and orange bobbles (top).

If you really want to use a bobbly yarn like the blue and pink/orange ones, try stitching the centres with a plain, smooth yarn. It may or may not work, depending on the size and firmness of the bobbles.

Looms

Studio Twelve looms are one of the most popular flower looms from the 1960s and 70s. They are very high quality plastic and hundreds are still in use today.

There are several types of flower looms. They include:

daisy winders
flower looms
peg looms
card looms
cog looms
pin looms
and folding looms

The "Crazy Daisy Winder" made by the Ralph C. Springer Co.

Daisy Winders

Daisy winders have spokes that can be retracted into the loom by turning a knob underneath. They include such looms as the "Crazy Daisy Winder" made by the Ralph C. Springer Co., the Knit-Wit loom by Bucilla and the Wendy Multi Needle.

The Birch Daisy Wheel, showing the flat embroidery surface.

Metal daisy looms are often best suited to yarns of fingering weight, or thinner, as the spokes are quite short.

Traditionally, motifs made on the loom were made with fingering weight yarn for the flowers (Aussie 4 ply yarn), and lace weight yarn for the crocheted edges (this yarn would be called 2 ply in Australia).

The blue motifs you can see on the left are made from a Japanese fingering weight wool with crocheted edges, while the red flower is made from an Australian DK weight wool (Cleckheaton Country 8 ply), and has a knotted edging.

Some modern daisy winders such as Telarin looms from Argentina have much longer spokes and are suited to a range of yarn thicknesses.

Vintage Knit-Wit loom with shape adapter. Picture copyright Etsy user Busycrowstudio, owner of the Craftique Redux shop on Etsy. Used with permission.

Knit Wit looms can be used with a large range of yarns.

Vintage Knit-Wit looms can sometimes be found with "shape adapters" that allow you to make squares and diamonds on the round loom.

More recent Knit-Wit looms were manufactured in both round and square shapes in two different sizes.
On the left you will find some motifs I have made on the square Knit-Wit loom.

On the far left is a motif with a knotted edge, made from tulle "yarn".

On the right is a motif with a crocheted edge, made from DK weight wool (Aussie 8 ply wool).

A flower in progress on a vintage Boye Bloom Loom. These looms are still available to purchase although they are now blue.

Flower Looms

Flower looms are usually made of plastic and have one or more rounds of fixed pegs that sit at right angles to the base.

The open centres of these looms make them very easy to stitch.

Four of the most well known flower looms are the Ronco or Mon Tricot 1000 flowers set, The Boye Bloom Loom, The Hana-Ami loom by Clover and the Studio Twelve looms from California.

Various toy companies have also released different flower looms over the years, although many of these were made from inferior brittle plastic and have not survived.

The Bloom Loom is specially designed for making double sided flowers although you can make them on any loom of this style.

The Ronco and Studio Twelve looms were made in a range of sizes in both round and square shapes.

The Studio Twelve Magni-Fleur loom

Looms with three rounds of pegs are very versatile. You can make motifs that use all three rounds of pegs at once, or any combination of the three rounds. With this one loom you can make:

a small motif
medium motif
medium motif with small centre
large motif
large motif with small centre
large motif with medium centre
large motif using all three rounds (double centre)

The Prym loom by Inox

Peg Looms

Peg looms have holes for holding removable pegs. They can be used to make multi-layer flowers and a large range of different shapes.

There are many different brands of peg looms. Almost all of them have the same configuration of pegs.

Hazel Pearson's Adjust-O-Peg loom

One notable exception is the Hazel Pearson Adjust-O-Peg loom, a four inch square loom with a grid of closely spaced holes.

The centre square is removable and it has a small box on the underside to hold the nails that are used as pegs.

This loom can be used to make loomed flowers and a large assortment of other techniques.

I have written a full review of the Adjust-O-Peg loom on my blog.

Instructions for making this extra large 12″ peg loom can be found in "Swistraw and Loom Projects", by LeJeune Whitney Griffith, 1969

The removable golf tee pegs hold the straw or yarn in place, while allowing you to remove flowers without distorting the petals.

Hamanaka flower motif cards

Card Looms

Card looms are made from flat pieces of slightly flexible plastic with "bumps" around the edges that hold the yarn in place when you wind your flower.

Card looms are handy for portable projects as they have no pegs that can fall out or spokes that can be broken.

Also, when working woven motifs there are no posts or pegs to catch the yarn on.

Home made card looms can be cut from any thin plastic.

I have used the lids of plastic ice-cream tubs to make the looms featured in my tutorials for circular and triangular looms.

You can also use quilter's template plastic to make long lasting reusable looms.

The Bucilla adjustable flower loom

Cog Looms

Cog looms are very rare. The only two that I know about are the Cottrell loom from the 1960's and the Bucilla Adjustable Flower Loom from the 1930's.

These looms consist of two cogs. One is fixed on the end of a notched post and the other slides up and down. It is held in place at the notches by a small piece of metal that fits around the post.

Cog looms can be used to make a large range of motifs in a selection of shapes and sizes.

I have written a full review of the Cottrell Flower loom that you can view here.

These daisies were all made on the Cottrell flower loom. Two more sizes can be made using a special winding technique.

Japanese Koppo cushion "daisy winder" from the 1950s

Pin Looms

Pin looms are most often used for Teneriffe lace, but they can also be used to make loomed flowers.

On the left is the Japanese Koppo Cushion daisy winder from the 1950s. Whilst it is called a "daisy winder" the instructions that come with the loom show that it is meant to be used to make Teneriffe lace.

However, if you use ordinary fine dressmaking pins instead of short lace pins, you could use it to make a large range of loomed flowers and motifs.

A special pin loom for making dogwood flowers

The most common pin looms are home made. They usually consist of dressmaking pins, or lace pins, pushed into a firm background.

On the left you can see my special dogwood flower loom. It is made from a printed template, lace pins and an old macrame board.

Other pin looms have templates glued onto corrugated cardboard. The cardboard template is then sat upon a cushion before the pins are inserted to protect the user from the points.

Folding Looms

Whilst square folding looms such as the butterfly loom (used to make waffle weave) are quite common, round ones are rare.

One is the Fiorella loom shown on the left. It is used to make flowers 20cm or 8″ in diameter and, at the time of revising this article, commonly sells for over US$100 on Ebay.

To use a folding loom you wind your yarn around the notches to create the flower petals, much as you would on a daisy winder. After finishing your flower the locking mechanism is released (in this case the white bar), and the loom is folded in half to release the finished motif.
---
Text and images copyright Sarah Bradberry September 2006, updated March 23rd 2011. Video copyright November 5th 2011. All rights reserved.