I don't usually embroider cross stitch but I have fond memories of a binca kit my Mum and Dad once bought for me when we were on our Summer holiday, with red fabric. I was very disappointed when the things I made promptly unravelled, but it was a late 1970's craft kit for ten year olds, with instructions to match (I.E. lacking in finishing details of any sort)!
On the Monday before Christmas I found a green piece of vintage binca fabric at the op shop,  just like the one from my kit all those years ago, so I brought it home. I immediately knew I wanted to make a Christmas table runner with it, and finished on the 7th. Just in time for Christmas, um, next year 🙂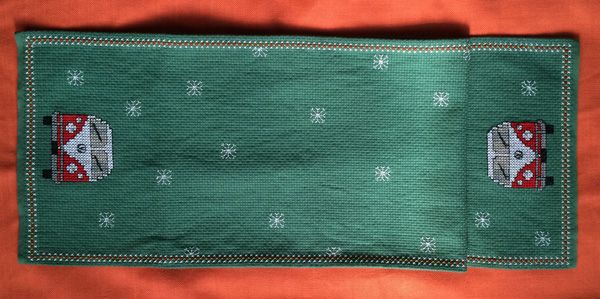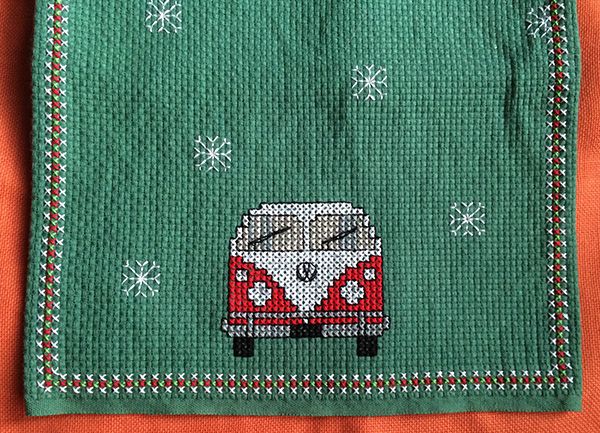 Nothing says "Christmas" quite like a table runner with VW Combi Vans and snowflakes, don't you think? Our Christmas table cloth is orange, and our favourite Christmas serving bowls are light blue with lobsters on them so it fits our Christmas decor perfectly. As my daughter put it, it's weird so it's "us"
It's stitched entirely with thrifted embroidery threads (I have a problem with "rescuing" almost every discarded embroidery thread I find, so I have a large stash of many different kinds). I made up the border and the snowflakes off the top of my head but the VW van chart comes from Hancock's House of Happy Blog where you can download it for free, just like I did 🙂
I have some more modern cream binca fabric in my stash that I'm going to have to play with. I was thinking of just having some fun with it and see what I come up with. I'll let you know what happens!