I know it's been several months since I last posted. It's amazing just how much time running around after a baby can take! It's also amazing how much mess a newly crawling baby can make whilst roll/crawling around the living room with a teething rusk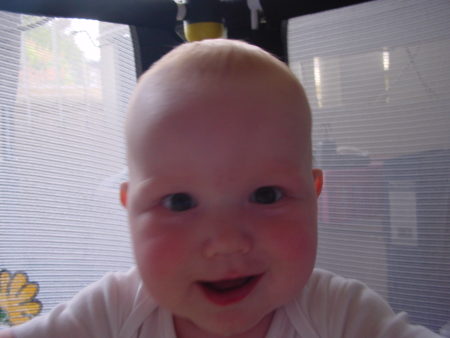 but I digress…
I have a new overlocker!
Isn't it beautiful? It's a Pfaff Creative Coverlock 4874. It's a 10 thread, 3 needle overlocker. I decided I wanted an overlocker 10 years ago and I finally got around to getting one when I realised that drafting your own sewing patterns isn't brain surgery 😛
I learnt to sew when I was in highschool but always hated using commercial patterns because they never fit properly and it seemed so fussy to have to alter every pattern every single time you wanted to make something, even when you've spent $17 on the pattern itself.
Years later I started buying fabrics from the local op shops and decided to have a go at drafting patterns that are a bit more complicated than elastic waisted skirts (ahem), and it all fell into place. My daughter has 4 new skirts, the baby will soon have 21 new pairs of day/night Summer/Winter pants and I have projects lined up until the end of the universe 🙂
Here's the next one's before picture.
My daughter bought this jacket from the op shop. First I removed the sleeves and shoulder pads, and then pinned the sides in above the waist to make it a more fitted shape. I still have to sew the sides, after which I'll refit the sleeves and add a gathered broderie anglaise style lace to the cuffs, replace the buttons and give it a good wash. Next time I'll wash first, lol.
As for the overlocker, it's incredibly easy to use. Easy to thread, easy to engage and disengage the upper looper and knife and super easy to understand. The only thing I would have liked to be different is to have better threading guides in the instruction book so I don't have to go to the computer CD animation when I haven't doe something right. It's so easy to thread that I pull all the threads out when I want to change them instead of tying on the new thread and pulling it through 🙂
Finally I had some exciting news in my mail yesterday. Clover have re-released the Hana Ami Loom! It's the Rolls-Royce of flower looms and I suggest everyone should go and buy one right now before they go out of production again!