The other large purchase that I made with the money from selling my knitting machine is a Strauch jumbo ball winder.
I had been really frustrated with my tiny 50gm ball winder ever since I started spinning on a Majacraft Suzie Pro. Even the regular bobbins can hold up to 200gms of fingering weight singles and since I bought a plying flyer and jumbo bobbins I've been forced to knit from enormous 400gm hand-wound balls of yarn. My hands would become very sore while winding them and then they'd roll around the floor the whole time I was knitting and get chased by the cat.
These are the jumbo centre pull balls that I wound on it yesterday. Even the smallest ones don't fit on a regular ball winder. The little commercial ball of wool on the right is a 50gm ball, which is the most that will fit on a normal size one.
The two largest ones are over 400 grams :). I have a lot more to wind yet!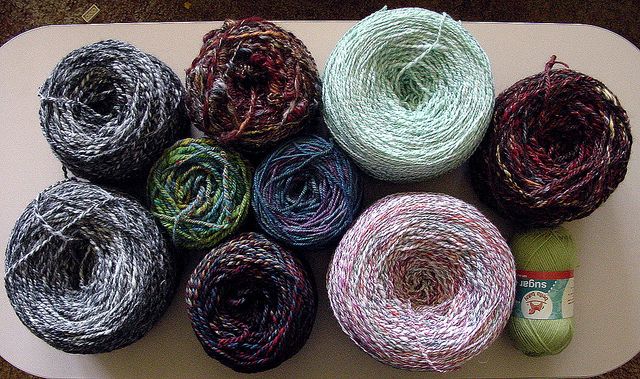 I did have a few questions after I bought the winder and both Mandie and Otto were very helpful and quick to reply.
Otto Strauch also made this video to show how to use it to wind slippery yarns.
Tomorrow I'll tell you about my new kanzashi templates from Clover that my Sortahubby gave me for my birthday. Hopefully I'll be able to play with them tonight and give you a full review.