When I turned 33 (8 years ago, cough), I decided that everything I own that wasn't being used or enjoyed should go and find itself a purpose in someone else's life. And what a great idea that has turned out to be!
Last year I started making decisions about the "big stuff". The things that cost me a lot of money or a lot of time to procure. The biggest of these things was my enormous computerised knitting machine.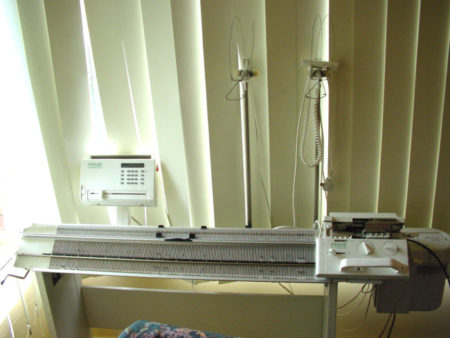 I had originally bartered $1,800 worth of website work for this machine and a lot of extras but despite my love for it and the things I made on it, I just did not have the room to use it any more. So I took a deep breath and sold it on Ebay for $1,500.
And I bought things with the money. $900 was on things I planned and the rest went on our new "surprise" mortgage on what we lovingly refer to as our little crap shack. Our last home purchase was for walls and most of a roof so a crap shack is a step up. But I digress.
I bought stuff. Cool stuff. Informational stuff. Some of it is even "learn things you never thought you'd get to" stuff.
My biggest purchase was a Journey attache case charkha made by Jonathan Bosworth. Most people call them Bosworth charkhas because without Jonathan they just wouldn't be the same. Here are some pictures of my new love 🙂
In the bag.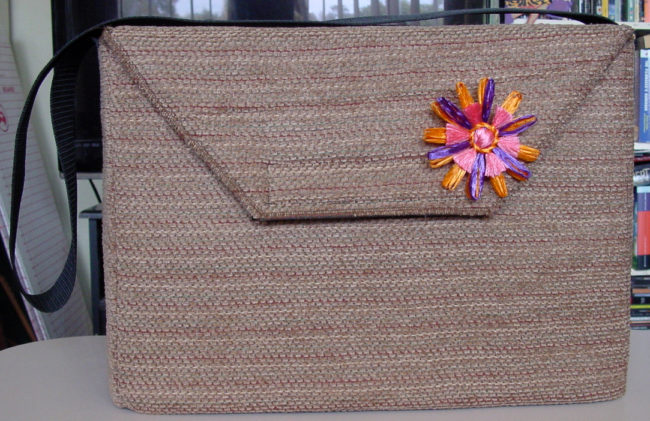 The bags on the website are all made of patterned fabrics so I asked if they had any plain ones that weren't listed. They had just one left and it was exactly the colour I was after. Of course I wanted a plain bag so I could decorate it with a loomed flower brooch.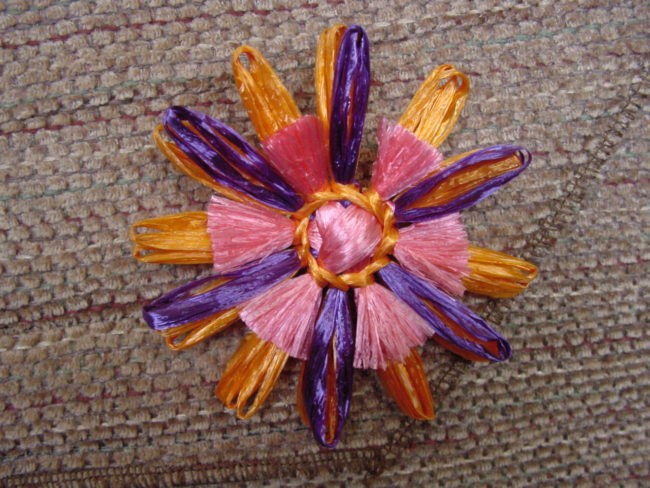 Closed they look like a beautiful wooden attache case. Kind of obvious considering the name, ahem.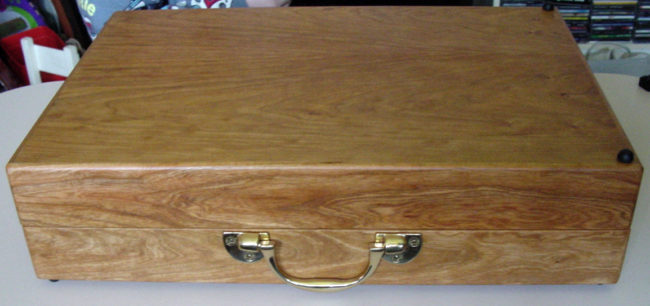 ToddlerGuy went down for a nap very easily today so I thought I'd have another go at learning to spin on it. I got it! I spun actual real cotton yarn! I have wanted to learn to spin cotton for about ten years and now I can. Not well, but it didn't fall apart. Much 🙂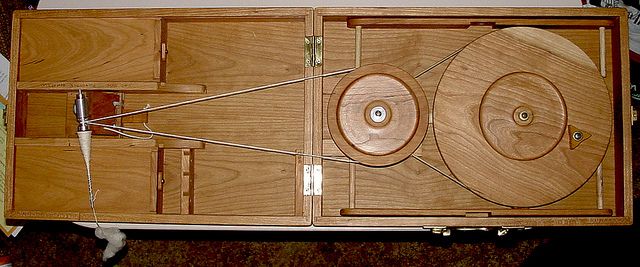 My very first little skein of cotton on the built-in skein winder. When I bought my charkha I also bought the "Spinning Cotton on the Charkha" DVD by Eileen Hallman. I found Eileen's instruction very easy to follow and the proof that she teaches well is sitting in front of me in a little skein 🙂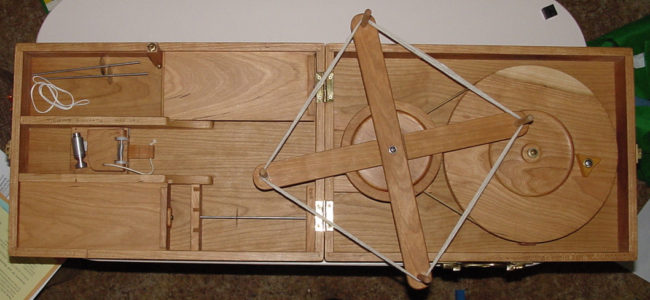 This picture shows the lazy kate. The two boxes on the left are for holding the spindles. The top one also has a fixed arm inside for when you're using the skein winder so the yarn goes from the spindle on the lazy kate, up around the hook on the arm in the top box, then to the skein winder. The skein winder also measures your yarn as one turn equals a yard.
Not only is the workmanship really high quality, there are many small features that go into making these charkhas really lovely to use. When you're not using the skein winder you can spin on the charkha while the arms of the skein winder are stored in the box so you don't have to find somewhere to put them. The bearings are sealed and don't need oiling. The skein winder can also be assembled without unscrewing anything. I also can't say enough good things about the Bosworths as people. They're lovely to deal with, very helpful -with overseas purchases and special requests, and kept us up to date every step along the way while those of us who had placed orders waited for our wheels to be made.
I don't have enough skill using the wheel to make it worth videoing me using it, but I found this video on youtube. This spinner is using a Bosworth book charkha, which is the smaller version of mine.
And I have to show you this video too. This lady isn't using a Bosworth charkha but check out the smile at 46 seconds. That's how it feels when you figure out that you really can spin your own cotton after wanting to for so long 🙂