I'm still sewing the suffolk puff/yoyo coverlet together, enjoying my Farscape marathon and taking breaks with a little hairpin lace experimentation 🙂
After seeing pictures of hairpin lace fringe forks in The Young Ladies Journal (downloadable from Google.com) I thought I'd have a go and see if I could find the best way to make fringe and I think I came up with a nice technique. Here's what a traditional fringe and fork would have looked like (from the Young Ladies Journal):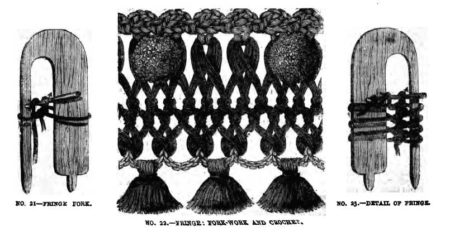 so I set my Clover loom up like this to imitate the traditional fork: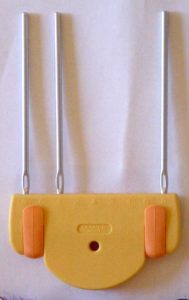 Here are the fringes I came up with.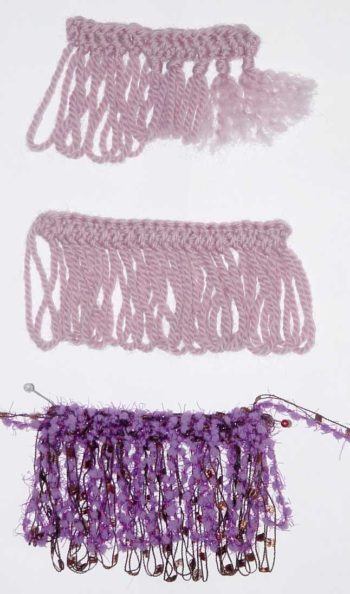 Top: 1 double crochet (US single crochet) worked in the regular way (through the stitch) and then the short loops were chained together as a cable edge. I tied some loops in a knot, then snipped the ends and fluffed out the fringe for another look. I don't like this fringe as I find the header to be all floppy and unattractive.
Middle: This is the technique I like for a plain fringe. I worked one double crochet per row again, but instead of working through the middle of the loop, I worked under both threads, trapping the whole loop within the stitch. You do have to put a thread through the small loops when you take it off the loom or they will threaten to undo. I threaded the small loops like a cable edge on this sample again. This made a nice tidy and firm header.
Bottom: The same as the middle sample but worked with two novelty yarns held together and a larger crochet hook. The purple yarn shrank when I soaked it overnight. I would have preferred if they had remained the same length. Now I guess I should try some fancier fringes like the ones in the Victorian needlework books! I will be documenting these techniques properly by adding a new section on hairpin lace to the website. Eventually…
I've also decided on a motif for my next tatting project!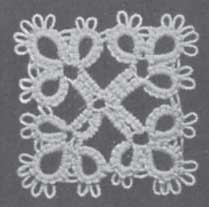 It's from the Priscilla Tatting Book #1 and I think I'll make it in size 20, blue thread. I don't have much blue size 20 thread left so I'm going to see what they have at the needlework store on Thursday. Now, back to sewing all those suffolk puffs together!