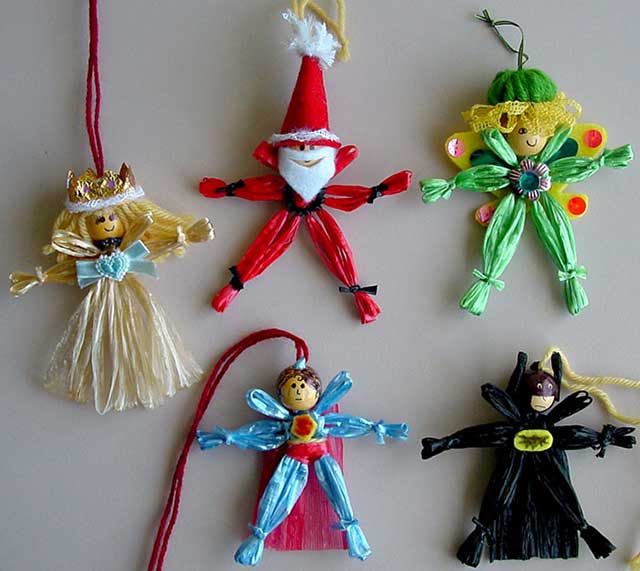 Little flower loomed characters make great vintage-look Christmas ornaments or if you're feeling wild, make them into earrings!
The size of your finished characters will depend on the size of the loom that you use. A Clover Hana-Ami loom will make a much smaller person than a Studio Twelve Magni-Fleur loom.
To make little flower loom people you will need:

Any flower loom that has three rounds of pegs. I've used a Studio Twelve Magni-Fleur loom for the tutorial but you can use any loom. You might like to try a Clover Hana-Ami loom to make earrings
Swistraw, ribbon straw, or yarn
You will also need a bead for the head of your character. The size will depend on the loom you're using. I used a 20mm or 7/8″ bead for my characters made on a Magni-Fleur loom
Some paint or Sharpies to make a face on your bead
Any scraps of felt, paper, glitter, trim etc for decoration
Thread or yarn for hanging
Appropriate jewellery findings if you're making earrings

You will also need to know how to wind your loom and stitch a back stitch or stem stitch centre.

Firstly, wind your loom as shown in the photo and stitch the centre. Make two rounds on each petal. You can use any colour you like to stitch the centre.

If you're using a loom with 24 posts, use every second post.

To make a character with pants, tie the medium and long petals together near the tips to create arms and legs.

Catch the loose ends from making the flower when you tie them and trim them to the same length. If you don't like the way that looks then darn them into the back.

Draw or paint a face on your bead. If you're using Sharpies test them first somewhere that it won't show to make sure they don't bleed.
Take the piece of thread that you want to use to hang your character and thread it through the two centre short petals.


Thread it through the bead and pull until the petals are firmly inside your thread and the head is on your character the right way round.

You can put some glue on the short petals before threading the bead if you want to make extra sure it won't come loose.

If you don't want your character to have a collar, make the two outer short petals medium length and include them in the arms when you tie the wrists.

Now decorate your character any way you like!

I made mine into a flower fairy.

You can make hair by making a yarn flower on your loom and threading it onto the hanging thread above the bead.

To make a character with a dress, don't tie the legs. Dampen the ribbon straw (if necessary) and open it out to make a full skirt.

When winding the flower on your loom make sure you don't twist the ribbon straw as this can make it difficult to open out the petals.

Here are some other characters I have made.

Batman

Superman
and Santa Claus
---
The instructions are based on projects from "Ribbon Straw. An International Handicraft" with craft consultant Hazel Pearson Williams. My instructions differ slightly from those in the book. Photo and text are copyright Sarah Bradberry, April 14th 2011. All rights reserved.