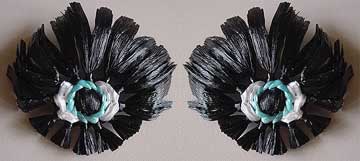 I'm not sure whether I find these flower loom eyes to be cool or creepy, but I do love them. Use them as fridge magnets, puppet eyes or make a wreath covered in them for Halloween!
To make eye fridge magnets you will need to know how to:
You will also need the following Materials
Swistraw or ribbon straw in the following colours – black or dark brown, white, whatever colour you would like for the eye
Glue or double sided sticky tape
A craft magnet
The top of an aerosol can or something similar
The length of your eyelashes will depend on the size of the loom you choose to use. I have used a Studio Twelve Multi-Fleur loom to make the eyes for this tutorial.

Wind your loom using black or another very dark colour. Cut the straw, leaving enough yarn to stitch a large centre.

Note there are seven long petals and five short petals.

Make two loops for each petal.

Using your eye colour, work a backstitch centre covered by stem stitch
Work two rows of white stem stitch at either side of the eye.

Two petals at the top and bottom of the eye will have no white stitching.

Note that you will be stitching over one short petal on one side and two short petals on the other. If you're making a pair of eyes swap the sides over on the second eye. I.E. if you stitch over two short petals on the left on one eye then stitch over two short petals on the right of the other eye.

If you find this too confusing just work four short petals when you wind your loom instead of five 🙂

Work black back stitch all the way around for the eyeliner.
Trim the petals to shape
Dampen the eyelashes and open the straw out widthways to make them look fuller.

Trim any lashes that need it.

Place the eye face down in the aerosol can lid. Arrange the lashes neatly and leave to half-dry. Remove them from the lid and soften the curl so it looks a little more natural.

When dry this will create permanently curled fashion lashes.

If you want to use your eyes as fridge magnets glue or stick your magnet on the back

A finished pair of eyes
---
This project is based on the "Eye Fridge Magnet" project from "Swistraw and Flower Looms" by LeJeune Whitney, 1969. Images and updated text are copyright Sarah Bradberry, April 25th 2011. All rights reserved.