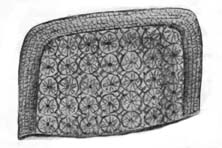 from Madame Weigel's Cushions and Cosies Volume 6 1937
For instructions on using and making a daisy loom from the same publication see the instructions for making a daisy wheel
Note: This pattern uses Australian/UK crochet terms. Double crochet = US single crochet, Treble = US double crochet etc
This cosy will cover a 5-cup tea pot comfortably, but any size may be acquired by merely adding, or taking away, a daisy from each row and by adding, or taking away, a row from the height. This cosy requires 68 daisies.
Materials Required for the Daisies:
1 oz of any of the following wools:
Patons and Baldwins' Harlequin Sports, Kelpie Fleck, Ladybird or Sunny Sports, with 1/2 an oz. of 2-ply for joining;
1 Old UK Size steel crochet hook (No. 5 Boye).
1 Daisy Wheel.
Follow chart and directions for joining as given on the How to Make and Use a Daisy Wheel page. Join 4 rows of daisies. (The original had 7 daisies in each row).
To form the corners, 6 of the petals of the first and last daisy are crocheted in the 5th row, and the remaining 6 petals
are crocheted in with the lower edge of 5th row of 2nd half of cosy; thus rounding the corners as illustration shows.
In the 5th row, commence at corner picot and join as before, allowing 6 petals to remain free at each end. Break off.
Join in wool at petal 5 of 2nd daisy in 5th row, (this is the top of cosy) and work across top as before, allowing 6 petals to remain free at end. (As in beginning of row).
Work another side to correspond, but when working the lower edge of 5th row, join in the 6 petals that remain loose at each end of 5th row in first half. This gives a rounded corner.
Work across top of 5th row as before.
Place the two sides together and work a plain border of DC as for cushion, but in the 1st round work 4 DC under each loop of 6 ch.
To keep band flat in remaining rows increase by working twice into every 4th st. whilst working round the corners. If a fancy edge is desired, work as follows through both sides at once, using 2-ply wool used for joining:–
1st Row: 4 DC under the two loops of 6 ch, and 2 DC into each picot loop. Turn.
4 ch. stands for 1st treble.
2nd Row: Slip st. along to 3rd DC, then work group of * (1 T, 1 ch, 1 T, 1 ch, 1 T, 5 ch and form picot, 1 ch., 1 T, 1 ch.,
1 T) all into 4th D.C., miss 4 D.C. *. Repeat from * to *.
Prepare pad in matching color and slip stitch cosy cover on.
---
These instructions are in the public domain. This digital version © Sarah Bradberry 2002. Kindly transcribed for Knitting-and.com by Betsy Brazy