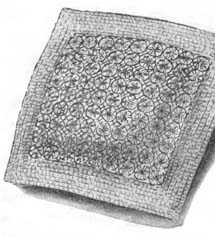 from Madame Weigel's Cushions and Cosies Volume 6 1937
For instructions on using and making a daisy loom from the same publication see the instructions for making a daisy wheel
Note: This pattern uses Australian/UK crochet terms.
Double crochet = US single crochet
Treble = US double crochet etc
This is a very simple cushion to make and, at the same time, very beautiful.
Amongst the wools most suitable for this cushion are, Patons and Baldwins' Harlequin Sports, Kelpie Fleck, Ladybird and Sunny Sports for the daisies, and 2-ply super fingering for joining the daisies.
The original was in Sunny Sports (green mixture) with flame colored centres in daisies and plain green border to tone.
Materials Required:
For Daisies, 3 ozs. of any of the above-mentioned wools, with one oz. of 2-ply super for joining.
For Border, one oz. of Azalea Crochet Wool and 1 Old UK Size steel Crochet Hook, (No. 5 Boye) for crocheting the daisies together. Use a coarser hook for the border.
Each side of the cushion requires 81 daisies.
To Join the Daisies: (See Chart.)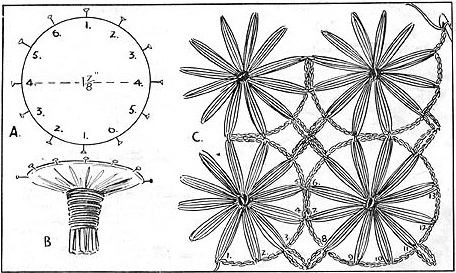 Using 2-ply wool and No. 5 hook, slip stitch to the first petal i.e., petal marked 1, at lower left-hand corner of Chart, 6 ch., s.s. to 2nd petal, 6 ch, s.s. to 3rd ch., 7 ch., and form picot by s.s. into same petal, 6 ch., s.s. to 4th petal, 6 ch., s.s. to 5th petal; now join to 2nd daisy with s.s. (in Chart, this is the 6th petal), 6 ch., s.s. to 7th petal, then s.s. to 4th petal in 1st daisy at same time, 6 ch., s.s. to 8th petal, 3 ch., s.s. into centre of picot on 3rd petal, 3 ch., s.s. to 8th petal (thus forming another picot), 6 ch., s.s. to 9th petal, 6 ch., s.s. to 10th petal, 6 ch., s.s. to 11th petal, 7 ch., s.s. to 11th petal to form a picot, 6 ch., s.s. to 12th petal, 6 ch., s.s. to 13th petal.
Join in 3rd daisy and repeat from 6th petal to 13th petal, until 9 daisies are joined.
Now work chain and picot across the four loose petals at top of each daisy in the row, making a picot in 1st and 4th, with 6 ch. between each petal as before.
Join in 8 more rows in same manner, the 2 lower petals of 2nd row meeting the 2 upper petals of 1st row, and the picots slip stitched together in the centre (thus forming a Maltese Cross).
Work a corresponding side if desired, before working the border.
The Border: (Using Azalea Wool.)
1st Round: * 3 DC under each of 3 loops of 6 ch. between petals, 1 DC into 1st loop of picots, 1 DC into centre of 1 loops, 1 DC into 2nd loop of picots *. Repeat from * to * to end of row, then work 3 DC into corner picot. Repeat all round.
Work 6 rows of DC straight round, taking up back of stitch only, and working 3 DC into corner stitch. (The corner st. is the centre one of 3 in the previous corner).
Prepare well filled cushion and sew up opening. Another pretty finish for this cushion is a border of firm satin ribbon, which may be doubled over and puffed on, or allowed to be plain.
---
These instructions are in the public domain. This digital version © Sarah Bradberry 2002. Kindly transcribed for Knitting-and.com by bgwinters