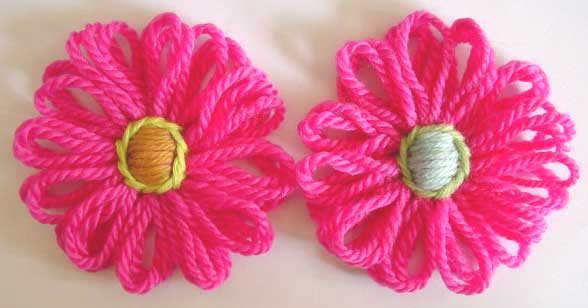 Working embroidery in the centre of your loomed flowers is a nice way to introduce a little extra colour
Make a flower with a back stitch centre. Your flower can be any shape and any number of rounds worked on the inner or outer pegs (or both!)
Take the yarn you want to use for the centre of your flower and thread it into a sharp embroidery needle with an eye that is large enough to accommodate your yarn.

Poke your needle through one of the back stitches, entering at the back of your flower and coming out the front.

Poke your needle through the centre of the flower directly opposite to make a stitch.
Continue making stitches across the centre of your flower in this way until you have finished stitching over half the centre. Make sure your stitches sit closely together.
Fill in the other half of the centre the same way.
If you want to, work a round of stem stitch around the centre
Pop your flower off the loom and darn the loose ends into the back.
---
Text and photos copyright Sarah Bradberry April 2007. Video copyright September 12th, 2011. All rights reserved.