I've never spun on a Turkish spindle but the pictures I've seen of them with such beautifully wound yarn have always fascinated me, especially when the wound yarn is long repeat variegated or self striping.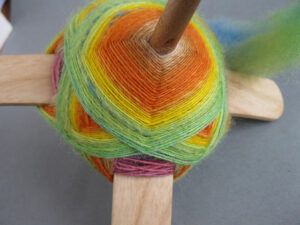 (Turkish spindle by fishandnoodle via Flickr)
Which prompted me to find out exactly how they are wound in order to look so tempting.
Simply Notable has this excellent photo tutorial
or, if you're like me and you need a video to help you, here is one uploaded by devan marques on Youtube
I feel a sudden need to buy a Turkish spindle and spin pretty hand painted tops. I guess that's one more thing to add to my wishlist!