A playlist of carding and spinning techniques
We're supposed to be moving house soon(er or later) and the trouble with not knowing when we're leaving is that I have packed my "stuff" and I get bored.
When I am bored I watch videos about things I wish I was doing on Youtube 🙂
To celebrate my wishing I was carding art batts and spinning fun things, I present you with a playlist I have made about various carding and spinning techniques. At the time of posting this it had 16 videos in it so you'll need a cuppa. Or you could watch it while you're spinning something…
(Changed to a link because embedding isn't working)
http://www.youtube.com/view_play_list?p=DE3F96C603F50007
Now if I can just find which box I packed my knitting projects in I could start that jacket I wanted to make for Miss Brittany. I should be able to get it done just in time for Summer…
I decided to play with some colour blending on my hackle, ala Deb Menz. (If you can't get her book Color in Spinning buy her videos. Actually, buy the videos even if you do have the book).
I have a couple of bags of uninspiring roving that I probably bought at the Aussie Sheep and Wool show when it was still held in Melbourne. All the colours went together so I decided to use those.
On the bottom I put a burgundy red and a nice rich orange.
Inbetween I put a gorgeous bright red and on the top I put a purply warm brown and a salmony pink. Not that disgusting 1980's shade of salmon pink, this is more of an aged Victorian salmon pink (very aged, considering the Victorians liked such bright colours).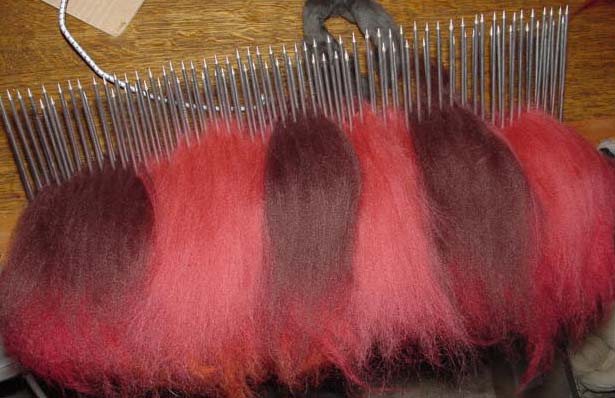 And here's the finished roving, which I'm totally in love with.
🙂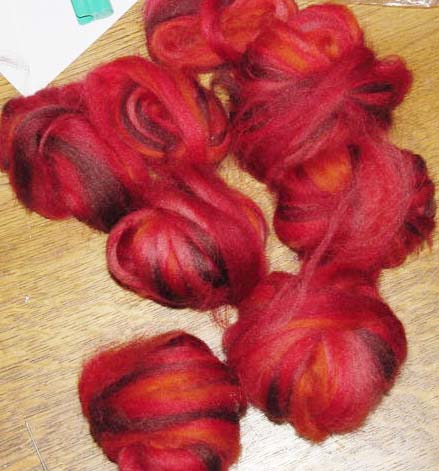 I definitely need a lot more practice getting the colours from each layer through the diz at once. Or maybe I should just use a larger diz… (duh, why didn't I think of that before?)
But that's going to have to wait until my shoulder blades stop hurting from fighting with my wheel yesterday. It really hurts to sit hunched over a wheel for half an hour while you try and figure out what you've done wrong to it!
And now I'm taking my sore obsessive self off to bed.