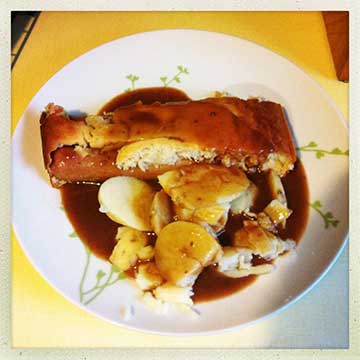 Sausages baked in Yorkshire Pudding batter.
Serve with baked apples and carrots or baked beans for a quick meal, a definite favourite with the kids! 🙂
Ingredients
8 large pork or beef sausages
30gm pork or beef dripping or lard
1 cup self raising flour
1/4 teaspoon salt
2 eggs, beaten
1 1/4 cups milk
1 teaspoon dried mixed herbs
Freshly ground black pepper
Method
Put the sausages in a shallow ovenproof dish or baking tin with the dripping or lard and bake in a hot oven (220 degrees C or 425 degrees F) for 5 to 10 minutes, turning the sausages occasionally to brown on all sides.
Meanwhile, make the batter. Sift the flour and salt into a mixing bowl.
Make a well in the centre and put in the beaten eggs and half the milk.
Mix the flour into the eggs and milk, gradually drawing flour in from the sides. Stir in remaining milk and beat vigorously with a wooden spoon or wire whisk to make the batter smooth. Stir in the dried herbs and pepper to taste.
Pour the batter into the dish or tin with the sausages and continue to bake in a hot oven for a further 40 to 45 minutes or until the batter has risen and is brown and crisp. Serve immediately.